As a regular traveller to Atlanta from Britain since 1975, I have been a very happy customer of Highland Woodworking for many years, often buying tools and accessories in the store.

My workshop is based in an annexe to our home, Seasons, which is built in a Hundred Acre Wood near the town of Alton in the County of Hampshire. It is home to oak trees planted for the Royal Navy before the American War of Independence and still standing today!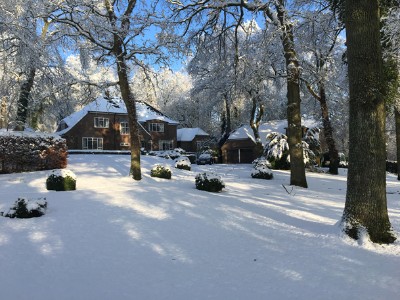 Seasons


Chawton village nearby is where Jane Austen wrote many of her novels like Sense and Sensibility, Pride and Prejudice and Northanger Abbey. Her home hosts international visitors from all corners of the world and the Greyfriars pub and Casandra's Teahouse over the road does a roaring trade!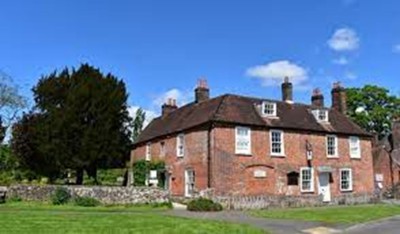 Jane Austen's home in Chawton Village, Alton


Like many woodworkers, my workshop was our double garage until woodworking took precedence over 30 years ago. It is 480 square feet being 24 feet deep and 20 feet wide with double door entrances and a side door.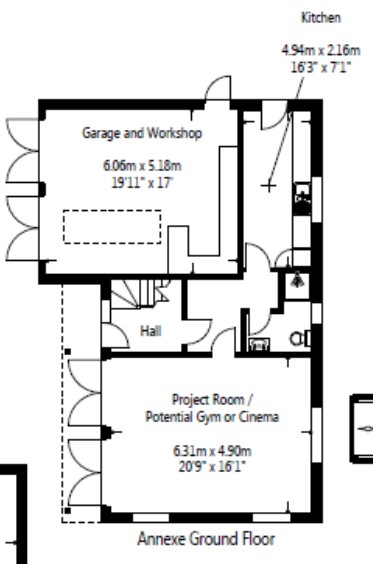 Floor plan of my workshop in Seasons Annexe


Upgrading the kitchen in our home gave me the opportunity to install the existing kitchen units in the rear of the garage as the basis for a workshop as the floorplan shows. The units dated from 1975 and had the advantage of white Formica surfaces, which helped lighten the workshop and work areas.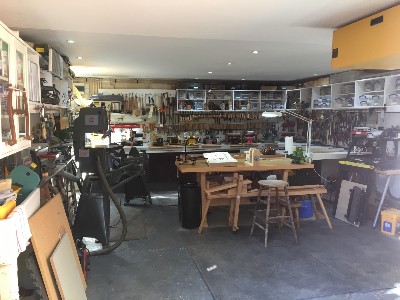 Workshop interior


Power for the workshop is both UK/European 220 volt and US 110 volt supply which gave me the dual benefit of using US power tools that I acquired from Highland Woodworking and local UK/European power tools.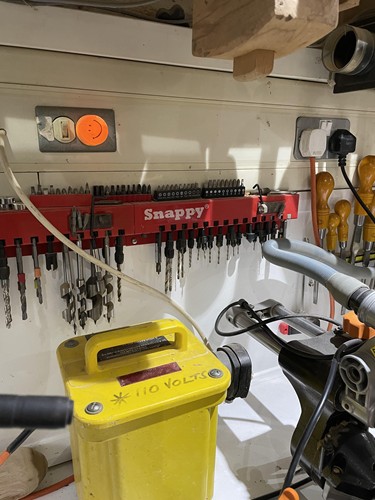 Transformer and dual power outlets


I added a classic German workbench in beech and installed a replica English Pattern Maker's vise purchased from Highland Woodworking on a particularly memorable visit.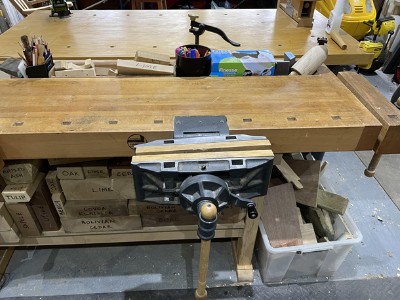 Workbench with English Pattern Maker's Vise


As a frequent traveller at Hartsfield-Jackson Airport in Atlanta, British Airways was happy to take the boxed item as additional luggage but US Homeland Security was not so content! After Passport Control I was called to their attention on the public address system and guided to a small room by two burly officers with the door locked deliberately behind me!

Up on a screen they displayed an X-Ray image of the vise and asked me what it was. They thought it bore a remarkable resemblance to the profile of a machine gun! After some careful explanations and shared receipts, I finally caught my flight with the vise and seconds to spare!

I also built a second flat-top workbench to help develop my interest in woodcarving and mounted two special carving vises.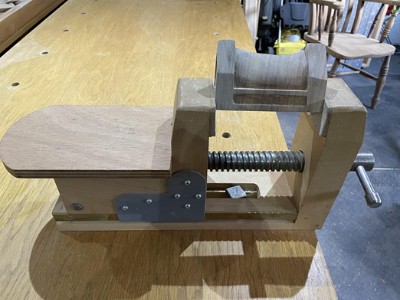 Scopas Chops Carving Vise


Scopas Chops is named after the Ancient Greek Sculptor and Architect. Scopas came from the island of Paros (c. 395 BC – 350 BC) and is famous for his statue of Meleager, the copper statue of Aphrodite.

It's the perfect carver's vise. Made in beech with a heavy duty screw, metal side plates and brass rails, the jaws are lined with cork and buff hide to hold the carved object securely. Scopas Chops are supplied complete with a specially fabricated bench screw with a giant wing nut, to allow the vise to be turned 360 degrees.

In Scopas Chops is a replica of the St Francis Catholic Cathedral in Kyoto, Japan made from a piece of camphor wood given to me by Marie, the wife of a local Japanese woodcarver who specialised in Buddha carving in his studio on the famous Philosopher's Walk in Kyoto. Camphor and Cedar are special woods in Japan as they have excellent decay and insect resistance and continue to be used extensively in the construction of temples and their gateways.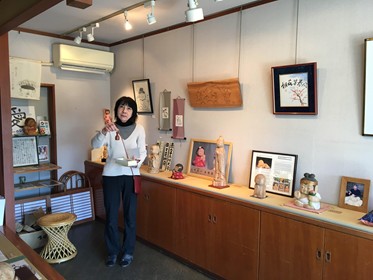 Marie in the Gallery Doushin, The Philosopher's Walk, Kyoto


In the bottom left hand corner of the above photograph Marie shows a basket of offcuts from which she kindly selected one and gave it to me to carve as a momento.


Eventually, I added a replica Pattern Maker's Vise, these days sold as a Guitar Maker's vise, which has the added advantage of flexible jaws for difficult-shaped carving objects.

Green men in Christian church architecture symbolise inspiration. Norwich Cathedral was begun in 1096 and completed in 1145 and stands proud today in the East Anglia region of England. My carving is in Oak, the traditional choice for Church architectural carvings.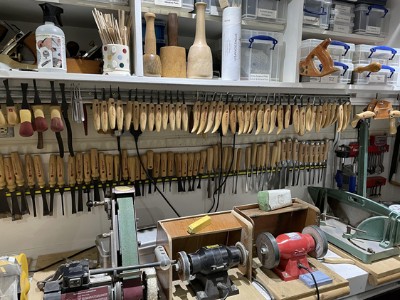 Carving tools


My carving tools are mainly Flexcut and have been purchased over the course of many years from Highland Woodworking. I keep them on magnetic bars on a white background for safety and easy access. They range from detail hand tools, palm tools and full chisels, and are unsurpassed in their suitability for carving.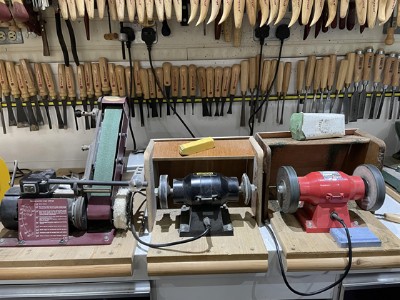 Sharpening stations


The carving tools are augmented by my sharpening tools and like many carvers I use a combination of methods to keep my chisels and knives in prime condition. I like to use honing soap with felt wheels for frequent sharpening with occasional, more rigorous, sharpening using a Sorby belt chisel sharpener and Flexcut leather wheels with Flexcut Gold as a balance between the other two.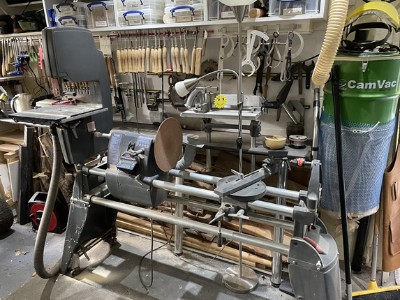 My Shopsmith Mark V


Also in my workshop I have a Shopsmith Mark V with the digital motor upgrade which gives a fantastic range of speeds ranging from 250-10,000 rpm without any annoying associated vibration. Its strength is its versatility and reliability. With an easy change of tools, it has a relatively small footprint for its broad range of capabilities which are all easily interchangeable.

My attachments include the Shopsmith bandsaw, strip sander, jointer, morticer, pillar drill, sanding disc, cross cut saw and biscuit joiner.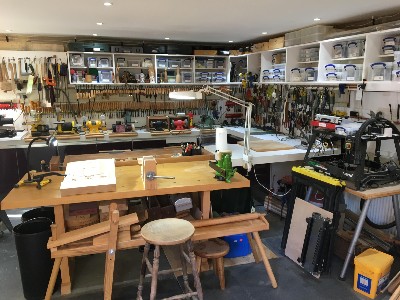 Another view of my workshop


From my personal experience, my top tips for a comfortable workspace in the workshop are:

1. Excellent LED lighting – really helps your accuracy, and avoids errors and accidents.

2. Interlocking floor mat tiles – safest and stops leg draw from concrete surfaces.

3. Heating – frost stat set to 40F/5C, which stops your tools from being tarnished and rusted.


---
You can email Tim at timonthyjsmcginn@gmail.com.