Danny Hellyar's Sliding Board Jack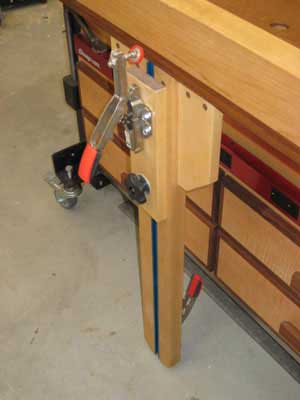 This jig is a sliding board jack to assist in holding stock in position on the front of my Noden adjustable-height workbench for working an edge with a saw, hand plane, etc. I designed this using two Bessey adjustable toggle clamps, one to hold the stock against the workbench plus an in-line toggle clamp on the opposite side near the floor to secure the board jack snugly to the floor. All measurements are included in the drawings.
The top of the board jack was designed to fit in any of the dog holes along the front and underneath my workbench, which has a 1 inch by 1-1/2 inch lip. (This portion would have to be designed to fit your individual workbench.) The side wings I added may not even be necessary, but I added them for support in case I accidentally kicked the jig from the side. I added a piece of leather to the top of the clamp carriage for extra protection for the bottom edge of material being worked on. The top T-bolt on the clamp carriage can be fitted through the middle of the front portion of the Bessey clamp. It is infinitely adjustable to hold any length or width of stock up to nearly the size of the front of my workbench. This jig works very well. Once material is clamped in the toggle clamp, it doesn't move.