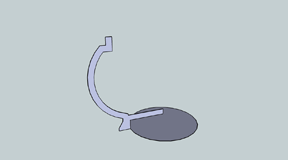 STEP 5: You can now erase all of the lines on the rectangle not associated with the bowl profile.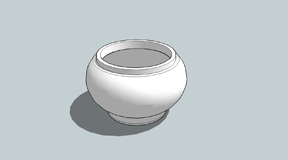 STEP 6: With your "select" tool, click on the face of the circle to define the path your bowl's profile will follow. Next, using the "follow me" tool, click the profile and watch the magic. NOTE: When pre-selecting a path in this step, your selection will seem to disappear as you pick your "follow me" tool. Don't worry – the selection is still active.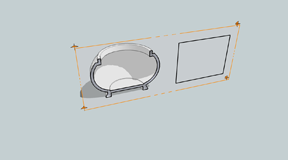 STEP 7: Now that you have a completed model, we will make a template to use while working on the lathe with the section plane tool. Start by drawing a rectangle (just like you did in step 1) beside the bowl along the red axis. The size does not matter.
STEP 8: Choose TOOLS>Section Plane and click on the face of the rectangle beside your bowl. You will notice that the section plane rotates to align to the face that it is in contact with. By creating the rectangle, you create a face that is aligned with the center of your bowl. By selecting the rectangle with the section plane, you get a proper cross section view for your pattern. You can go ahead and erase the rectangle.
STEP 9: If you haven't been building your model to a specific size, we will take a moment to re-size it now. Choose Tools>Tape Measure. Pick a specific distance on your model such as the diameter of the bowl opening. Click once to begin your measurement, then click a second time at the end of your measurement. Type the value you want for this measurement (e.g. 3") and hit enter. You should see a dialog box asking if you want to re-size the model. Click "yes."

STEP 10: In order to print your model to scale, there are two things you have to do. You have to turn off the perspective view. Choose Camera>Parallel projection. You will also need to be in one of the standard views (top, bottom, left, right, etc.) If you have built everything as indicated, you will want to choose the front view from Camera>Standard Views>Front. After doing this, you should notice that the view you picked is indicated in the upper left corner of your modeling window. Before you get ready to print, choose Camera>Zoom extents. This will fill your modeling window with your entire model. This also comes in handy when you have either lost your model or have gotten lost in your model.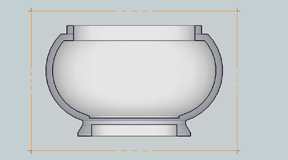 STEP 11: Now you are ready to print. Your view should be similar to the picture. Choose File>Print Preview to open the print dialog box. In the "Print Size" section, deselect the "fit to page" option. You will see that you can now adjust the scale to your preference. Make sure the value "in the printout" matches the value "in SketchUp." In the bottom right corner you will see an option to print the 2D section slice only. Select this option and print away. You can now use these printouts to make templates by gluing them to some heavy card stock and cutting them out. You will probably want to make several templates for different sections of your turning.


I hope you found this information helpful. Please join us next month to see how to complete your bowl with a lid, feet and handles.



---
Sean Headrick, a former Atlantan once seen frequently at Highland Woodworking, now lives in San Jose, California where he does woodworking and design. His website is www.headrickdesigngroup.com. Sean was interviewed by Wood News in 2007.
Return to Wood News front page