Lithia Springs, Georgia

I had never been able to saw a straight line or even nail a board. About three years ago my son needed my help on his Eagle Scout project. We struggled but with lots of help, built a playhouse on the church playground. Afterwards I took the leftover lumber and made myself a little workbench. I began picking up a tool here and there and before I knew it, I wanted to make a few projects. For fifteen years my life revolved between my two sons. My oldest kept us at the baseball field 9 months out of the year and my youngest kept me busy as an Assistant Scoutmaster. My extra activities came to an end and I am so glad I found woodworking. My wife and sons even get into it occasionally. The following are a few photos of my humble little shop.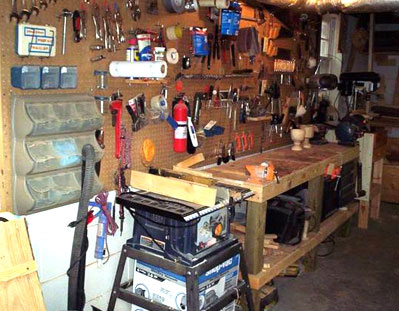 This is my first workbench made from the leftover Eagle project materials. A grinder, sander and drill press are in the background. My tablesaw is in the foreground. Lots of hand tools on the pegboard.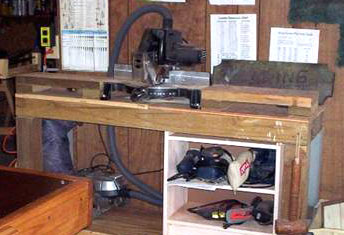 With more scraps I made a stand for a hand-me-down miter saw, complete with an old Kirby for dust collection. There are also shelves for sanders, jigsaw and such.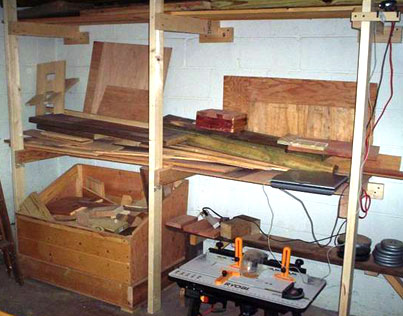 When the wood started piling up I had to make a lumber rack and a cutoff bin. The router table sits below.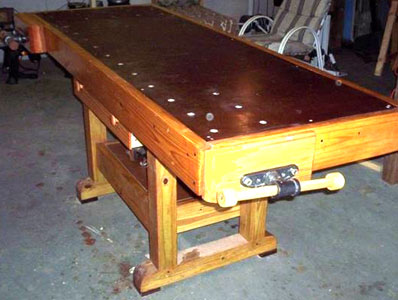 After the projects started, I decided I needed a better workbench. I made this one on a low budget but it is very sturdy. The large and small shoulder vises came from Highland Woodworking.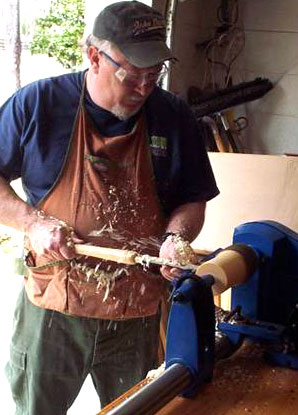 I started playing around on a lathe and had to have one. I have made several bowls now. This is me using my Bodger turning tools, also from Highland Woodworking.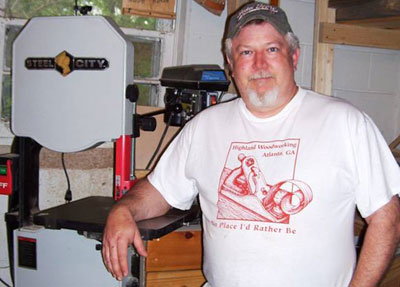 My latest purchase, from Highland Woodworking of course, is my new 14 inch Steel City bandsaw. I plan on picking up the riser block and fence later on. I have already cut a bowl blank and attempted a collapsible castle.



Well, that's my little shop. I started off small but I plan to upgrade most of the tools. Over the last couple of years I have made several projects including Adirondack chairs, quilt racks for charity, a cedar chest for my wife, among other items, a few of which are pictured below. You can check out more of them on the Lumberjocks website.
You can also check out my shop cam. I am usually live in the shop a couple of days a week. I have been enjoying my new hobby, especially bowl turning. I plan to take the bowl turning classes at Highland Woodworking soon. Except for my own shop, there's no place I'd rather be than Highland Woodworking!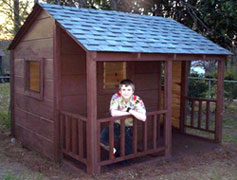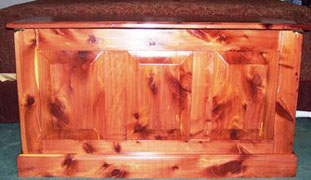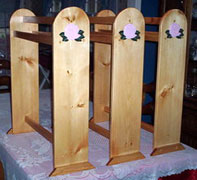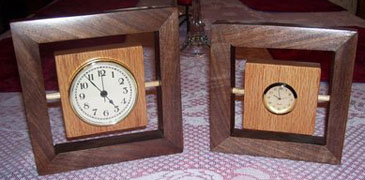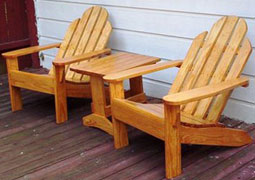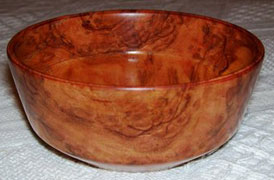 Return to Wood News front page