Metairie, LA

After sharing our one car garage with the water heater and my wife's washer and dryer for 15 years, and after Hurricane Katrina destroyed my supply shed, I decided to go ahead and build a shop rather than wait to build after retiring and moving to a larger property (that project is now in the works).
On our 60 ft. wide lot, I could only get a permit to build this 16' X 24' shop, with a limit of 13' height overall. Small as it is, it's considerably larger than what I had before. By having all my equipment on casters I keep them stored against the walls until needed. I have been able to move things around during projects to afford enough space to build some fairly sizable case goods.
I have also done all possible to store things high on the walls, and to get double duty where possible, like making my tool tote box as long as a stool is tall. I use it for a stool while it's not needed as a tote. My set up table has folding legs, and there's a place to hook it on the ceiling when it's not needed. My saw horses fold up so as to take up little space as possible.
My shop does double duty as my "man cave". It is insulated, with heat and air; outfitted with an under counter refrigerator, a humidor, music, and a wall mounted flat screen TV.)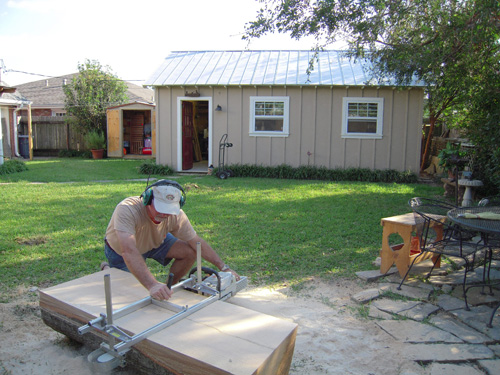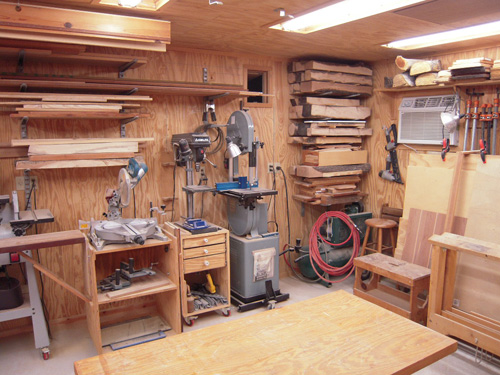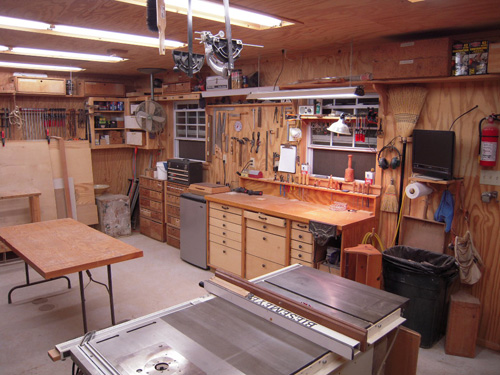 ---
Return to Wood News front page