Inside This Issue
---
Join our Chip Carving Class in Atlanta Nov. 13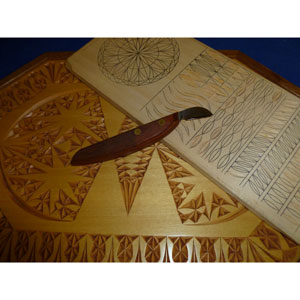 Chip carving is a form of relief carving in which the carver removes precise chips from the surface of the wood with a small extremely sharp knife. Mickey Hudspeth will demonstrate various types of cuts including cutting triangles, canoe shaped chips, rosettes plus drawing and carving freehand, then help each student practice to perfection.
Want more info? CLICK HERE!
---
Highland's Upcoming Woodworking Class Schedule in Atlanta

Many classes fill up quickly, so please register now to make sure we hold a spot for you.

November 5-7
Relief Carving for Beginners

November 6
Spray Finishing

November 10
Sharpening for Turners

November 13
Chip Carving

November 13
Antiques Show & Tell Field Trip

November 14
Introduction to Turning for Furniture

November 17
French Polish Workshop

November 20
Tablesaw Basics

November 21
Basic Bowl Turning

December 4 & 5
Fundamentals of Woodworking

December 7
Hand Tool Sharpening

December 8
Taming of the Skew

December 9
Build a Durable Picture Frame

December 11
Turning Pens

December 12
Basic Bowl Turning

December 14
Using Hand Planes

December 15
Finishing the Finish

December 18
Beginning Turning

Classes Suitable for Teens

See a List of All Our Classes

View Slideshows of Classes

---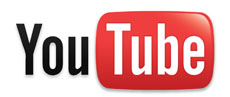 Visit our New Channel
The Highland Woodworking YouTube channel is chock-full of fascinating and instructive woodworking videos. From monthly offerings by our Down to Earth Woodworker, Steven Johnson, to demos of new tools shot onsite at our retail store to instructional videos from our many vendors, there is something for everyone at the Highland Woodworking YouTube Channel.
This month we have a new video from The Down to Earth Woodworker, who creates more room in his shop by building a storage cabinet that fits right onto the mobile base of his drill press. CLICK HERE to check it out:

---
---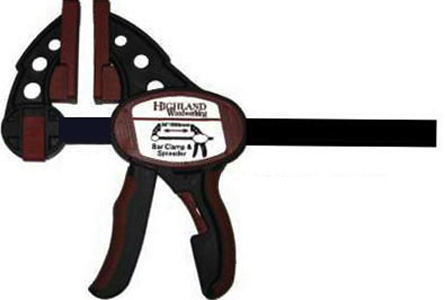 ---
Earlex USER FRIENDLY HVLP Sprayer $129.99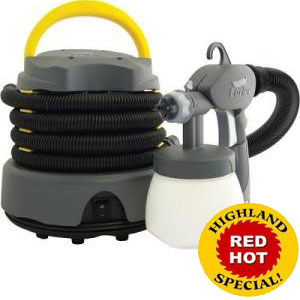 Discover how fast and easy finishing can be without having to apply using a brush. Flawlessly sprays stains, lacquer, shellac, polyurethane, and water-based finishes, as well as thinned latex paint.
CLICK HERE for more info:
---
Earlex HVLP HV5000
Pro Sprayer,
Sale $269.99
Earlex HVLP quality with more power, a metal gun and metal quart cup.
CLICK HERE for more info:
---
Buy our Rikon Scrollsaw
Get $55 in FREE Accessories
Our scrollsaw package deal includes 72 extra blades worth $35.94, plus "The Scroll Saw, a Beginner's Guide" DVD, a $19.95 value. With its built-in worklight, variable speed control and sawdust blower and dustport, the Rikon Scrollsaw is ideal for making toys, puzzles, letters, numbers, etc.
---
The New Galbert Caliper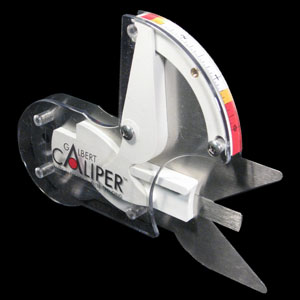 This superb invention will enhance your spindle turning experience. Peter Galbert's direct reading caliper is a "tape rule for woodturners."
CHECK IT OUT:
---
Save $120 on our Rikon 12" Lathe Package Deal
Our woodturner's turnkey package deal is a great way to get started in the world of woodturning. We've supplemented Rikon's highly popular 12" x 16" 6-speed mini-lathe with our signature set of 6 Bodger HSS turning tools, plus added the world's most popular turning instructional video by Richard Raffan.
CLICK HERE for more info:
Expand it to 40" for only $99.99:
---

---
Deluxe Steel City 14" Bandsaw with 12" Height Attachment, only $649.98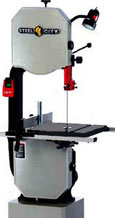 If you're in the market for a powerful, full-featured bandsaw capable of any challenge from heavy-duty resawing to fine, delicate fretwork, look no further. We believe the Steel City model 50100G is one of the best 14" bandsaws available at any price, anywhere.
More Info and How to Order
---
Steel City 8" Granite Jointer, Only $899.99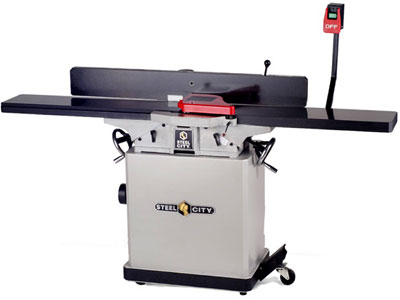 You can enjoy the benefits of 77" long solid straight granite jointer beds, a cutterhead with 3 quick-change knives, 2 HP 230 volt motor, plus a 5-year warranty, all at a very affordable price! Weighs 460 lbs.
Steel City 8" Granite Jointer
with quick change knives
---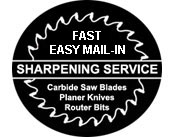 ---
Passing thru Atlanta?
Visit our Retail Store

Browse over TEN THOUSAND woodworking tools, books, supplies and accessories.
Our experienced staff will be glad to discuss your shop needs and answer your questions.
1045 N. Highland Ave NE
Atlanta, Georgia

---
Show Your Shop!
For this popular monthly column, we invite you to
SEND US PHOTOS
of your woodworking shop along with captions and a brief history and description of your woodworking. (Email photos at 800x600 resolution.) Receive a $50 store gift card if we show your shop in a future issue.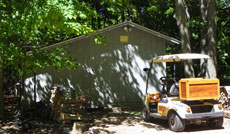 ---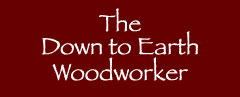 By Steven D. Johnson,
Racine, Wisconsin
Check Out my New Catty Shack
How to Create Extra Space in Your Shop
The Future of Woodworking, part 2
Is Your Shop Prepared for a Disaster?

This month Steven Johnson takes a little time to build a pair of fun projects, one for the local felines and one for his own use. He also continues his discussion of the future of woodworking, offers some great ideas on how to reimagine our hobby, and provides a must-read guide for taking a workshop inventory and protecting your tool investment.
CLICK HERE for your monthly dose of the Down to Earth Woodworker!
---
Lie-Nielson Tool of the Month
#60-1/2 Low-Angle
Adjustable Mouth Block Plane

This is the crème de la crème of Lie-Nielsen block planes. Its adjustable throat can be set to a wide opening for heavy work, or to barely the thickness of a shaving for fine finish cuts. It is our single most popular Lie-Nielsen tool.
CLICK HERE to see it better:
---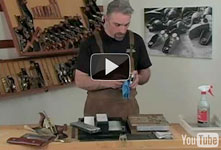 New Video: How to Sharpen Plane Irons
This 9-minute video will show you how to consistently get a perfect edge on a plane iron with just a few minutes of work.
CLICK HERE to check it out:
---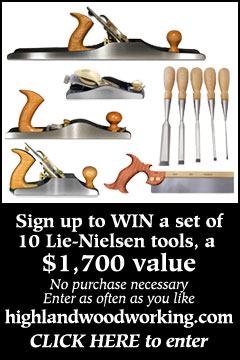 ---
Ask the Staff
Question:
I am having a problem working with veneer. When I have larger sheets, say 12 inches wide, they always seem to ripple on me, no matter how I clamp it. Is there such a problem as using the wrong glue? Please help!
Check out the answer HERE
E-mail us with your woodworking questions. If yours is selected for publication, we'll send you a free Highland Woodworking hat.
---
Year of the Workbench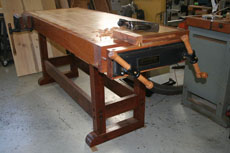 This year there seems to be a renewed interest in workbenches. Reading through Lon Schleining's book "The Workbench" inspired me to build my own.
CLICK HERE to read my story:
---
Big Rikon 18" Bandsaw
On Sale for only $999.99
A special purchase allows us to offer this powerful, huge-capacity professional-duty 18" bandsaw at an unprecedented low price. Powered by an extremely robust 2.5 HP 220 volt motor, Rikon's model 10-345 18" bandsaw will handle challenging heavy-duty jobs that smaller bandsaws cannot. Its total weight is 389 lbs. Why settle for a smaller, lighter-weight bandsaw when your shop can benefit now from the capacity and power of this large professional duty machine at such an affordable low price?
CLICK HERE for more info:
---
Finishing Wood
with Alan Noel

Choosing a Finish

When building a new piece or refinishing an old one, choosing the finish can be a daunting task. There are four categories of finishing materials and a variety of ways to apply them. Oil, shellac, lacquer and water based finishes all have their pros and cons depending on the workpiece.
Here are FIVE tips to help you:
---
Our Green Wheel for the Makita Sharpener Is Back!

Out of production for many years, the Green Wheel is available once again. This 120-grit Japanese waterstone wheel will safely wet grind the hardest steels as aggressively as a coarse wheel on a conventional bench grinder, making short work of reshaping or restoring the bevel on chisels, plane irons, and knives for jointers and planers.
CHECK OUT the Green Wheel:
---
Makita 9820-2 Sharpener

For many years our favorite wet grinder for jointer and planer knives, the Makita 9820-2 sharpener also does superb work on chisels and plane irons when used with our optional hand tool jig.
See the Makita Sharpener:
---
Woodworker's Guide to Google Sketchup
If you've ever been frustrated trying to use Google Sketchup in your woodworking, this eBook is the solution you've been looking for!
CLICK for more info:
---
Free Gransfors Axe with Tormek T-7 Purchase

Now through January 15, 2011, order one of our Tormek T-7 wet grinders, and upon registering your grinder with Tormek, receive free a Gransfors Bruks premium hand axe, a $110 value.
Watch a Tormek Video Demo

---
Tormek T-3 Grinder
Only $314.99 thru 12/31/10
Save $40 off the $354.99 regular price of Tormek's affordable T-3 water-cooled sharpening system by ordering from us by Dec. 31, 2010.
---
WOODWORKING
TIPS MAP

An easy way to navigate our entire highly-informative woodworking website.
Check It Out!
---
Easily search over 30 years of our informative woodworking articles!
(Please continue to search for our products using our website product search engine.)
CLICK HERE to search for woodworking information:
---

Highland Woodworking Gift Certificates
An awesome present that's always appreciated by just about any woodworker anywhere.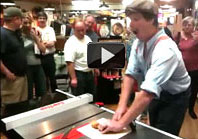 The Chicken Safest Saw That Roy Has Ever Seen
See the video everyone is talking about! Roy Underhill tests the Sawstop table saw's capabilities with a delicious piece of Southern fried chicken.
CLICK HERE to check it out:
MORE about the SawStop:
---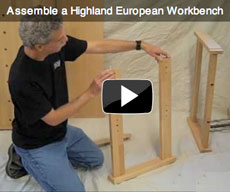 Short Video Shows Easy Workbench Assembly
We are delighted with the quality of this highly affordable new workbench.
Made in the Czech Republic using the finest European Beechwood.
It comes complete with two 14" vises and 4 benchdogs. The bench weighs 103 lbs. and provides a 53" x 20" work surface.
CLICK HERE to see the video:
CLICK HERE for more info:
---
Price Breakthrough!
Steel City Helical Planer
Now on Sale for $499.99
---
Today's Featured Tools
---
Highland's mega-blogger Terry Chapman spent 7 busy days in Peter Galbert's Windsor chair class here at our Atlanta store October 22-28, 2010.

CLICK HERE to experience
each day through Terry's eyes:
---
Show Your Stuff!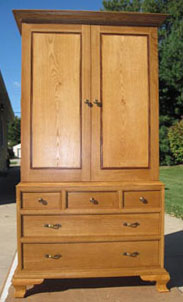 We invite you to
SEND US PHOTOS
of your favorite woodworking projects along with captions and a brief history of your woodworking. (Email photos at 800x600 resolution.) Receive a $50 store gift card if we show your stuff in a future issue. Featured this month is the work of Jordan Kercheff of Barberton, Ohio.

CLICK HERE for a closer look at his stunning linen press:
---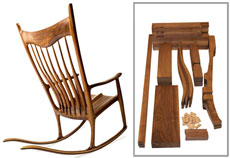 NEW Walnut Parts Kit for Maloof-inspired Rocker
For those who want a challenging project that is perhaps a little less daunting than starting completely from scratch, we now offer Charles Brock's new walnut parts kit for building a Maloof-inspired rocking chair.
CLICK HERE for more info:
---
Maloof-inspired Plans –
DVD, Book and Drawings
---

Charles Brock has singled out the specific tools he uses when building his chairs and listed them in one place for easy selection by woodworkers undertaking this challenging project.
---
FESTOOL DEMO DAY
Saturday, Nov. 13, 2010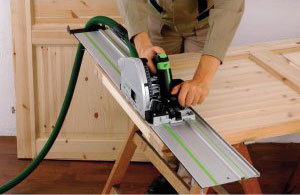 Festool expert Dan Durant will be on hand in our Atlanta store from 9 AM to 4 PM giving live demos of our most popular Festool machines. Bring any woodworking problem and Dan will show you the Festool solution! Free Festool T-shirt with Festool machine purchase that day.
CLICK HERE to browse our Festools:
---
Festool Router Sale, Save 10% thru Nov. 30
Order now, save on our
3 HP OF2200 plunge router
and the
MFK700 Modular Trim Router
, as well as
select accessories
.
---
New Dust Extractors
The new Festool CT26E & CT36E feature more capacity, self-cleaning filter bags plus an integral hose garage as standard equipment.
CLICK HERE for more info:
---
A Two Minute Safety Tip
Do you have a great idea for staying alert and helping to avoid injuries in your workshop? If so,
we want to hear about it!
. Receive a $25 store gift card if we feature your tip in a future issue. This month's tip comes from Jim Mullen of Wichita, Kansas, and looks at how to avoid that lightheaded feeling while in the shop.
CLICK HERE to check out his tip:
---
Narex Bench Chisels


Named Best Value Bench Chisel by FWW magazine, boxed set of 6 rugged chisels, only $59.99.
---
Why Not Write an Article for Wood News?
We actively solicit contributions of editorial material (articles, photos and videos) from our customers and readership, and for every one we accept and publish in Wood News Online , we will compensate the contributor. We typically pay up to $100 (in the form of a store gift certificate) for a thousand-word-plus article with photos.
---
Another Testimonial for the WOOD SLICER

I recently purchased three blades for my 10" Inca bandsaw. Included in the purchase was a Wood Slicer Bandsaw Blade. When I unwrapped it, I realized this was something special. I immediately installed the Wood Slicer, fired up the machine and started cutting 6" X 6" white oak rough stock. Results? WOW is all I could say to myself. The cuts were so good I had to look twice to tell the cut side from the machine planed face! What a blade! I have never been more pleased with a bandsaw blade and it's performance! — R. Simon
Get Yourself a Wood Slicer:
---