Inside This Issue
---
Timber Framing Class
October 11, 2010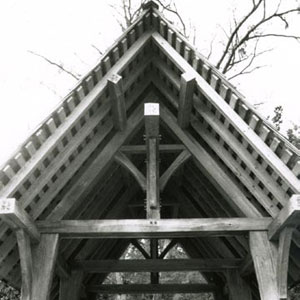 Mike Goldberg's seminar will cover every aspect of timber framing in today's trades from understanding wood, joinery layout, cutting and raising, to recycling storm damage into building materials and hybrids. If you've ever been interested in timber framing as historical knowledge, or as a diy project, this is an excellent opportunity for homeowners, contractors, architects, designers, and engineers to draw on 30 years experience in the timber framing world. The knowledge gained in this 3 hour class is not only powerful and enlightening, but priceless as well!
---
Highland's Upcoming Woodworking Class Schedule in Atlanta

Many classes fill up quickly. Register now to make sure we hold a spot for you.
October 5
Hand Tool Sharpening
October 6
Finishing the Finish
October 9
Turning Pens
October 9
Antiques Show and Tell
October 10
Turn a Peppermill
October 11
Timber Framing
October 13
French Polish Workshop
October 17
Dovetail Variations with Roy Underhill
October 19
Using Hand Planes
October 20
Taming of the Skew
October 23 & 24
Antique Restoration
October 23 & 24
Windsor Chair Making Seminar with Peter Galbert
October 23-29
Build a Child's Windsor Balloon Back Chair with Peter Galbert
October 30
Basic Bowl Turning
October 31
Basic Bowl Turning
November 1-4
Cabinetmaking Basics: Build a Base Cabinet with Drawer
November 5-7
Relief Carving for Beginners
November 6
Spray Finishing
November 10
Sharpening for Turners
November 13
Chip Carving
November 13
Antiques Show and Tell
November 14
Introduction to Turning for Furniture
November 17
French Polish Workshop
November 20
Tablesaw Basics
November 21
Basic Bowl Turning
December 4 & 5
Fundamentals of Woodworking
December 7
Hand Tool Sharpening
December 8
Taming of the Skew
December 9
Build a Durable Picture Frame
December 11
Turning Pens
December 12
Basic Bowl Turning
December 14
Using Hand Planes
December 15
Finishing the Finish
December 18
Beginning Turning
---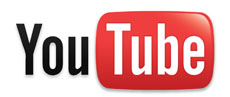 Check Out our YouTube Channel
The Highland Woodworking YouTube channel is chock-full of fascinating and instructive woodworking videos for your enjoyment. From monthly offerings by our Down to Earth Woodworker, Steven Johnson, to demos of new tools shot onsite at our retail store to instructional videos from our many vendors, there is something for everyone at the Highland Woodworking YouTube Channel.
This month, we have a new video from The Down to Earth Woodworker, who makes some modifications to his standard bench hook design that will provide some extra benefits in the workshop.
CLICK HERE to check it out!
---
Save $120 on our Rikon 12" Lathe Package Deal
Our woodturner's turnkey package deal is a great way to get started in the world of woodturning. We've supplemented Rikon's highly popular 12" x 16" 6-speed mini-lathe with our signature set of 6 Bodger HSS turning tools plus added the world's most popular turning video, the New Turning Wood DVD with world-renowned turner and teacher, Richard Raffan. Includes set of 6 HSS turning tools, instructional DVD, live center, 12-position indexed headstock, 6 speeds - 430-3900rpm, 3" faceplate, 1/2 HP motor and 2 year warranty. Weighs 89 lb.
---
Turn the Rikon Mini-Lathe into a 12" x 40" Lathe for an additional $99.99
This heavy cast iron bed extension turns the Rikon Mini-Lathe into a full-size lathe with 40" capacity between centers. Easily bolts onto the cast iron bed of the lathe. You can even add multiple extensions to create a solid lathe with practically unlimited length capacity.
---

Buy Flexcut Carving Tools
Get Cash Back!
Check out these rebates from the Flexcut Tool Company. Buy any Flexcut products totaling $50 or more and get $5 cash back. ($100 or more, get $10 back.) Valid through 7/31/2011.
CLICK HERE for our Flexcut Tools:
---
NOW SAVE EVEN MORE
on our Deluxe Steel City
14" Granite Bandsaw!


---
Show Your Shop!
For this popular monthly column, we invite you to SEND US PHOTOS of your woodworking shop along with captions and a brief history and description of your woodworking. (Email photos at 800x600 resolution.) Receive a $50 store gift card if we show your shop in a future issue.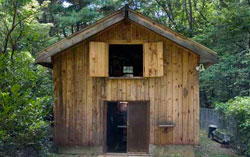 ---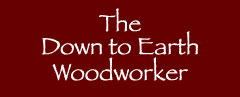 The Future of Woodworking


By Steven D. Johnson


Racine, Wisconsin





This month, our
Down To Earth Woodworker
, Steven Johnson, provides us with a futuristic look at woodworking, and discusses what we need to do to keep our craft alive and well. He also offers a thorough discussion of sound safety tips for your shop, and builds a torsion box bench hook with, of course, several corollary benefits.
CLICK HERE to start reading about the future of woodworking:
---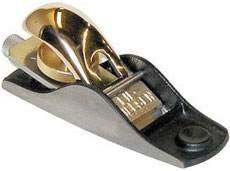 Lie-Nielson Tool of the Month
#102 Low-Angle Block Plane
Never owned a Lie-Nielsen plane before? Want to fall in love? Our advice to you: buy this delightful little Lie-Nielsen low-angle block plane. It will perform like no other hand plane you've ever owned. It may even change your whole attitude towards hand tools. And this one costs less than $100.
Go ahead. You know you want it.
---
Ask the Staff
Question:
I have recently come across some old reclaimed wood. Are there some resources or classes available to help with working with reclaimed wood? Are there any special cleaning methods or products that need to be use when prepping the wood, or special techniques for finishing the wood?
Check out the answer HERE
E-mail us with your woodworking questions. If yours is selected for publication, we'll send you a free Highland Woodworking hat.
---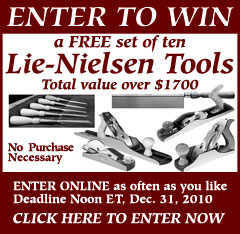 ---
By Mickey Hudspeth
Duluth, GA
Woodworking has been my hobby for over 30 years. I made most of the machines in my shop from scrap metal materials and a South Bend metal lathe. Some of my homemade machines are approaching 30 years old and I'm still using them.
CLICK HERE to take a closer look at my homemade workshop:
---
The New Galbert Caliper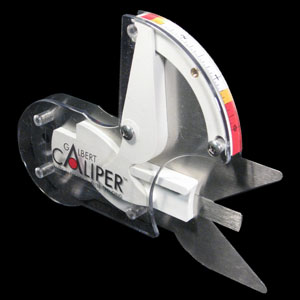 This superb invention will enhance your spindle turning experience. Peter Galbert's direct reading caliper is a "tape rule for woodturners."
---
Build a Child's Windsor Chair with Peter Galbert, October 23-29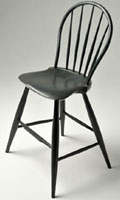 Here's the perfect gift for your favorite grandchild (or any other kid you know). You'll build the entire Windsor chair during this 7-day event, plus take home the skills to build many more. Professional chairmaker Peter Galbert will show you all you need to know, plus coach you from start to finish. Space is limited, so sign up early.
FIND OUT MORE inside ,
or sign up for the class HERE .
---
Finishing Wood
with Alan Noel
Builders and Finishers


I have a few cabinet maker friends who call on me from time to time to get advice about finishing. Most of the time they will complain to me that the staining/coloring isn't coming out evenly or the color isn't as rich as they had hoped.
Here are SIX tips I offer them for achieving a more even finish that can help save YOU a lot of time and frustration:

---
Model a No. 72 Gustav Stickley Bookcase
Using SketchUp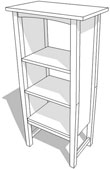 By Sean Headrick
San Jose, California
This month I will show you a typical work flow for designing a bookcase with separate components capable of showing construction methods and complex joinery details.
Click here to learn how to model this elegant bookcase:


---
Woodworker's Guide to Google Sketchup 7 is
now available from Highland Woodworking
Bob Lang's excellent instructional eBook for learning Google's free design program is now available for purchase at Highland Woodworking. If you've ever been frustrated trying to learn the ins and outs of Google Sketchup and how you can use it for your own woodworking, this eBook is the thing you've been looking for.
A great tool to have if you love Sean Headrick's Sketchup column!
---
---
---
---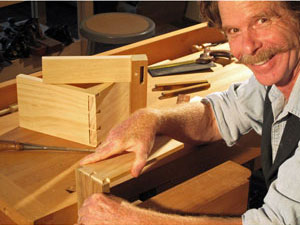 SATURDAY, OCTOBER 16, Highland's ONE DAY SALE Featuring Free Demos by TV Star Roy Underhill
Join us at our Atlanta store Saturday, October 16, 9 AM to 6 PM for our annual Fall One-Day Sale. Headlining this year's event is our good friend, Roy Underhill, star of the Woodwright's Shop TV show, who'll be in the store demonstrating traditional hand tool woodworking techniques throughout the day. Plus a number of our top vendors will also be on hand giving live demonstrations.
It's a great chance to learn new woodworking techniques as well as save money on the many great deals we'll be offering throughout the store.
Roy will also teach a $99 all-day class on Sunday, October 17, demonstrating some of the many variations of traditional dovetails.
---
This Well-Built European Workbench Has a Surprisingly Low Price
We are delighted with the excellent quality of this highly affordable new workbench. Comes complete with two 14" vises and 4 benchdogs. Made in the Czech Republic using the finest European Beechwood, the bench weighs 103 lbs. and provides a 53" x 20" work surface.
---
Save $100 on the Best
13" Helical-Head Planer,
Now on Sale for $499.99
Steel City's patented helical cutterhead uses 24 four-sided HSS indexed cutting inserts and that makes this planer best in its class. A special purchase allows us to offer these planers at an unprecedented low price, while supplies last.
---
Featured Tools This Issue
---
Show Your Stuff!
We invite you to SEND US PHOTOS of your favorite woodworking projects along with captions and a brief history and description of your woodworking. (Email photos at 800x600 resolution.) Receive a $50 store gift card if we show your stuff in a future issue.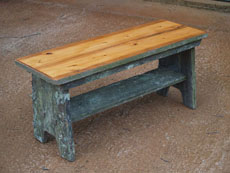 ---
Festool Router Sale, Now Save 10%
Following the incredibly successful sale on Festool circular saws last summer, we are now offering a 10% discount on two popular Festool routers and select router accessories.

Featured on sale are the powerful, full-featured Festool
OF2200 3 HP plunge router
, and the extremely versatile Festool
MFK700 Modular Edge Trim Router
.
---
See the New Festool Dust Extractors
Festool's state of the art dust extractors are now available! The new Festool CT26E and CT36E feature increased capacity, new self-cleaning filter bags plus an integral hose garage as standard equipment. Why not make your workspace safer, cleaner and more efficient with a new Festool dust extractor?
---

Check Out our New Woodworking Blog
The Highland Woodworking blog now has a bright new look and user-friendly interface for reading, sharing and commenting. We invite you to expand your access to our growing woodworking community and get new woodworking tips, news about our classes and first crack at special promotions.
---
ALSO VISIT HIGHLAND AT:

---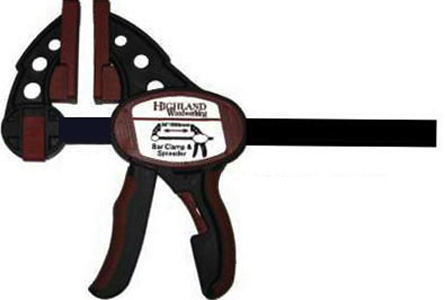 Try our Very Affordable
One-Handed Bar Clamps
Our new pump action light bar clamps make glue-ups easier than ever before. One hand is all you need to apply up to 330 lbs. pressure to your workpiece. Jaws can be easily reversed to turn clamps into spreaders. Available in 3 lengths, 12", 24" & 36". Save an extra 17% when you purchase 6 of one size.
---
NEW Earlex 3500 USER FRIENDLY HVLP Sprayer
NOW ON SALE $129.99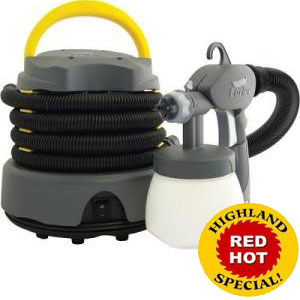 The Earlex 3500 Spray Station (made in England) has made smooth and efficient spray finishing both user friendly and highly affordable. Discover how fast and easy finishing can be without having to apply using a brush. Comes equipped to flawlessly spray stains, lacquer, shellac, polyurethane, and water-based finishes, as well as thinned latex paint.
---
New Rikon 10-600VS 16" Var. Speed Scroll Saw, Only $149.99
We've sweetened this excellent value in a full-featured scrollsaw by throwing in our popular DVD, "The Scroll Saw, a Beginner's Guide", a $19.95 value. With its built-in worklight, variable speed control and sawdust blower and dustport, it is ideal for making toys, puzzles, letters, numbers, etc.
A highly useful bonus on this saw is its variable high speed power take-off. An optional and very affordable flexible shaft accessory can turn the saw into a reciprocal power carving machine.
---
A Two Minute Safety Tip
Do you have a great idea for staying alert and helping to avoid injuries in your workshop? If so,
we want to hear about it!
. Receive a $25 store gift card if we feature your tip in a future issue.
---
NEW Charles Brock Plan Bundle: Maloof-inspired Lowback Dining Chair

The latest new plan bundle in Charles Brock's series of Maloof-inspired furniture is now available. Perhaps a bit less daunting than tackling the Maloof-inspired rocker, the Maloof-inspired lowback dining chair is nonetheless a challenging and rewarding woodworking project. Charles Brock's excellent plan instructional bundle includes a very enjoyable, informative and well-produced DVD, a color illustrated book and full-size patterns for each chair part, and puts this project within reach of any aspiring woodworker.
---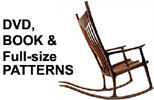 ---

Charles Brock has singled out the specific tools he uses when building his chairs and listed them in one place for easy selection by woodworkers undertaking this challenging project.
---
Narex Bench Chisels

Named Best Value Bench Chisel by FWW magazine, boxed set of 6 rugged chisels, only $59.99.


---
Why Not Write
Your Own Article
for Wood News?
We actively solicit contributions of editorial material (articles, photos and videos) from our customers and readership, and for every one we accept and publish in Wood News Online , we will compensate the contributor. We typically pay up to $100 (in the form of a store gift certificate) for a thousand-word-plus article with photos. The amount of the gift certificate may be prorated for shorter articles. Articles submitted may be edited by us at our discretion, and compensation may vary depending on the published length.
---
Recent WOOD SLICER Testimonial

I just shut down my shop for the night, and I feel obliged to drop you guys a line. I bought a 1/2" Woodslicer bandsaw blade yesterday and left it in my truck. I have a tendency to buy stuff and then forget about it. Well, this afternoon I started resawing stock for some faux panels on the side of a bookcase using my old standby bandsaw blade from the Orange bigbox. Darned if the saw didn't start choking on 6 inches of basswood--pathetic. I said some bad words and forged ahead. Absolutely butchered the stock, of course. The blade was screaming, the lights in the shop were flickering. It was really bad. Then I remembered my purchase, ran out to the parking lot and grabbed the Wood Slicer bandsaw blade. I put it on and set up the guides, and kinda cleaned up the saw a bit. Spun up the DC, turned on the saw, and wowee! I spent the next forty-five minutes resawing various leftover hardwood scraps. I'm sold. I didn't think it was possible to get that smooth of a cut out of a bandsaw.
— D. Petrides
CHECK OUT our phenomenal
Wood Slicer resawing blade: