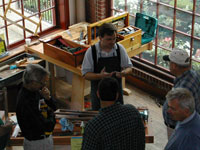 ATLANTA, GA
WOODWORKING
CLASS SCHEDULE
February 2-3

---
Contribute!
We actively solicit contributions of editorial material (articles, photos and videos) from our customers and readership, and for every one we accept and publish in Wood News Online , we will compensate the contributor with a store gift certificate.

---
Stay Up-To-Date on All That's New
at the
Highland Woodworking
Q & A

I'm getting ready to order some tools from Highland, but you don't seem to carry one of the items I want. I've seen it in a number of other catalogs, but not yours. Is there a reason you don't carry it?
E-mail us with your woodworking or finishing questions. If your question is selected for publication, we'll send you a free Highland Woodworking hat.
---
HOW TO BECOME A MORE ORGANIZED WOODWORKER

by Chris Black
I've heard some of you lament that you don't have enough time, tools, space or skills to practice the kind of woodworking you desire. Subtle excuses like these sometimes serve as psychological barriers which get in the way of your doing any woodworking at all. Maybe all that you really need is a little discipline...
---
The Legacy of
George Nakashima

by Crissa Shoemaker DeBree
Bucks County Courier Times
George Nakashima became famous for furniture designs that eschewed mass production and embraced the natural beauty of wood. At the same time, he marveled at modern technology ...

---
Finishing Wood

with Alan Noel
To Sand or Not To Sand


Since the early eighties, seems we have become very aware of our families' personal histories and treasures. Everything from pictures, linens, dishes, silver and of course, furniture, hold many memories that are dear to our hearts. This is one of the reasons (actually the main reason) The Antique Road Show is so popular. How we go about restoring the finish on family heirlooms will often determine how much of the evidence of those memories actually gets preserved. In my furniture restoration firm, I always make sure to ask my clients about any personal histories and stories they have about the pieces they have entrusted to me for restoration. This helps me determine what course of action may be required to achieve their desired result.
HIGHLAND OVERCOMES
RECENT COMPUTER WOES
During the latter part of 2007, some of you may have noticed a delay in the usual prompt delivery service for which Highland Woodworking has long been known. This was caused by an unfortunate and lengthy computer outage which made it necessary for us to fill orders manually until a replacement system became operational in early December.
I apologize for the inconvenience this may have caused, and offer my gratitude for your patience and understanding. We are once again shipping most orders the same day we receive them, as well as providing tracking numbers to customers via email upon shipment of online orders. We look forward to serving you efficiently and often during the coming year. Best wishes to you for a great 2008!
Chris Bagby, Owner
Highland Woodworking
---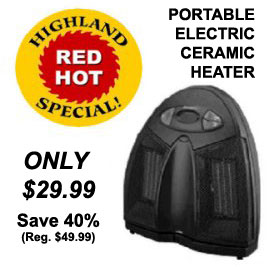 Includes 3-Year Factory Warranty

Great Tool C atalog?
If you haven't already received our big print catalog and would like to have one, please contact our
Catalog Request Department
or call our 24-Hour Toll-Free
CATALOG REQUEST LINE:
(888) 500-4466