Ask the Staff
Question: I have a kitchen table and chairs that have the original stain and finish on them, and I would like to give them a worn, distressed look. A friend suggested I use milk paint. Is such a product suitable for furniture and functional pieces? How do I create a distressed appearance?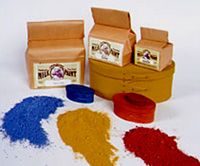 Answer: Prior to about the mid-1800s, paint was not commercially available. Therefore, most people mixed up their own paint out of whatever materials were readily available. One of the most popular formulas was milk paint, a durable and long-lasting finish made up of milk protein, lime and natural pigments.

Today, the milk paint formulation has been reproduced in an easy-to-use, dry powder mix. Our Old-Fashioned Milk Paint is an ideal product for antique and reproduction furniture and woodwork, or even for painting the entire house. It is available in 16 rich, earth-tone colors that can also be inter-mixed, and has a unique texture that cannot be duplicated with today's commercial paints.

Milk Paint needs a porous surface to adhere to, so we recommend using Extra-Bond on anything other than bare wood. On previously finished surfaces and non-porous surfaces such as hardwoods with tight, closed grain, Extra-Bond in your first coat of paint will greatly help adhesion.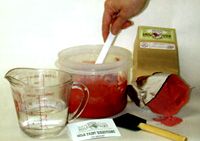 For most jobs use a one-to-one ratio of water to paint powder. Add the paint powder to the water, mixing as you pour until you've achieved the desired consistency. Two coats of a creamy consistency will yield a solid, opaque coating. To make a wiping stain or wash that allows the wood grain to show through, add more water for a thinner consistency. Milk paint can be applied using a brush, roller or spray equipment, or a rag and sponge can be used to create special textures and effects on walls and other surfaces.

To create a distressed appearance, first apply a base color then paint over it with another color. Once the top coat is dry, use steel wool, a Scotch-Brite pad or sandpaper to scour areas where wear would most naturally occur. You can also hit or rub the surface with a hammer, chain, keys, etc., to create dents and simulate normal long-term damage. You can even create wormholes by heating a nail or other pointed tool until it's red hot, and using pliers to hold it, sinking it in slightly into the wood with a hammer. Keep your holes small and close together, and they'll appear more realistic. Be sure to practice first on a piece of scrap wood to get a feel for the different effects you can achieve. For more antiquing techniques, Jeff Jewitt's Great Wood Finishes (201260), complete with color photos, is a great resource.

Furniture and woodwork painted with milk paint should be top-coated with a clear finish for durability. Otherwise, it will develop white water spots if subjected to spills or if washed or wiped with water or other liquids. Ceramithane water-based acrylic-urethane finish provides a tough, stain-resistant coating. In addition to satin and gloss sheens, it is available in a matte flat, making it an ideal choice for retaining the traditional flat finish of milk paint.