Ed Everett: More Than Just a Lucky Winner
by Doug Hall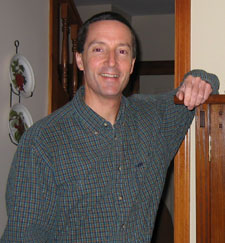 Doug Hall: Ed, congratulations on winning the Highland Woodworking New Kind of Power Tool Giveaway . Given that there were over 70,000 entries you must feel pretty lucky.
Ed Everett: I've really never won anything like this before. Like everyone, I've entered many contests in the past but figured that it was just an elaborate ruse to get my name for email advertising. Consequently, I usually only enter contests at sites that I would like to get email from, or at those such as yours who let me choose whether or not to be added to your email list. It sure is nice to be the 1 in 70,000.
DH: Given that in addition to winning an Apple Laptop, Google's SketchUp design software program was part of the prize, have you ever used software to do design work with?
EE: Whether it's troubleshooting an instrument at work or building a model airplane or a cabinet at home, I tend to do better when I have a drawing in from of me. To help me with this I use AutoCAD at work and have used it for home projects in the past. Since we have Macs at home, I've used MacDraft quite a bit, but the version I have is old enough that it no longer works with our new printer. I'm looking forward to trying out SketchUp.
DH: What type of projects do you like to do?
EE: I told my brother a while ago that I build stuff so I can create my own antiques. I think that's just a nice way of saying that I'm too cheap to spend real money on good furniture, cabinetry, decks, fences….well, you get the picture. So, the projects I like to do are the ones that fulfill a need around the house and end up saving us quite a bit of money. I also like to pick projects that require me to do something new, and it never hurts, of course, if I also need a new tool.
DH: I understand that you started out doing decks and fences and then saw a set of Adirondack chairs that you liked. How did you develop the plans?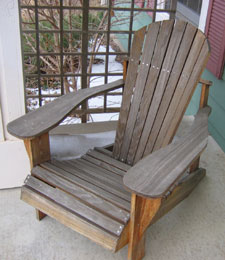 EE: My brother spent quite a bit on a pair of Adirondack chairs that he'd been eyeballing for a while (I thought $180/ea was a little steep). I admit that they were comfortable, but they were made from cedar and I didn't think they would hold up that well (and did I mention how expensive they were?). I persuaded him to let me take them apart so I could measure and trace them. I essentially made full-sized templates for the parts with curves, and measured up the rest. I made mine out of cypress using stainless steel screws. We kept them oiled for several years to maintain the nice cypress grain, but have let them weather the past few years to a nice gray.
DH: Describe your original shop from the standpoint of tools.
EE: I guess I really didn't have much of a shop until I bought a radial arm saw at Sears. I "needed" the saw in order to build a deck at our house. Up to that point I only had a drill and some hand tools. Once I got the radial arm saw, I built the deck at that house, a fence and a patio at another house, and finished the basement at our current house. None of these projects required a tremendous amount of precision (although I'm sure it would have helped in a few cases) so the saw got me by. Because of my model airplane hobby, I later added a bench top band saw, drill press, and belt and disc sander. With these tools and the radial arm saw I made my first set of Adirondacks and a few smaller projects like trellises, flower boxes, and bird feeders. And while these weren't Chippendales, the limits of the RAS (at least for me) started to show. If nothing else, it was much less handy to rip on the RAS than a table saw.
DH: How did you get around not having a joiner or a planer?
EE: To help in my quest to build more Adirondack chairs, I ended up buying a contractor's saw from Sears. Actually, I'm not sure I remember how I justified that one. Anyway, the first piece of nice furniture I built was a Craftsman style bookcase. It was from a Woodsmith plan and had mortise and tenon joinery, another first for me. What to do? Buy a hollow chisel mortiser! I didn't have a jointer or planer, so I was at the mercy of my local quarter-sawn white oak supplier to maintain straight and true stock. This was okay except that I changed suppliers mid-project and had to deal with thickness variations in 1"x stock from each supplier. This made for long days as I had to change table saw and mortiser setups to accommodate the varying thicknesses. Add to this not being able to true a bowed edge and I guess I'm lucky to have been able to produce a tight joint. Needless to say, a jointer and a planer would have been invaluable.
DH: I admire the "I bet I can build one of those" attitude that you have. What other projects have you built using that philosophy and what attracts you to make something? Is it need, seeing something you think is neat or is it something else?
EE: These days, for a price, you can buy just about anything you want or need. My frugal nature (my wife doesn't call it this) does not allow me to plop down hard earned cash for stuff that I can build myself. I would say that this characteristic has been behind most of my projects from the decks ($1,500) and fences ($3,000), to the Craftsman bookcase ($3,500) and kitchen cabinets ($5,000), to the quilt rack ($500) I built for my mom. In each case, I researched what it would cost to have someone else build it and, after picking my jaw up from the floor, decided to build them myself. And while some of the projects have been much more involved than others, I've found that with perseverance and the practice of breaking the project up into smaller, more manageable pieces that I've been able to build what ever I wanted, sometimes using higher quality materials than I would have gotten had I purchased them. I'm sure this method will breakdown at some point (I've been eying some Greene & Greene pieces lately), but up to this point it's worked fine.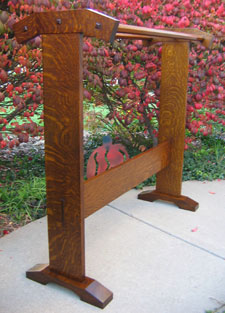 DH: I understand you treated your Mom almost like a client and involved her in the design of the quilt rack that you made for her. Was that the first thing that you made for her?
EE: As far as I can remember, this quilt rack is the first thing I've ever made for her (other than that clay blob-of-a-thing that I made for her in 3rd grade). When I was a kid, I used to fix a lot of things for her, but I guess I never built anything from scratch. That's one reason that I wanted to make something nice for her that she wanted and needed.
DH: Tell us about the materials you used and how you decided to finish it. It is really beautiful.
EE: Since the quilt rack didn't require a truckload of wood, I was able to use some leftover quarter-sawn white oak stock from previous projects. I did have to buy some 6/4, though, and was appalled at the current price. I think I might have to look into alternate materials for future projects, just to have another option. The finish is adapted from a Jeff Jewitt "Mission Oak Finish" article that he wrote for the old Badger Pond website. It uses aniline dye, Sealcoat shellac, and glazing to duplicate the original Stickley fumed finish. I have also used it on the Mission bookcase and end tables, and have tweaked it a little each time. The quilt rack turned out well showing off the ray fleck of the white oak nicely.
DH: You seem to be attracted to the Craftsman Style movement. To what do you trace your exposure to Mission Style design?
EE: We have a furniture store here in town that specializes in stuff that is a little out of the ordinary. Several years ago we bought a table and futon for our living room, and later a bedroom suite. To be honest, I didn't really know what the style was, I just liked it – the wood, the simplicity, the color. It was only after I started looking for a CD case for my CD collection that I started seeing much about Mission and Arts & Crafts-style furniture. This search is what inspired my Mission bookcase project and has continued to this day with my new interest in Greene & Greene. Greene & Greene is like a sexy Mission style – similar forms but with a few nicely placed curves and a bit of sophistication.
DH: Your work is amazing. How did you refine your skills given that you "got roped" into doing picnic shelter construction as a start?
EE: I think the picnic shelter project fell right into the progression of my woodworking life. It was bigger than anything I had done before, required me to learn some new things (truss building, roofing), yet built on skills that I had used to build decks and fences, and to finish the basement. This is kind of how most of my projects have been – learn something new and practice what I did the last time, trying not to make the same mistakes again (OK, maybe I make new mistakes, but at least not the same ones I made before…sounds good, anyway). One thing about woodworking for me is that I can say "Do over" anytime I want. It's not like work where you have to be satisfied with "good enough" sometimes. If I say "Do over", maybe it sets my schedule back a day (or two), but I get to practice some more, and correct the offense before it drives me nuts, even if I'm the only one that would see it when the piece is done.
DH: What advice would you give someone who has an interest in woodworking but doesn't know where to start?
EE: I would tell them to pick a project that they really wanted to build, i.e., don't build a birdhouse to build a birdhouse, build a birdhouse because you want to build a birdhouse. Then talk to as many people as you can and read as much as you can about the project. How did others build it? What tools did they use? Are there plans available? Where can you get the wood? Visit an online woodworking forum. Post a question or two. Watch Norm on TV. Read a few woodworking magazines. Figure out whether you have the tools and skills required to build the project. If you don't, do you have a friend that can help? Or a place to take a class? Most important, determine what level of quality you expect from yourself. Are you a perfectionist? Will this be worthwhile if the piece doesn't meet your expectations? Take your time, and don't be afraid to step back and take a break. Sometimes a night of sleep does wonders to clear the head.
DH: Do you have any books, classes, woodworking clubs or other resources you rely on as a woodworker?
EE: I have a few books (coffee table type) that I look at for ideas, but I do not as of yet have any woodworking skills-type books. I'm looking for one on dovetails, though, so this dearth of books will end soon. I have never taken a class, but this probably has more to do with lack of time and a nearby location than anything else. I've always wondered, though, whether a class would offer the one-on-one type instruction that I would want. As for woodworking clubs, I am not aware of any in the area. I do frequent a few online woodworking forums, though, and it seems like there are a few woodworkers in the area.
I read a lot of magazines – Fine Woodworking , Popular Woodworking , Woodworkers Journal , and Woodsmith . I usually read these cover to cover even if the article is about something I don't think I'm interested in. I've found that with model airplanes if I read articles about aspects of the hobby that I'm not into at the time that I often pick up interesting ideas and techniques. Same goes for woodworking. I also visit a woodworking forum every day while I'm eating lunch. I browse the topics of the day and usually pick up some interesting info about stuff I've never done before, or hear other peoples' experiences with stuff I've done in the past. If I have something specific I'm searching for, I visit other websites, too. One of my college buddies is into woodworking quite heavily, but he lives in Phoenix so I don't have the opportunity to pick his brain in person. Email sure comes in handy.
View a gallery of Ed Everett's work