Toy Crane for Charity
by Robert Clark Rutkowski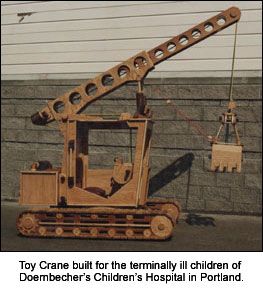 I designed and built the wooden toy crane as part of a program where we constructed wooden toys for the terminally ill children of Doernbecher's Children's Hospital here in Portland, Oregon. It was simply a good use of waste materials from furniture and cabinet manufacturing rather than have it go in a land fill or somewhere else inappropriate.
My grandfather and father owned a sash and door company in Wichita, Kansas when I was born. My father later went on to be the Superintendent of the milling division for J.E. Higgins Hardwoods in San Francisco, California, and was one of two top production molder (multiple knife jointed heads) knife grinders in the United States. I am not much of a craftsman like my father and grandfather were, but I assimilated significant knowledge of the industry and craft by osmosis.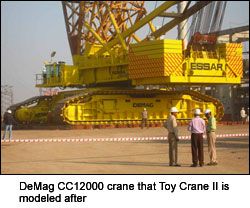 I saw a wooden toy crane in a publication that was basically constructed from 2x4s and little furniture casters. Having a life-long interest in cranes and heavy machinery, I thought that I could do a little better with something that would look a little more realistic, so this is what I came up with for my first design. I now have a much better one designed that looks like a real DeMag CC12000/Gottwald 912 crane, shown on the right.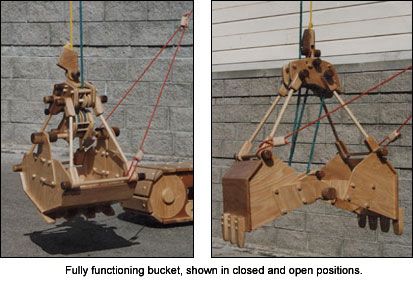 Initially, I spent about 350 hours designing the toy, and then continued to modify and improve my design as I began construction. The crane is constructed basically out of scrap material from a furniture factory - oak veneer plywood, solid oak and walnut, and some alder. The entire time for construction was approximately 450 hours and there are over 10 gallons of clear acrylic finish on it.
The newer version will be much more mechanically sophisticated and have more metallic parts, e.g. sprockets, roller chains, shafts, collars, etc., but the bulk of the machine will still be wood with as much of the metallic parts concealed as possible. This crane will combine a wide variety of wood products in its construction, e.g. hardboard, particle board, veneer plywood, solid wood, etc., as is appropriate for engineering reasons. Some of these materials aren't really that great for furniture and cabinetry (although I like household things made of them because I like the materials of the modern world), but they are engineering wonders for mechanical toys. And, for mechanical toys made of wood, they actually look great. No voids, no grain, smooth hard surfaces and high density. They machine really well to very close tolerances as is necessary for components such as the slewing bearing and other mechanical parts.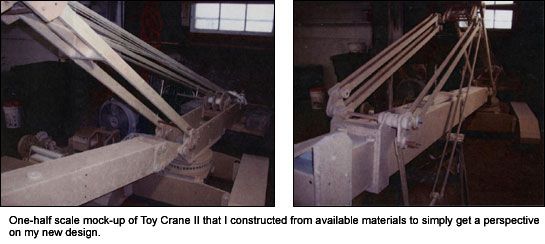 The newer version will stand over 35 feet in height and feature a turntable/slewing bearing that is actually operative, consisting of a ring of 48 3/4" dowels that serve as the large gear driven by a pinion fabricated out of Delrin. The boom on the newer version will be lattice-style also. The cab will be out in the right front just like a real crane and the entire machine will disassemble by pins just as a real one does.
Robert Clark Rutkowski hails from Portland, Oregon. He is currently looking for subsidies to build the newer version of his crane. Due to the mechanical sophistication and size it will be pricy to build, but it will truly be a wooden mechanical and artistic marvel! He may be contacted at metrotekE@gmail.com .
Doernbecher's Children's Hospital is a specialized facility that offers comprehensive programs with full-spectrum pediatric care for hospitalized children. The hospital provides 82% of all pediatric cancer care and the majority of the cardiac/cardio thoracic care for children in Oregon. In addition, it is a major referral center for cancer, heart disease, cardiac surgery, diabetes, kidney disease, neonatal and pediatric intensive care, metabolic disorders, organ and stem cell transplantation, and trauma. For more information visit the Doernbecher's Children's Hospital website: www.www.ohsuhealth.com/dch/ .