Charles B. Frye: Whatever It Takes to Get the Job Done
by Doug Hall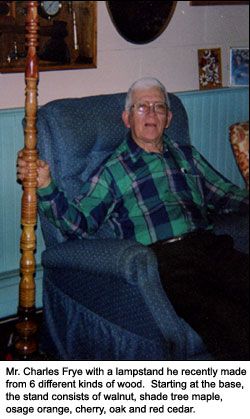 Simply talk with Mr. Charles Frye for a few moments and you realize that for him, it's all about getting the job done. When we called to tell him he had won our Tormek Giveaway, he mentioned that he had never won anything before. Given that he has reached the age of 80 years young, he has more than likely had a few opportunities to win something. Well, he finally won something very special - a Tormek Sharpening Package with all the jigs, plus a $1000 Highland Woodworking Gift Certificate.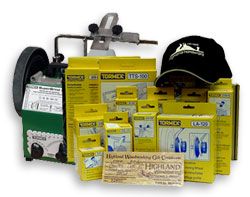 Mr. Frye expressed excitement over the improvements his prizes will make to his shop, given that he currently uses a homemade belt sander. Let me stress again the homemade part. The rollers were fashioned out of tin cans! But the key concept here is "getting the job done". In a very clever approach, he even hooked up a 20-gallon shop vac to the same power source as the sander which guarantees that when doing any sanding the dust is captured automatically.
Mr. Frye was first attracted to woodworking while in high school. His first project was a lamp base which consisted of a wooden block that he handcarved to fit inside a turtle shell, which he constructed in his father's basement. Years later Mr. Frye got a Montgomery Ward lathe, and after getting married in 1949 he acquired a Delta Lathe. Along with his belt sander, he also made himself a table saw. That's right, homemade . In order to adjust the blade height he would take wooden wedges and as needed, raise or lower the table that was built around the saw. As always, the main point was getting the job done.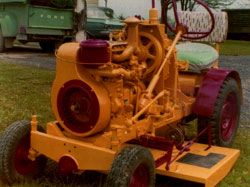 It would be an injustice to speak about Mr. Frye without mentioning 1960. That was the year he decided he needed a new tractor. So he built one. Yes, you read it correctly, homemade tractor . An engine from a 1-1/2 ton truck, used auto axles and various other used parts, a lawnmower engine (he did buy that) and he had a new tractor. I might add that as of our telephone conversation the other day, the tractor still gets the job done.
In addition to making lamp stands (and his own power tools), Mr. Frye has always enjoyed making what he refers to as "lay down display cases". Most are from 15"-20" x 20"-35". One that he is particularly proud of he made for his son, an avid rock collector. The display case consists of 6 trays to showcase his collection. Not to leave anyone out, he also has crafted a classic roll top desk for his wife.
Mr. Frye has demonstrated that in order to be successful at anything it is helpful if you are creative in your approach. Before we finished our last conversation he said, "You've got to be interested in doing something different. Get into it and above all, stick with it". Mr. Frye, congratulations on winning our contest - we can't wait to see what your next project will be.
See Photos of Charles Frye's Work