Burning with Enthusiasm with Julie Bender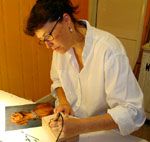 Wood News: What were you doing craft/woodworking-wise when you discovered pyrography? What is your background, creatively speaking?
Julie Bender: Just prior to discovering pyrography, I was not doing any sort of craft/woodworking. My background and degree is in fine art and design. For years I made my living as a computer designer and illustrator and finally moved into the world of project management, focusing on IT-related development. Creatively, I lacked passion for years until I picked up a pyro pen several years ago.
WN: What caught your attention and drew you to this art form?
JB: I discovered pyrography quite accidentally after my dog died. I was searching for an urn for her ashes and, after much deliberation, decided to burn her image into the cherry wood urn I ordered. That was pretty risky, considering I had never picked up a wood burning tool in my life. I had to be very self-forgiving from the start or this would not have worked. Since practicing this form of art I have become more and more fascinated with it, perfecting my technique and experimenting with different surfaces, smooth and carved.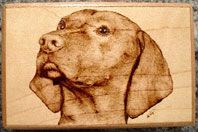 WN: Describe some of your earlier work.
JB: Most of my earlier work consisted of design and illustration, primarily for print advertising. I enjoyed mastering different software programs and simulating various effects. However, what really fascinated me most, but is hard to make a living at was fine art, in the way of painting and sculpting. Working with my hands was far more interesting to me than sitting at a computer.
WN: What are some of the subjects that you enjoy working with, and why?
JB: Currently, my commissions for pet and human portraiture keep me most busy. I love doing them and pride myself on capturing the essence of my subjects and the photorealistic quality in each piece. I also enjoy working with different woods, textures and grains and the diverse effects achieved with each. In the near future, I wish to experiment more with free-hand "illustration" combined with new tips and tools in order to advance and further develop my skills and talents.
WN: Is there a difference in the tools that you began with and the ones you work with now?
JB: The tool that I used on the urn was an inexpensive burner that came with several different tips. It got the job done, but I learned a lot after that. Currently, I work with a dual burner with heat control and have probably 10 pens with various tips. There is no comparison between the two systems. With the latter, it is possible to achieve minute details impossible before, making it more fun to burn and allowing me to be more proficient.

WN: Is it necessary to own the high-end systems to achieve satisfactory results?
JB: That depends on many factors. I know professional pyrographers who use an inexpensive burner and get very professional results. I also know folks who own high-end systems and, in my opinion, achieve a less than optimal result. Perhaps it depends on one's skill level, natural artistic abilities, and objectives. There is never one right or wrong way to go about this.
WN: What are the important features to look for when planning to buy your first set? How should one approach this once they have decided to do pyrography?
JB: Until you commit to this medium and decide to broaden your horizons with it, I suggest trying it out with an inexpensive burner set. If you find you don't enjoy it, then you have not lost much. However, as you practice and find you do enjoy pyrography, you can always "graduate" later to a more professional system, allowing you to realize your investment as you perfect your skills and hopefully, sell your work. In that case it is actually useful to have the option of burning with either set.
WN: Are there other uses for pyrography techniques other than the types of work you do, perhaps for carvers or other types of woodworkers?
JB: Pyrography is so broad in scope. Surfaces to burn on are as varied as tools! In addition to various types of wood, paper, tagua nuts, leather and gourds, carved wood may be burned, provided the wood is unfinished. I know pyrographers who burn on bed posts, decoys, mantles and more. Your imagination is your only limitation.
WN: What types of resources have you found to be important in the development of your skill set?
JB: Well, I thought some basic paperback books and patterns would have helped early on, but they really didn't. I just forged on and I think came out ahead. Practice is key in pyrography. Making mistakes and discovering new and better ways to do this is best. Buy cheap wood to begin with and don't feel every work must be a masterpiece. That said, it never hurts to supplement your studio with books and videos by those who have been in it longer and make their livelihood with pyrography, such as Pyrography Workbook: A Complete Guide to the Art of Woodburning by Sue Walters (203624), The Art of Woodburning: 30 Useful & Decorative Projects by Betty Auth (201455), and Designs for Pyrography and Other Crafts by Norma Gregory (202360)
Julie Bender works from her studio in Decatur, Georgia. For more information about the artist and her work visit her website: www.burningwithenthusiasm.com