Headlights
by Alan Noel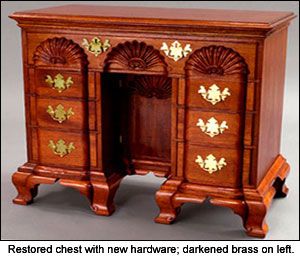 Every so often an antique chest or some other piece will come into my shop for restoration with some or all of the brass hardware missing. As you can imagine, finding the matching replacements can be very difficult, if not impossible, when it comes to very old furniture. Often we have no choice other than to replace all of it with the appropriate style of new hardware.
When looking through catalogs to pick out replacement brass hardware for older pieces or for a new project that just been built and finished, the choices are usually either very brightly polished and clear coated hardware or pieces already "aged" by the manufacturer. The brass that has been aged has a very unnatural look to it, however, and I rarely use that type. On the other hand, if the brass that is polished and clear coated - usually with acrylic lacquer - is applied as is to a piece it reminds me of staring into the headlights on a car. It's much too bright for an old piece and very detracting from a new piece as well. Toning down the brass for a much more pleasing look is what I opt for and it' not very difficult to do.
First, using a soft wire wheel I remove all of the clear coating. Next, I polish the brass back to a high polish using red rouge on a buffing wheel. After all is polished I dip the hardware into a brass darkening solution . It usually only takes a couple of minutes for the solution to darken the brass. After removing, rinsing and drying the brass I gently rub it with #0000 fine steel wool to gently brighten it and create highlights for a more natural look.
Tips:


This process should be used on solid brass only. It is not suitable for brass plated surfaces.
Make sure you remove the clear coating completely before using the brass darkening solution.
When using the buffing wheel, be sure to wear leather gloves as the brass will get a little warm to the touch.
When using the darkening solution work in a well-ventilated area.
Wear finishing gloves when using the darkening solution and use a glass or ceramic bowl to put it in.
If there are still bright spots on the pieces repeat the process again in those areas.