Going Deep...
by Alan Noel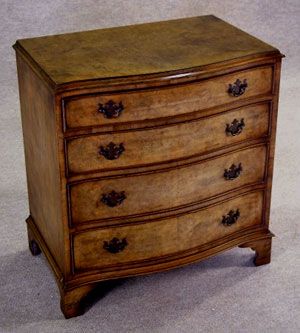 When finishing a project that has carvings or decorative moldings, applying oil-based glazes to these areas is a great way to accentuate the lines of moldings and carvings that have been incorporated into the piece.
After the first coat of finish has been applied and has dried completely, apply an oil-based glaze that is a little darker than the overall piece to the embellished areas with a brush. Then gently start to remove the glaze from the prouder, raised areas using either a brush or rag. As you remove glaze, you will see the lines and figures come alive and add depth and character to the overall look of the piece.
I prefer to use a rag when removing the glaze from the high points, as it is often much easier to do this evenly than with a brush. However, you may find a brush may be better in some instances, such as in smaller or very detailed areas. Experience and a little experimenting will help you find what works best for you.
Tips:


Work in as small an area as possible and move as fast as you can. That way, if you don't like the results there's still time to wipe/brush off the glaze with mineral spirits and reapply.
When using a rag to remove the glaze, constantly fold the cloth and move it about in your hand so you always use a clean area of the rag. Otherwise, you'll end up reapplying what you have already taken off.
If you remove too much glaze, use a brush with a very small amount of glaze and reapply sparingly where needed.
After the glaze has dried per the instructions on the can, you can leave it as is or continue to apply more finish according to your own finishing schedule.
Usually, a casual approach to this technique tends to work the best. The more you fool with it the more unnatural it looks. Step away often to check your results.