An Introduction to Sphere-Based Turning
By Joe Skehan
Salt Lake City, UT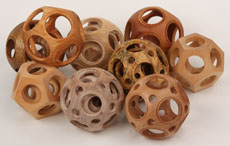 Most wood turning is performed on material mounted in a single plane; the wood is placed between centers or held in a chuck. It is then worked perpendicular or parallel to the grain. However, as early as the 16th century, turners discovered that if the material being worked was in the shape of a sphere, then it could be worked from any point, rotated and then worked from any other point, producing concentric designs.
---
Woodturning Tools:
The Easy Wood Tools Full Finisher
By George T. (Terry) Chapman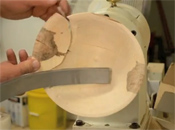 In woodturning, we never have a catch, we always have a "nasty" catch. I agree that catches are always nasty, and I still hate them. They scare me pretty good most of the time.
I was practicing last week with the next tool in the Easy Wood Tool group, the Full Finisher. It really is a smooth cut and you can get quite aggressive with it.
CLICK HERE to learn what happened to make Terry think he needs a bit more practice with the Full Finisher!
---