Jumpstart Your Turning Skills with a Class
By Curtis Turner
Round Rock, TX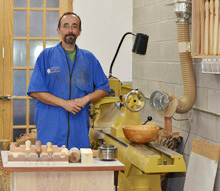 Highland Woodworking is pleased to introduce you to Curtis Turner, our newest contributing writer to The Highland Woodturner. Even though he has been a "Turner" his entire life, he knew turning was a skill that required the guidance of a master to develop it fully. He worked closely with an experienced turner, who helped him train his eye (and hand) to blend curves, develop pleasing forms and sharpen tools efficiently.
The guidance he received in his early days of turning has convinced him that success in woodworking credits back to both formal instruction and membership in a community of woodworkers.
---
Woodturning Tools:
The Easy Wood Tools Full Detailer
By George T. (Terry) Chapman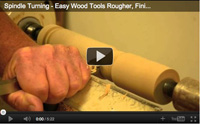 This month, I tried the Easy Detailer while turning a spindle and making
a bead and cove. I also added a few other details which one might use while making a candlestick, a Windsor chair leg or a stair spindle. The Easy Detailer worked like a champ.

CLICK HERE to read more about Terry's experience using the Easy Wood Tools Full Detailer and watch a video of the tool being used:
---