A mallet makes for a "fun"ctional project
By Curtis Turner
Round Rock, TX
This month, we focus on a simple but functional project: a mallet. This handy project is fast-paced and has a wide range of acceptable designs, so it's perfect for a beginning turner. This project will take a beginner about 2 hours to complete. A mallet also makes a great gift for a woodworking friend.
---
Highland's own Windsor Chair Class teacher, Peter Galbert, featured in Woodturning Magazine!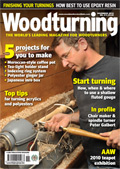 Woodturning Magazine published a fantastic profile on Peter in October of 2010, and he was even featured on the cover! Inside the article he discusses his process, including the "human quality" he strives for in all of his chairs, by achieving subtle variations between the turnings. Our personal favorite part of the article is when Peter talks about imagining "someone mistaking a loaf of bread for a doorstop" to help him stick with the tools that allow the wood to do what it does best.
CLICK HERE to read the article and learn more about Peter Galbert's methods and philosophy as a woodturner and a chairbuilder.
CLICK HERE to learn more about Peter's upcoming Windsor Chair class at Highland!
---

A Ready-to-Use Longworth Chuck for your Lathe!

Those interested in a Longworth chuck for their lathe would usually have to find a set of plans and try to build their own from scratch. Now you can get this high-quality, ready to use Longworth Chuck fashioned from durable phenolic resin. The accurate CNC machining of this chuck ensures the phenolic disc plates rotate smoothly for adjusting the clamping diameter of the chuck.

Want to know more? Take a look!

Bodger Set of 6 Turning Tools: Rugged and Affordable

Whether you are a beginning woodturner or a seasoned pro, our new Bodger turning tools offer a very affordable, high–quality alternative to British turning tools. Made from high–speed steel, these rugged tools are quite tough with a Rockwell hardness of Rc 60.

CLICK HERE for more info:


Want to receive
The Highland Woodturner EVERY MONTH?

CLICK HERE to sign up!


---

For this monthly column, we invite you to
SEND US PHOTOS
of your woodturning projects along with captions and a brief history and description of your woodturning. (Email photos at 800x600 resolution.) Receive a $50 store credit if we show your turning in a future issue.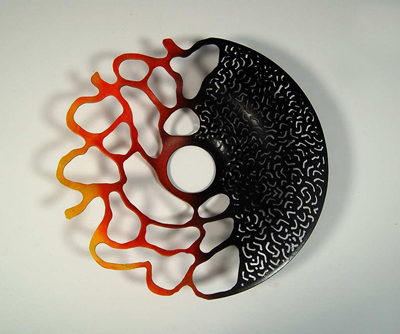 This month we are featuring Johnny Taylor's impressively detailed woodturnings. After looking at the stunning artistry of Johnny's works, we were amazed to learn that he has only been turning for three years.
Take a look HERE!
---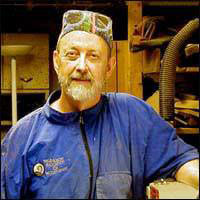 Bandsaw Cutoffs: An Unsafe Distraction?

How do you handle all those cutoff pieces from the bandsaw when preparing stock for your projects? There always seems to be a lot of leftover material you could use for smaller projects in the future. What you don't want to have happen is that you start looking at and wondering about the cutoffs while you are still cutting for your present project. It's just not safe.
Here's how Phil deals with this unsafe distraction: