By Curtis Turner
Round Rock, TX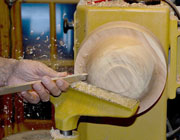 The holiday season is fast approaching, and a custom-made bowl makes a great gift for a teacher, family member, or friend. This is a great beginner project, and it can be completed in just a few hours. While entire books have been written about bowl turning, this article is intended to get you started with a few simple strategies.
---
Moulthrop: Incredible Woodturnings by Three Generations of Woodturners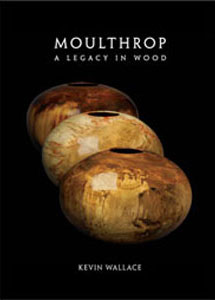 Highland blogger Terry Chapman took a trip up to Marietta last week to check out their latest exhibit - "Moulthrop -- A Southern Legacy". The exhibit features the amazing turnings of three generations: Ed Moulthrop, his son Phillip, and his grandson Matt.
Read Terry's take on this impressive exhibit, and take a look at his slideshow to get a sense of the scale of this family's incredible woodturnings:
---

Oneway 1236SD Sit Down Lathe

This unique design from Oneway allows a turner to work while sitting down at a stool or chair, and is perfect for anyone who cannot stand comfortably at the lathe while turning. The lathe also converts easily to allow turning while standing up.

Learn more about the Oneway Sit Down Lathe:

Anchorseal 2 Green Wood and End Grain Sealer

This thick, waxy sealer easily provides the control you need to slow evaporative moisture loss through end grain to reduce checking and warping as green wood dries. The dry film of End Grain Sealer is soft enough to be scraped off the wood easily when it's ready to be used. Check out the next generation of End Grain Sealer:

See Previous Newsletters
How to Submit an Article


Copyright ©2011 Highland Woodworking, Inc.

Errors regarding pricing and specifications are subject to correction.
Some items may sell out and become delayed or unavailable at the advertised price.

Safe Woodworking Disclaimer Highland Woodworking | 1045 N. Highland Avenue, NE | Atlanta | GA | 30306 | 404.872.4466

www.highlandwoodworking.com

www.thehighlandwoodturner.com