Turning a large oak bowl
By Curtis Turner
Round Rock, TX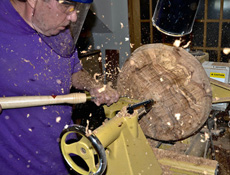 A friend recently asked for my assistance in turning a large bowl. He knew he had a unique piece of wood, and wanted some advice on how to proceed. Even though the rough chainsaw marks obscured the real beauty, we could tell this was a very unusual blank.
Over the past year, Pete cut and stored the blank to dry, and filled a few voids with epoxy.The blank was still very heavy, but had dried without any issues...or so we thought.
---
Ed Hernandez' Holtzapffel Lathe
By Tom Frazer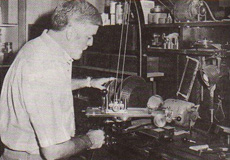 At ten paces, E.C. "Ed" Hernandez' Victorian-era Holtzapffel ornamental lathe doesn't appear terribly impressive. Frankly, it looks somewhat like an oversized but spindly treadle-powered sewing machine connected by looping belts to an overhead dentist's drill.
Yet, this "ultimate Rube Goldberg contraption" crafted 110 years ago in London by John Jacob Holtzapffel enables Hernandez to create exquisite works of art and to continue a hobby once pursued in their leisure time by Louis XVI of France and Peter the Great of Russia.
Read more about the fascinating history of this Holtzapffel lathe:
---