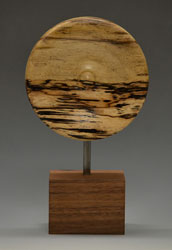 Turning a Mini Disk
By Curtis Turner
Round Rock, TX
This project is an excellent way to take a break from turning the same old pens and bowls. This easy project can be accomplished on a mini lathe, and requires only a small block of wood. A mini disk is a good way to display an interesting wood and show off your turning skills.
CLICK HERE to learn how to
make your own mini disk:
How to Inlay Stone Into Wood
By Tim Carter
Delray Beach, FL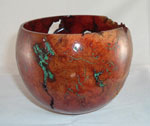 Want to take a plain project and make it really spectacular? One way to do it is to inlay semi-precious stone into the wood! The inlay can create an amazing contrast of colors and shapes that will draw people to it!
I'm a woodturner and use this process a lot on bowls, platters, hollow forms and Lazy Susans that I turn. However, the process can be used on any type of wood working project.
CLICK HERE to learn Tim's process for inlaying stone into wood: