Paper Pot Maker
By Curtis Turner
Round Rock, TX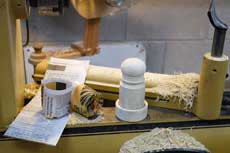 The southern states are already thinking about (and maybe experiencing the early signs of) spring. I realize my northern friends have a longer wait. This just means you will have more time to complete this project. The project is a newspaper pot plant starter, which will be a handy tool for the gardener in your family.
CLICK HERE to learn how to make your own paper pot maker:
---
Turning Class at Highland with Mike Mahoney
By George T. (Terry) Chapman
Fairburn, Georgia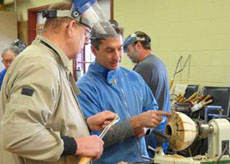 Well, I've been to the mountaintop. I went to a Master Class at Highland Woodworking in Atlanta with Mike Mahoney, world class bowl turner.
There were about ten of us in the class with a wide range of experience and ability and many hailing from far away. The result was some good bowls, some mediocre ones and some chunks of wood flying around the room. It looked to me as if everybody had a good time, but one young man about seventeen years old summed it up for all of us when he decided the big thing he got out of the class was, "I am not as good as I thought I was."
CLICK HERE to read more about Terry's experience:
---
Crown Pro-PM Powder Metal Turning Tools

Here's a way to spend less time sharpening your tools and more time turning wood. Crown's powder metallurgy technology is tougher, harder (66-68 Rockwell), and longer lasting than M2 HSS. Users report that Pro-PM tools hold their edges about 3 times longer than conventional HSS tools. To encourage you to experience the difference PM technology makes, we're offering a special discount on the popular 3/8" Pro-PM bowl gouge.

Check out the special offer:

Pen Turner's Abrasive Kit

This very handy sanding assortment includes four 1-inch by 20-foot rolls of J-weight cloth-backed abrasives in a pull-out dispenser box -- perfect for finishing pens and other between-centers turnings. The convenient dispenser box contains resin-bonded aluminum oxide in 150, 240, 320 & 400 grit for the finest finishing.

How to order the kit: