Turning a Pen
By Curtis Turner
Round Rock, TX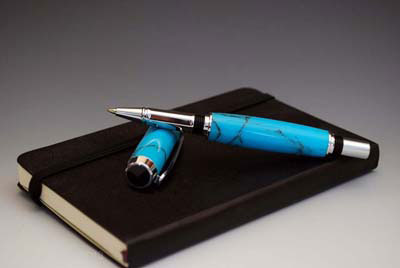 I think pen turning is the perfect introduction to the craft of woodturning. The project is well-defined, usually includes a set of instructions and requires only a simple set of tools - a lathe, a pen blank, and kit is all that is required to complete a first pen turning project. But be warned -- pen turning is only an appetizer and may well lead to you getting hooked on woodturning!
CLICK HERE if you aren't afraid of getting hooked, and get some great tips from Curtis on turning a pen:
---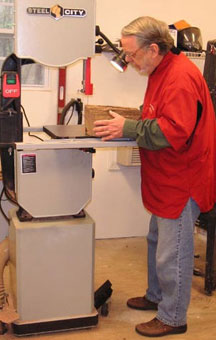 The Highland Blog:
Shop Aprons for Real Men
By George T. (Terry) Chapman
Fairburn, Georgia
In this classic post, Terry Chapman takes a closer look at a couple of alternatives to having chips falling down the front of your shirt while you are woodturning. Rather than let his attire hold him back, Terry bought the red turning smock from Highland and then followed it up with a leather shop apron purchase.
CLICK HERE to read the details:
---

Easy Wood Chuck
New Lower Price!

After rocking the world of woodturning with his innovative Easy Wood Tools a few years ago, Craig Jackson has now done the same thing with his new Easy Chuck for wood turners. Not satisfied with things being done "the old way," Craig has invented two awesome new features for his Easy Chuck, and implemented them in his usual "Made in the USA" fashion.

Take Advantage of the new lower price!

Crown 3/8 inch Pro-PM Bowl Gouge

Representing the highest state of the art, tools created with Crown's powder metallurgy technology are tougher, harder, & longer lasting than M2 High Speed Steel. Users report that Pro-PM tools hold their edges about three times longer than conventional HSS tools. For less time maintaining the tools & more time turning wood, Pro-PM tools are the clear choice.

Save more than $20 right now!

---

Visit Highland's TURNING TOOL Department

Visit Highland's LATHE Department