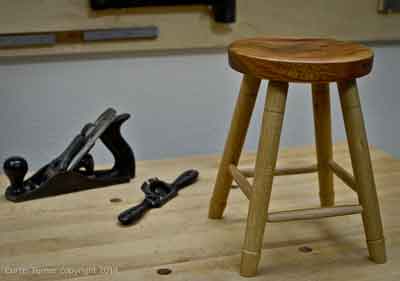 Turning for
Furniture Makers

By Curtis Turner
Round Rock, Texas

I have always found it interesting how woodworkers are generally divided into two camps. Flat woodworkers and round woodworkers with only a small percentage of makers working in both crafts. I happen to be one of the few woodworkers at the intersection of both groups. I find aspects of both crafts very appealing. The woodworker in me enjoys hand tools and watching a project emerge from a stack of lumber. I also experience the level of satisfaction when I turn an object from a log I harvested months before.

CLICK HERE to continue reading:


---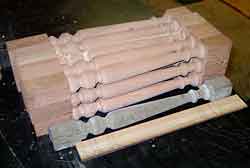 Turning with Temple:
Turning Multiple Spindles

By Temple Blackwood
Castine, Maine

Setting out to turn a series of multiple spindles requires a number of helpful preparations. In this how-to article, Temple goes over the three rules all turners need to know when turning spindles, as well as the step-by-step process of completing your spindles.

CLICK HERE to learn the process:


---



Rikon 70-100 Premium
12" Expandable Lathe
ON SALE for $299.99
(reg. $399.99)

Super-sizing the mini-lathe concept, Rikon has created a lathe with an impressive 12 inch swing and 16 inches between centers. You can further increase the bed length in 24" multiples with the optional bed extension. The 1 inch x 8 TPI threaded drive spindle is powered by a 1/2HP 6.6 amp motor and a 6-step pulley for speed changes from 430-3900 RPM.

ON SALE while supplies last!

CLICK HERE for more info:


Save $50 on our precision SuperNova2 4-Jaw Chuck

This is a great buy on a terrific chuck that will help make bowl turning a pleasure. The Teknatool SuperNova2 4-jaw scroll chuck incorporates advanced chucking technology. Its 4" steel body is nickel plated for long life. Its quick-ratio scroll mechanism is driven by a convenient ball end hex wrench. Includes twenty-four 3mm indexing holes for precision positioning.

ON SALE while supplies last!

CLICK HERE to purchase:

---





Easy Wood Tools –
The EASY way to turn!


Easy Wood Tools offer an innovative solution to the challenge of learning to turn wood. Using replaceable carbide cutters, they address fatigue, safety and efficiency like no other turning tools.

Are you learning to turn?
Make it a little EASIER on yourself
with Easy Wood Tools





Bodger Set of 6
HSS Turning Tools

Whether you are a beginning woodturner or a seasoned pro, our Bodger turning tools offer a very affordable, high–quality alternative to British turning tools. We guarantee they will ably serve the needs of any woodturner who wants exceptional performance.

More info on the
Bodger Set of 6 Turning Tools:

We invite you to SEND US PHOTOS of your woodturning projects or shop along with captions and a brief history and description of your woodturning. (Email photos at 800x600 resolution.) Receive a $50 store credit if we show your turning or shop in a future issue.


This month we are featuring the projects of Peter Fabricius who has been turning since 1960, but has made it a regular hobby since retiring in 2006.

CLICK HERE to take a closer look at Peter's variety of turnings:


---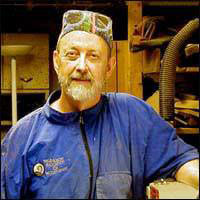 A "Nut" Case

This month, Phil has come up with a tip using a 15/16 OD nut that will help make hollowing and drilling on the lathe into a much easier process!

CLICK HERE to read how:


---
Upcoming Turning Classes at Highland

Many classes fill up quickly, so please register now to make sure we hold a spot for you.

Apr 19 Basic Bowl Turning
Apr 26 Beginning Bowl Turning

Classes Suitable for Teens
View Slideshows of Classes


---
Visit Highland's TURNING TOOL Department
Visit Highland's LATHE Department
Visit Highland's TURNING EQUIPMENT Department
---
Recently Featured Products
Bodger Rotary Bowl Sander
Crown 3/8 inch Pro-PM Bowl Gouge
1/2" Drill Chuck with #2 MT
End Grain Sealer
BOOK: Fixtures and Chucks
Galbert Woodturner's Caliper
Keyless Drill Chuck
Mirka Abranet Mesh Abrasives
Mirka Hand Sanding Blocks
Oneway Wolverine Grinding Jig
Oneway Wolverine Vari-Grinder Attach.
Tormek T-7 Wet Grinder
Woodturner's Bandsaw Blade
BOOK: Woodworkers Guide to Turning