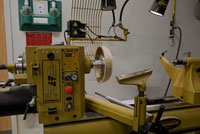 Vacuum Chucking: Initial Impressions

By Curtis Turner
Round Rock, Texas

A vacuum chuck is a system designed to draw a vacuum through the headstock for the purpose of holding a work piece to a lathe without support from the tailstock. Typically, vacuum chucking is used to reverse mount a bowl or platter to provide total access to the bottom of the item. There are several advantages to this system.

CLICK HERE to read more about Vacuum Chucking and its advantages:


---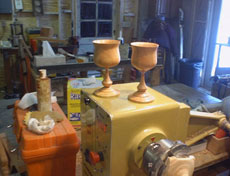 Turning with Temple:
Long Thin-Stem Goblets

By Temple Blackwood
Castine, Maine

A pair of goblets or flutes can make a remarkably fine wedding present. In this Turning with Temple column, Temple shows you the process of how to create these long, thin-stem goblets on your lathe.

CLICK HERE to see how you can make your own goblets:


---
Woodturning with
Tim Yoder

Presented by
Popular Woodworking

Our friends at Popular Woodworking have a new episode of Woodturning with Tim Yoder, Episode 8: Turning a Roman Canteen.

CLICK HERE to watch Episode 8: Turning a Roman Canteen:


---



Oneway's Sure Grip Hosaluk Tool Handle - 17-1/2"

Dampen vibration and add mass and rigidity to your favorite turning tool by mounting it in one of these heavy, plastic-coated steel tool handles. Each handle is bored to 5/8" at one end, 1/2" at the other; two set screws lock tools firmly in place for smooth, fully controlled turning. 2.5 lbs.

CLICK HERE for more product info:


Oneway Mastercut 5/8" Double-Ended Bowl Gouge

Oneway Mastercut Double-Ended Bowl Gouges for wood turning are distinguished both by the quality of their materials and by the thoughtfulness of their design. They're made of CPM M4 high speed steel, which stays sharp up to 3 times longer than conventional HSS. The 1/2" spindle gouge's shallow flute is ground well above the center of the tool, leaving much more mass and stiffness than usual in the shank, making it especially well suited for reaching well past the tool rest (10" total length).

CLICK HERE for more info:

---


Visit Highland's TURNING TOOL Department

Visit Highland's LATHE Department

Visit Highland's TURNING EQUIPMENT Department


Want to receive
The Highland Woodturner
EVERY MONTH?

CLICK HERE to sign up!
---

We invite you to SEND US PHOTOS of your woodturning projects or shop along with captions and a brief history and description of your woodturning. (Email photos at 800x600 resolution.) Receive a $50 store credit if we show your turning or shop in a future issue.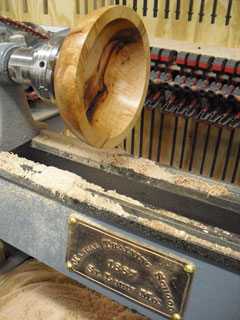 This month we are featuring the woodturning shop of Dennis Purcell.

CLICK HERE to take a closer look at Dennis's woodturning shop and projects:


---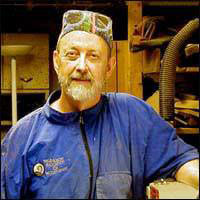 Improve Your Turning with the Oneway Woodworm Screw

This month, Phil has a tip on using the Oneway Woodworm Screw in your chuck and how it helps your turning process.

CLICK HERE to find out more:


---
Upcoming Turning Classes at Highland

Many classes fill up quickly, so please register now to make sure we hold a spot for you.

Jul 23 Sharpening for Turners
Jul 26 Beginning Turning
Jul 27 Basic Bowl Turning
Jul 29 Natural Edge Bowl Turning

Classes Suitable for Teens
View Slideshow of a Beginning Turning Class with Hal Simmons


---
Recently Featured Products
Easy Wood Tools Easy Parting Tool
Steel City 8 inch Industrial Low Speed Bench Grinder Pkg Deal
Easy Wood Tools Aluminum Faceplate
Beall Wood Buff Kit
Turning Green Wood
Crown 3/8 inch Pro-PM Bowl Gouge
Wave 2" Starter Kit
Galbert Woodturner's Caliper
Mirka Abranet Mesh Abrasives
Mirka Hand Sanding Blocks
Tormek T-7 Wet Grinder