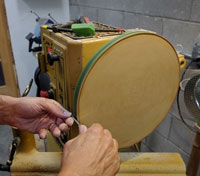 Creating a Stropping Wheel

By Curtis Turner
Round Rock, Texas

This is an extremely easy project! A stropping wheel will be useful for touching up knives as well as turning tools. You will need a faceplate, a small piece of MDF, and a small strip of leather (an old belt will work). It is well worth the time and materials to create a stropping wheel.

CLICK HERE to learn how to make your own:


---
Quick, Easy, and Great-looking Turned Christmas Ornaments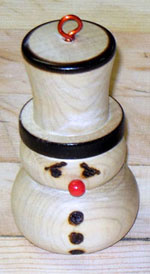 By Rick Morris
Duluth, GA

When Christmas rolls around, as it seems to do every year, I begin to think of what I want to turn to give out as small Christmas gifts. Last year and this year, I have settled on making three different types of Christmas tree ornaments. They must be small and light enough so that they don't drag the tree branch down to the floor. Since I want to make several dozen, not just one or two, they also must be fairly easy to make, not requiring much time per ornament. And, of course, they must look great when they're done!

CLICK HERE to learn the step-by-step process of making your own ornaments:


---
VIDEO: Creating a Snowman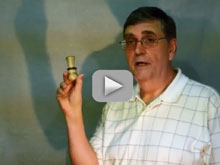 By Rick Morris
Duluth, GA

To go along with his Christmas Ornament making article, Rick Morris has created a step-by-step video guide to creating his Snowman ornament. In Part 1 he goes over the shaping of the Snowman ornament. In Part 2 he goes over the sanding, finishing, and addition of the facial elements on the ornament.

CLICK HERE to watch the videos:


---

Want to receive
The Highland Woodturner
EVERY MONTH?

CLICK HERE to sign up!
---

We invite you to SEND US PHOTOS of your woodturning projects or shop along with captions and a brief history and description of your woodturning. (Email photos at 800x600 resolution.) Receive a $50 store credit if we show your turning or shop in a future issue.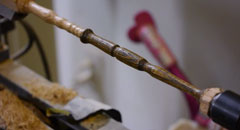 This month we are featuring a woodturning video made by Ben Hall featuring his process of turning magic wands. This is a project he enjoys making and a great gift idea for kids.

CLICK HERE to see Ben's wand-turning video:


---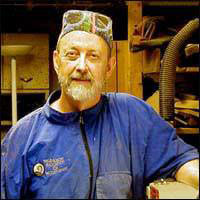 Grinder Grit Wheels

This month, Phil shares a time saving tip when using the Oneway Wolverine Grinding System, and how it will allow you to have even more time to turn.

CLICK HERE to read his tip:


---
Upcoming Turning Classes at Highland

Many classes fill up quickly, so please register now to make sure we hold a spot for you.

Oct 25 Beginning Turning
Oct 26 Basic Bowl Turning

Classes Suitable for Teens
View Slideshow of a Beginning Turning Class with Hal Simmons


---
Recently Featured Products
Flex Arm Magnetic LED Work Light
Easy Wood Tools Parting Tool
Oneway Mastercut 5/8" Double-Ended Bowl Gouge
Oneway's Sure Grip Hosaluk Tool Handle
Oneway Mastercut 5/8" Double-Ended Bowl Gouge
Easy Wood Tools Easy Parting Tool
Steel City 8 inch Industrial Low Speed Bench Grinder Pkg Deal
Easy Wood Tools Aluminum Faceplate
Beall Wood Buff Kit
Turning Green Wood
Crown 3/8 inch Pro-PM Bowl Gouge
Galbert Woodturner's Caliper