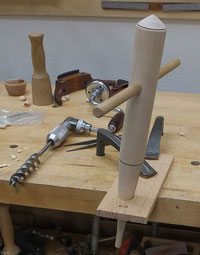 Project: Making a Tapered Reamer

By Curtis Turner
Round Rock, Texas

In order begin working on his own Windsor Chair, Curtis decided to make his own tapered reamer, which will help with his chair making process. Curtis explains the process he used to make the reamer from wood selection to sharpening the blade.

CLICK HERE to read the process:


---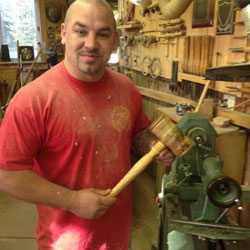 Celebrating Woodturning by Teaching

By Temple Blackwood
Castine, ME

In honor of our 50th issue of The Highland Woodturner, Temple discusses his appreciation for the opportunities he has been given to be a teacher of woodturning. He recently taught a friend the step by step process of turning a gavel, and in this article he discusses this turning process as well as his love of teaching.

CLICK HERE to read more:


---



Galbert Woodturner's Caliper

Peter Galbert should win Engineer of the Year for this ingenious design. Executed with an excellent high quality fit and finish, this "woodturner's tape rule" makes sizing the diameter of a spindle easier than ever before. It is a direct reading caliper which accurately displays the diameter of a workpiece from 1/2" up to 2-3/4", to the nearest 32nd, while the workpiece is being turned. Made from stainless steel, glass reinforced nylon and clear polycarbonate. 6-1/2" long.

CLICK HERE for more info:




Woodturner's 3/8 inch Bandsaw Blade

Our 3/8 inch wide WoodTurner's Bandsaw Blade, with its 3 TPI, alternate set w/ raker tooth pattern and stout band thickness of .032 inch, is just the blade for bandsawing green wood. The significant tooth set of this blade provides ample room to keep the blade zipping along through dripping wet, kerf-closing, growth-tensioned logs.

CLICK HERE for more info:

---


Visit Highland's TURNING TOOL Department

Visit Highland's LATHE Department

Visit Highland's TURNING EQUIPMENT Department


Want to receive
The Highland Woodturner
EVERY MONTH?

CLICK HERE to sign up!
---

We invite you to SEND US PHOTOS of your woodturning projects or shop along with captions and a brief history and description of your woodturning. (Email photos at 800x600 resolution.) Receive a $50 store credit if we show your turning or shop in a future issue.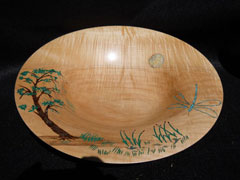 This month we are featuring several bowls turned by Jeff Greenberg who often incorporates a variety of inlay designs into his pieces.

CLICK HERE to see Jeff's woodturnings:


---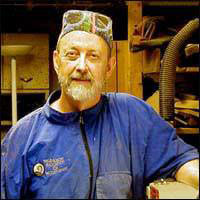 Take a Turning Class

This month, Phil has a tip on the best way to get started in woodturning, which is by taking a class. Phil shares several options and also shares some of his experiences as a woodturning teacher.

CLICK HERE to read Phil's tip


---
Upcoming Turning Classes at Highland

Many classes fill up quickly, so please register now to make sure we hold a spot for you.

May 23 Beginning Turning
June 3 Sharpening for Turners
June 17 Taming the Skew

Classes Suitable for Teens
View Slideshow of a Beginning Turning Class with Hal Simmons


---
Recently Featured Products
Gladstone HSS Tip Turning Scrapers
Learn To Turn - 2nd Edition
Rikon 70-220VSR 12-1/2 inch Midi Lathe
Getting Started in Woodturning
Deluxe Pepper Mill Kit
Tormek T-4 Sharpening System
Delta 2MT Live Center
Oneway's Sure Grip Hosaluk Handle