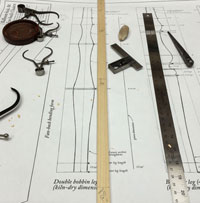 Marking and Measuring

By Curtis Turner
Round Rock, Texas

Curtis's most recent project is a Windsor style stool based on plans found in the Chairmaker's Notebook by Peter Galbert. This project requires turning several matching parts. While portions could be turned by eye, there are elements that should be turned to precise proportions. Measuring tools are critical to the success of this and similar projects.

CLICK HERE to read more:


---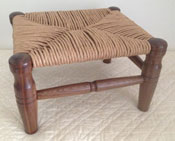 Turning a Small Classic Child's Bench

By Temple Blackwood
Castine, ME

One project that offers multiple benefits to the turner is to turn, build, and weave a small child's corded-rush-seated bench. The benefits are that the entire project can be completed in about three-to-four hours, will provide an opportunity for extensive practice with the skew chisel, presents a modest challenge in turning multiple parts that match and mate, and creates a new avenue for experimenting with practicing design modifications for these and other larger versions of the four-legged soft-seated bench.

CLICK HERE to read more:


---




Tormek T-4
Sharpening System

The Tormek T-4 is a smaller-scaled water-cooled sharpening system modeled after the legendary Tormek T-7, which is unsurpassed for accuracy and repeatability when grinding, sharpening and honing just about every tool in your shop and home.

CLICK HERE for more info:

Turners will be especially interested in the Tormek TNT-708 Woodturner's accessory kit for the Tormek T-4 and T-7 grinders, which includes the jigs a turner will need for sharpening his turning tools.

CLICK HERE for more info:


Shop Smock

Our shop smock is made from ruby-red colored, lightweight nylon and has an open mesh under the arms to keep you cool. When zipped up all the way, the stretch fabric on the back of the collar allows it to fit snugly but comfortably around your neck to keep out wood chips. Two more handy pockets are cleverly located on the back to prevent them from getting filled with dust and chips.

CLICK HERE for more info:

---


Visit Highland's TURNING TOOL Department

Visit Highland's LATHE Department

Visit Highland's TURNING EQUIPMENT Department


Want to receive
The Highland Woodturner
EVERY MONTH?

CLICK HERE to sign up!
---

We invite you to SEND US PHOTOS of your woodturning projects or shop along with captions and a brief history and description of your woodturning. (Email photos at 800x600 resolution.) Receive a $50 store credit if we show your turning or shop in a future issue.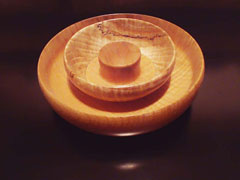 This month we are sharing the woodturning projects of Scott Fruchter and his Grandson, Cameron. When Cameron had a curiosity in turning after helping Scott clean up the house, it became the perfect family bonding experience.

CLICK HERE to see Scott's woodturnings:


---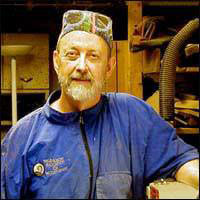 Round Over the Rim

When you rough turn a bowl, do you worry about it cracking while drying? Well Phil's got a tip for you on rounding the rim so that you don't have to worry about that common problem anymore.

CLICK HERE to read Phil's tip:


---
Upcoming Turning Classes at Highland

Many classes fill up quickly, so please register now to make sure we hold a spot for you.

September 26 Basic Bowl Turning
September 27 Beginning Turning
October 14 Natural Edge Bowl Turning
October 21 Taming the Skew

Classes Suitable for Teens
View Slideshow of a Beginning Turning Class with Hal Simmons


---
Recently Featured Products
Rikon 8 inch Professional Low Speed Bench Grinder
Record Power SC3 Geared Scroll Chuck Package
Rikon 70-220VSR 12-1/2 inch Midi Lathe
Turning Custom Duck and Game Calls
Bodger Set of 6 HSS Turning Tools
Pens From The Wood Lathe
Galbert Woodturner's Caliper
Woodturner's 3/8 inch Bandsaw Blade
Gladstone HSS Tip Turning Scrapers