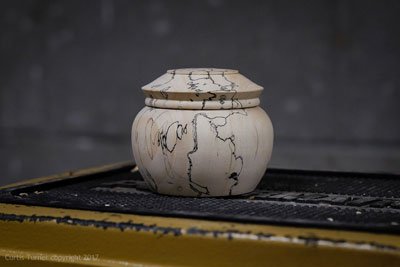 Project: Turning a Box
By Curtis Turner
Round Rock, TX
A spalted tamarind blank was floating around my shop for years waiting for the right project. Last month, it somehow made its way to the top of the stack, where it just happened to catch my eye. I could see a small lidded box hiding in the wood. I knew it was finally time to turn this blank.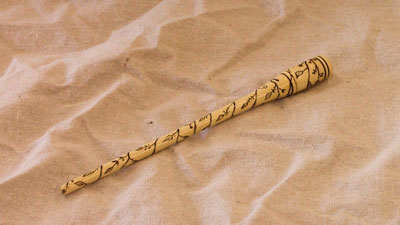 Project: Turning a Magic Wand
By Rick Morris
Duluth, GA
A magic wand is a great woodturning project, especially if you need a gift for a Harry Potter fan, and a wand is pretty darn easy to turn. One long spindle, maybe an inch in diameter, a few roughing passes down the length to get a taper, a few beads at the top to make a handle, and you've got a magic wand.
CLICK HERE to see the step-by-step process
Featured Turning Products
Woodturner's 3/8 inch Bandsaw Blade

Our 3/8" wide Woodturner's Bandsaw Blade, with 3 TPI, alternate set with raker tooth pattern and stout band thickness of .032", is the blade you are looking for if you want to create bowl blanks from green wood on the bandsaw.


CLICK HERE for more info

Woodturning with Ray Allen

The ultimate guide for anyone interested in segmented turning, Woodturning with Ray Allen provides a thorough look at Allen's specific techniques and beautiful work.


SAVE 33% on this title!
More Turning Tools and Books for your Shop



Rikon 8 inch Professional
Low Speed Bench Grinder




Easy Wood Tools




Rikon 70-220VSR
12-1/2 inch Midi Lathe




Tormek T-8
Sharpening System




Tormek SVD-186
Gouge Jig

CLICK HERE
for more info




Flex Arm Magnetic LED Work Light




Shop Smock

CLICK HERE
for more info




Inside-Outside Caliper
6 inch




Getting Started in Woodturning




Weekend Woodturning Projects




Pens From the
Wood Lathe




Turning Toys with
Richard Raffan




1/2 inch Keyless
Drill Chuck




Deluxe Pepper Mill Kit




Slimline Pen Kit




Pen Blanks
Click the images below to visit some of our most popular tool departments
| | | | | | | |
| --- | --- | --- | --- | --- | --- | --- |
| | | | | | | |
| Finishing | Books | Clearance | Festool | Planes | Sharpening | Wood Turning |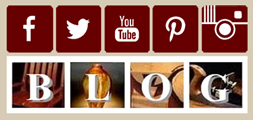 Highland Woodworking
1045 N. Highland Ave. NE
Atlanta, Georgia 30306
Tel. 800-241-6748
Email us at email@highlandwoodworking.com
Visit us on the web at www.highlandwoodworking.com
Copyright © 2017 Highland Hardware, Inc.

Errors regarding pricing and specifications are subject to correction.
SOME SALE QUANTITIES MAY SELL OUT and become unavailable at the advertised price.