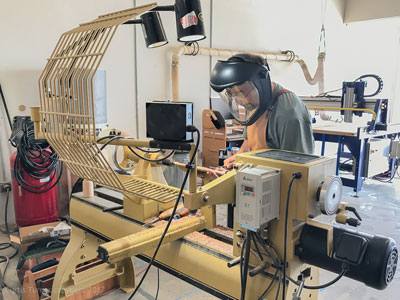 Woodturning Event Demonstration
By Curtis Turner
Round Rock, TX
A national maker space near my shop just celebrated their 5th anniversary with a weekend open house. They asked me to do a turning demonstration and so I decided to demonstrate how to turn magic wands.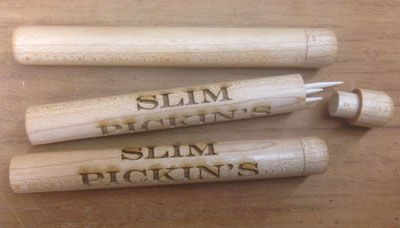 Woodturning Project: Toothpick Holder
By Temple Blackwood
Castine, ME
This past summer, I received an email inquiry from a fellow who, after finding my website, wanted to know if I would be willing to turn a series of 15 pocket toothpick holders he wanted as gifts for his group of friends. I put together a design and then started turning away!
Click here to learn how I made them
Featured Turning Products
Rikon 70-220VSR 12-1/2 inch Midi Lathe

Rikon has hit a home run with their new model 70-220VSR midi-lathe. Featuring 12-1/2" swing over the ways and 20" between centers, as well as a 24-position index head, this lathe is designed to handle a wide variety of projects.


SAVE $150, Only $499.99

NEW Rikon Carbide Turning Tool System

Those who prefer actually doing woodturning as opposed to constantly resharpening their turning tools will appreciate this affordable set of 3 carbide turning tool patterns developed by Rikon.


Click here for more info
More Turning Tools and Books for your Shop
Click the images below to visit some of our most popular tool departments
| | | | | | | |
| --- | --- | --- | --- | --- | --- | --- |
| | | | | | | |
| Finishing | Books | Clearance | Festool | Planes | Sharpening | Wood Turning |
Highland Woodworking
1045 N. Highland Ave. NE
Atlanta, Georgia 30306
Tel. 800-241-6748
Email us at email@highlandwoodworking.com
Visit us on the web at https://www.highlandwoodworking.com
Copyright © 2017 Highland Hardware, Inc.

Errors regarding pricing and specifications are subject to correction.
SOME SALE QUANTITIES MAY SELL OUT and become unavailable at the advertised price.