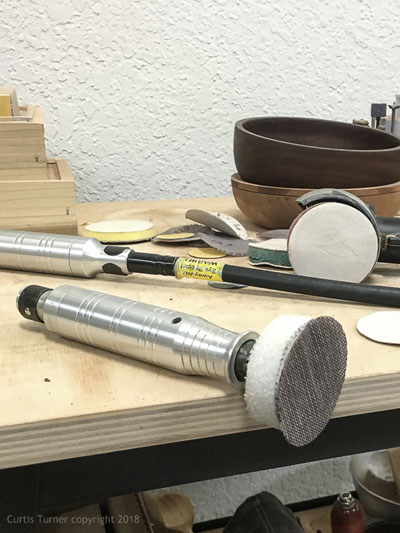 Repairing a Sanding Pad
By Curtis Turner
Round Rock, TX
Occasionally, projects get interrupted by an equipment failure. This happened while I was finish sanding a bowl. The hook pad separated from the foam pad on my handheld rotatory sander. After inspecting, I felt I could repair or at least salvage something from this equipment failure. I decided to convert it into a standard sanding pad for use in power rotary tools.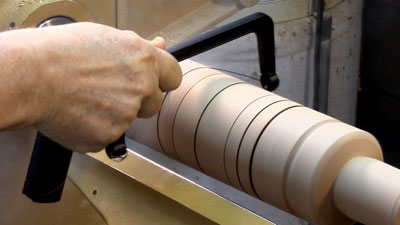 Hack Together a Burning Wire Tool
By Rick Morris
Duluth, GA
A burn line is a quick and easy way to decorate a workpiece. A burning wire tool is nothing more than a single wire attached between two handles. Although you can buy this tool, you can easily make one for very little money and I explain how in this article.
Woodturner's 3/8 inch Bandsaw Blade

Our 3/8" wide Woodturner's Bandsaw Blade, with 3 TPI, alternate set with raker tooth pattern and stout band thickness of .032", is the blade you are looking for if you want to create bowl blanks from green wood on the bandsaw.


Click here for more info

Mortise & Tenon Magazine

If you haven't gotten your hands on a copy of Mortise & Tenon Magazine now is your chance with pre-orders now available for Issue 4. Mortise & Tenon celebrates the preservation, research, and recreation of historic furniture with a variety of interviews, essays, and photos capturing woodworking at its finest.


Click here for more info
More Turning Tools and Books for Your Shop



Woodpeckers NEW Ultra-Shear Carbide-Tipped Turning Tools




Bodger Set of 6 HSS Turning Tools




Carter Axe Carbide
Turning Tools




Rotary Texturing Tool for Woodturners

Save 50% while limited
sale quantity lasts




Easy Wood Tools




Tormek T-8
Sharpening System




Rikon 70-220VSR
12-1/2 inch Midi Lathe




Rikon 8 inch Professional Low Speed Bench Grinder




Lathe - Missing Shop Manual




Getting Started in Woodturning




Woodturning Methods




Turn a Bowl: Getting Great Results the First Time Around




Slimline Pen Kit




Pen Turner's
Abrasive Kit

Click here
for more info




Shop Smock

Click here
for more info




Woodturners Mini-Texturing Tool Hardware Parts Kit
Click the images below to visit some of our most popular tool departments
| | | | | | | |
| --- | --- | --- | --- | --- | --- | --- |
| | | | | | | |
| Finishing | Books | Clearance | Festool | Planes | Sharpening | Wood Turning |
Highland Woodworking
1045 N. Highland Ave. NE
Atlanta, Georgia 30306
Tel. 800-241-6748
Email us at email@highlandwoodworking.com
Visit us on the web at https://www.highlandwoodworking.com
Copyright © 2018 Highland Hardware, Inc.

Errors regarding pricing and specifications are subject to correction.
SOME SALE QUANTITIES MAY SELL OUT and become unavailable at the advertised price.