Magnetic Bowl Turning
By Curtis Turner
Round Rock, TX

Click on any image to see a larger version.

This simple project you can make from any small blank in just a few hours. A magnetic bowl is helpful to anyone who needs to keep up with small metal parts. The magnet installed on the underside of the bowl will hold small parts like screws, washers and nuts preventing them from getting lost.

Turning the Bowl

This bowl could be turned to just about any profile. Although, I believe a small shallow profile with a wide base would be the best solution. This completed bowl measures about 5" in diameter.

I just happen to have a perfect sized piece of walnut. This is a straight forward bowl from the turning perspective. The real trick is leaving the base thick enough to accommodate a recess in the bottom to house the magnet. With that in mind, I removed the bowl from the chuck. I then reverse mounted it into the Jumbo Jaws .


Then turned away the tenon and cleaned up the base.
I also turned a slight concave in the bottom of the bowl to ensure that it would sit flat on the table after it was complete.

Drilling

Next, I installed a Drill Chuck in the tail stock. Then I used a 3/4" forstner bit to drill a recess for the 3/4" magnet. This operation could have been completed without a drill chuck but boy, does it make it fast and easy!
The rare earth magnet could be glued in place with CA glue, epoxy or double stick tape . I'm giving double stick tape a test. This will give me an option to remove the magnet if I need to use this as a standard bowl or need the magnet for another purpose. The thing to monitor while drilling, is to make the hole deep enough to allow the magnet to sit flush with the bottom, but not drilling completely through the bowl. Also, the wood left in the bottom of the bowl needs to be thin enough to allow the magnet to attract the metal parts placed in the bowl.

A final sanding up to 400 grit is more than adequate for this purpose. I have chosen to omit applying a finish and am going with just the natural bare wood.


---
Curtis was a former President of Central Texas Woodturners , is a member of the American Association of Woodturners , and is a member of Fine Woodworkers of Austin . Curtis teaches and demonstrates nationally for Lie-Nielsen Toolworks. He also teaches for TechShop. He owns a studio where he works and teaches. Curtis lives in Central Texas with his wife and four young children. Take a look at his website at www.curtisturnerstudio.com or visit his Instagram: tx_planes .
Return to The Highland Woodturner front page
Click the images below to visit some of our most popular tool departments
| | | | | | | |
| --- | --- | --- | --- | --- | --- | --- |
| | | | | | | |
| Finishing | Books | Clearance | Festool | Planes | Sharpening | Wood Turning |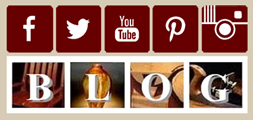 Highland Woodworking
1045 N. Highland Ave. NE
Atlanta, Georgia 30306
Tel. 800-241-6748
Email us at email@highlandwoodworking.com
Visit us on the web at www.highlandwoodworking.com
Copyright © 2017 Highland Hardware, Inc.

Errors regarding pricing and specifications are subject to correction.
SOME SALE QUANTITIES MAY SELL OUT and become unavailable at the advertised price.