Turning a Shop Storage Container
By Curtis Turner
Round Rock, TX

Click on any image to see a larger version.

This project was created to solve a storage problem. The issue was that I had several punches rolling around in a drawer. I needed a better way to keep these items organized. My solution was to follow the example that Starrett set some 30-50 years ago. They once sold punch sets in a turned wooden lidded box. I have always admired the box for its simplicity. Here is my adaption:



Function Over Form

This is a utilitarian project to organize and store shop tools. However, one could easily dress this up a bit to store other similar items. For example, a good use for this box would be storing jewelers' screwdrivers.

Wood Selection

I used a quilted maple blank for this turning only because it was almost the perfect size. This blank was 2-1/2" x 7". I would have preferred something just slightly longer. This meant I needed to be very cautious with the blank; there was almost no wood to waste. I knew I would need to separate the blank to turn the lid, however, I wanted to remove as little wood as possible. My solution was to mount it between centers but only turn down each end. This allowed me to remove the blank and cut it to size on the bandsaw.

I could have cut the blank first then mounted it on the lathe, however, I believe turning the end first allowed me to mount it once between centers.

Next, the base was mounted in a chuck. Then it was turned to my desired size. I also sized the tenon and faced off the end grain.

Then I remarked center point on the base.

Next, I used my Drill Chuck to drill out the center hole.

Finally, I set up my Drill Wizard to drill the remaining four holes.

Note: I used the indexing pin to lock the spindle. Once the first outside hole was drilled, I stepped off a 90 degree rotation and again locked the spindle and drilled the next hole. I followed this process for the remaining holes.

Then I parted off the base and mounted the top.

A set of dividers was used to layout the proper diameter for the tenon on the base. Then I used a large drill bit to initially hollow out the lid. A large scraper was used to hollow the remainder of the lid.

Once the lid was sized, I parted it off the lathe. All that remains is sanding and applying a wax finish. You could use any finish at this point. Since this is a utilitarian piece for the shop, I believe a simple quick finish is all that is required.


---
Curtis was a former President of Central Texas Woodturners , is a member of the American Association of Woodturners , and is a member of Fine Woodworkers of Austin . Curtis teaches and demonstrates nationally for Lie-Nielsen Toolworks. He also teaches for TechShop. He owns a studio where he works and teaches. Curtis lives in Central Texas with his wife and four young children. Take a look at his website at www.curtisturnerstudio.com or visit his Instagram: tx_planes .
Return to The Highland Woodturner front page
Click the images below to visit some of our most popular tool departments
| | | | | | | |
| --- | --- | --- | --- | --- | --- | --- |
| | | | | | | |
| Finishing | Books | Clearance | Festool | Planes | Sharpening | Wood Turning |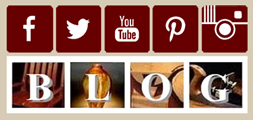 Highland Woodworking
1045 N. Highland Ave. NE
Atlanta, Georgia 30306
Tel. 800-241-6748
Email us at email@highlandwoodworking.com
Visit us on the web at www.highlandwoodworking.com
Copyright © 2016 Highland Hardware, Inc.

Errors regarding pricing and specifications are subject to correction.
SOME SALE QUANTITIES MAY SELL OUT and become unavailable at the advertised price.