Several models of our ever-popular European and German workbenches are now on sale. Choose the model that fits your shop and budget.
CLICK HERE for more info:
---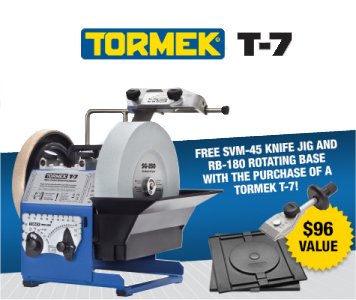 SAVE $96 with our Tormek T-7 Holiday Package Deal
Offer Ends Dec. 31, 2014
Now through Dec. 31, 2014, we're including FOR FREE a handy rotating base worth $55, as well as the SVM-45 Knife Jig worth $39. If you've been lusting after a Tormek T-7 to streamline sharpening in your shop, now is the time to buy!
CLICK HERE for more info:
---
Instantly access any article ever published in Fine Woodworking,
now for only $69.99

This new DVD archive contains every article in the 244 issues of Fine Woodworking magazine published in the past 38 years. Easily search and view an entire generation's worth of woodworking wisdom. While supplies last, save $30 off the $99.95 list price.
CLICK HERE for more info:
---
Festool Domino XL SUPER-SIZED Joiner
Festool's Domino joinery system revolutionized mortise and tenon joinery. The addition of the Domino XL has super-sized it as well!
Check out this amazing new tool:
---
Festool Centrotec Installers Set

Housed in a T-Loc Systainer, this highly useful assortment includes several dozen driver bits and drill bits, each of which features no-slip, quick-change shanks for use with the Festool Centrotec System or any keyless or three-jaw chuck.
CLICK HERE for more info:
---
General Water-based Wood Turner's Finish

General Finishes' new Wood Turner's Finish is a non-toxic water/oil urethane hybrid. It is designed for use on bottle stoppers, salad bowls and other woodturnings. It produces a rich amber tone and dries to recoat in minutes. Can be applied with brush, rag or sprayer.
CLICK HERE for more info and a short video:
---
Bessey VARIABLE-ANGLE Strap Clamp SALE $29.99
Several innovative features of Bessey's new design make using a strap clamp far easier and more versatile than ever before.
CLICK HERE for more info:
---
Bessey K Body Clamps now at a POPULAR PRICE

Bessey's new REVO Jr. K Body parallel clamps make it far more affordable to benefit from K Body's high performance design in your workshop.
CLICK for more info:
---
The Versatile
Pattern Maker's Vise

What CAN'T this vise do? This may be the most versatile stock control device you've ever imagined. The unique mounting system allows for 180 degree rotation and 90 degree upward swing, with fine alignment control from all angles.
CLICK HERE for more info:
CLICK HERE to watch a video product tour for the Pattern Maker's Vise:
---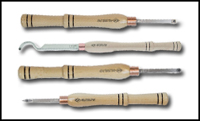 Easy Wood Tools
CLICK HERE to find out why they make woodturning easier:
---

Charles Brock has singled out the specific tools he uses when building his sculptured chairs and listed them in one place for easy selection by woodworkers undertaking this challenging project.
Check Out the Tools of the Trade:
---

Repairing Rotten Wood with LiquidWood and WoodEpox
It's time to get out and repair all your rotted window sills, door frames, wooden siding and indoor or outdoor furniture. The best product for handling this chore: Abatron's Wood Restoration System, LiquidWood and WoodExpox.
Here's some good info on it:
Here's how to buy it:
---
An awesome present that's always appreciated by just about any woodworker anywhere.