Several models of our ever-popular European and German workbenches are now on sale. Choose the model that fits your shop and budget.
CLICK HERE for more info:
---
FREE Belt Sander
with purchase of our
Triton 3-1/4 HP Router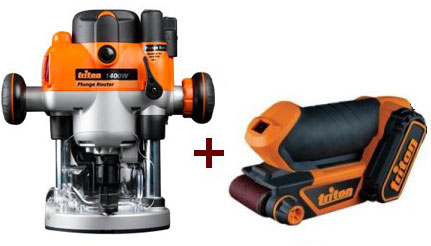 This extremely versatile 3-1/4 HP plunge router is great for hand-held use, and also provides extremely convenient performance in a router table.
While supplies last
, you'll also receive FREE a Triton Compact Belt Sander worth $79.
CLICK HERE for more info:
---
Instantly access any article ever published in Fine Woodworking,
now for only $69.99

This new DVD archive contains every article in the 237 issues of Fine Woodworking magazine published in the past 38 years. Easily search and view an entire generation's worth of woodworking wisdom. While supplies last, save $30 off the $99.95 list price.
CLICK HERE for more info:
---

Festool Track Saws
and Jigsaws (including new CORDLESS jigsaw)

Festool has recently added a full-featured new version of its flagship plunge-cutting track saw, as well as 4 groundbreaking new Carvex jigsaws, 2 with cords and 2 that are cordless.
See the TS 55 REQ Track Saw
See the new Carvex Jigsaws
---
---
New FESTOOL Systainer Storage Solutions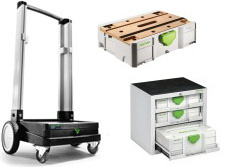 Festool's Systainer system readies your shop for maximum efficiency. These new systainer accessories help add great mobility.
CLICK HERE for more info:
---
Festool Centrotech Installers Set

Housed in a T-Loc Systainer, this highly useful assortment includes several dozen driver bits and drill bits, each of which features no-slip, quick-change shanks for use with the Festool Centrotec System or any keyless or three-jaw chuck.
CLICK HERE for more info:
---
---
---
---
---
---
---
---
CLICK HERE to find out why they make woodturning easier:
---
---
---

Charles Brock has singled out the specific tools he uses when building his sculptured chairs and listed them in one place for easy selection by woodworkers undertaking this challenging project.
Check Out the Tools of the Trade:
---
---
---
An awesome present that's always appreciated by just about any woodworker anywhere.