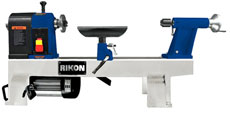 SAVE $120 during our SALE
on a Rikon Premium 12 inch Expandable Mini-Lathe

We love this little lathe. It's what students use in our turning classes. With it you can turn bowls up to 12" diameter, and with an optional bed extension it can be expanded to turn spindles up to 40" long.

CLICK HERE for more info:
---
WOOD SLICER Testimonial

I recently purchased a 3/4 inch blade. It certainly is everything you claimed it to be. My 18 inch bandsaw always frustrated me. I was never sure if it was the blade, the fence, or the guides. The saw now performs as it should, at a much lower decibel than before. The blade set-up instructions are informative and well written in layman's terms. Thank you for a quality product. — Dennis

Get Yourself a Wood Slicer:


---
---
---
---
FREE SHIPPING on Leigh Jigs in lower 48 states
Our Leigh Dovetail Jigs and Frame Mortise and Tenon Jigs will turn your shop into a cabinet factory.

CLICK HERE for more info:
---
---
---
---
---
---
---
---
---
---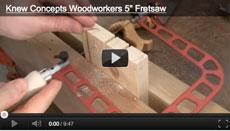 ---
---
---
---
---
Watch the Video Demo: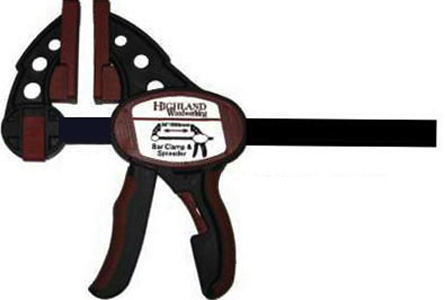 ---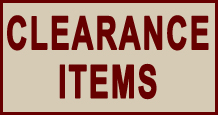 ---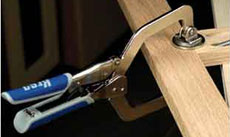 NEW Kreg Automaxx
Face Clamp

Kreg has added Automaxx technology to the face clamp, making it more ergonomic and useful than ever before because they automatically adjust to different workpiece thicknesses without the need for manual adjustment.

CLICK HERE for more info:

---
NEW Kreg Rip-Cut
Circular Saw Guide

The Kreg Rip-Cut makes it extremely fast and easy to rip large plywood and MDF panels into smaller sections. No marking or measuring is required. The Rip-Cut easily attaches to almost any circular saw, allowing you to rip panels into sections up to 24" wide with absolute accuracy.

CLICK HERE for more info:

---
Flex-arm LED Work Light with Magnifier

This handy LED Work Light features a 4" diameter 3X magnifying lens for well-lit closeup viewing of any work process. Its magnetic base will firmly grip any ferrous metal surface, or you can clamp the light to any work surface up to 2-1/2" thick using the table-clamp holder that is included.

CLICK HERE for more info:

---

NEW Steel City 8 inch Industrial Low Speed Bench Grinder Pkg Deal

We have been searching for years for an affordable slow-speed 8" bench grinder that runs smoothly. Alas, each one that we tried suffered the same affliction - too much vibration for accurate sharpening. We have tested the new Steel City model 15430 and are excited to report that it is a true industrial-duty machine that has solved the vibration dilemma.

CLICK HERE for more info:

---
Highland 35th Anniversary Limited Edition
Smoothing Plane by
Scott Meek Woodworks

Our limited edition commemorative smoothing plane is hand built of select flame birch with a teak sole and matching teak wedge by Scott Meek Woodworks. Both beautiful and practical, it is a sheer delight to see, touch and use. Only 35 of this particular model have been produced. Only a few remain available.

CLICK HERE for more info:

---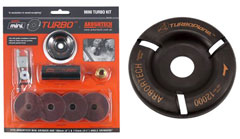 Arbortech Power Cutters
Arbortech recently added a mini-version of the impressive carbide Turboplane power woodcarving blade that it introduced last year. Both cutters offer extra-precise control, yet cut quickly and require minimal sanding.
Also check out the Arbortech TUFF CUT Universal Cutting blade.
Arbortech Mini-TURBO Woodcarving Blade
Arbortech TURBOPlane Woodcarving Blade
Arbortech TUFF CUT Universal Cutting Blade
---
Kreg K5 Pocket Hole Jig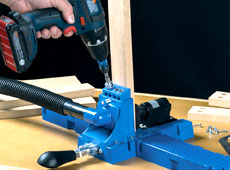 This newest version of Kreg's pocket hole jig has 6 brand new features that will help significantly speed up your cabinet joinery production as well as increase its versatility.
CLICK HERE for more info:
---
Grr-ripper Improved Pushblock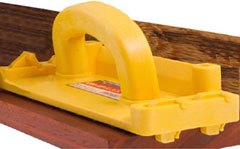 The engineers at MicroJig have reinvented the ordinary pushblock to make it safer and more effective than ever before. More affordable than their classic Grr-ripper design, the new pushblock uses the same popular green non-slip bottom for extreme gripping power plus unique Gravity Heels for extra versatility and control.
Check it out:
---
Families Love our Kid's Woodworking Tool Kit
One of our top ten bestselling items is our Woodworking Tool Kit for Kids. It's a great way to introduce kids to the joys of woodworking. These are real tools that really work, and the 2 instructional books show how to build more than 50 useful projects.
What's in the kid's tool kit?
---
General Moisture Meter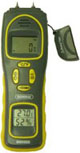 Clever design allows pinless moisture check at the surface or up to 1/2" depth by inserting pins. Also reads temp and relative humidity.
CLICK HERE for more info:
---
WORKSHARP Tool Bar Attachment Adds Versatility

This recently-introduced accessory for the Worksharp 3000 Sharpening Center allows a Worksharp 3000 owner to utilize 4 of Tormek's popular grinding jigs for added control and versatility. (The Tormek jigs can be purchased from us separately.)
---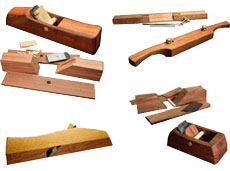 Build a Wooden Plane
These kits by Hock Tools provide all the parts needed for building wooden planes (and a spokeshave) that are both beautiful and highly functional.
CLICK HERE for more info: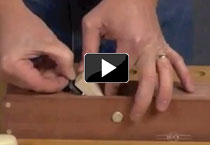 ---
1/6-sheet Sanding Block

This is the "Goldilocks" of sanding blocks, with its 3/8" thick cushioned pad that is not too hard, or not too soft, but just right. CLICK HERE for more info:
---

Czeck Edge Marking Knife
Perfect for general layout work, this elegant marking knife from Czeck Edge Hand Tools registers snugly against a straight edge from both the left and right sides. CLICK HERE for more info:
---
Czeck Edge Ruler Stop

This ingenious device is designed and built to serve as a stop on a ruler, but will clamp tightly to practically anything that can fit between the 1-1/4" maximum jaw width. A shop made straight edge of any length, a story stick or a machine fence can all benefit from the repeatable accuracy the Ruler Stop provides. CLICK HERE for more info:
---
Glue Cleaning Chisel

This specialized chisel is uniquely designed to remove dried glue and debris from inside corners and surfaces within drawers and cabinets. CLICK HERE for more info:
---
Scraper and Saw Jointer

This handsome holder grips your 6" or 8" file so you can joint the edges of your cabinet/card scrapers or file the teeth level on your hand saw. CLICK HERE for more info:
---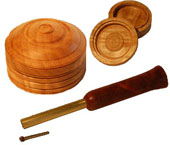 Mini-Texturing Tool Hardware Parts Kit
All the hardware you need to build your own mini-texturing tool for decorating wood turnings. Phil Colson's
article
shows how he built one for himself.
CLICK HERE for more info:
---
FREE SHIPPING
on our FEIN MultiMaster Oscillating Tools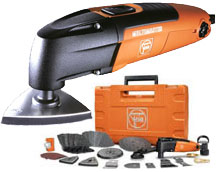 Order one of our FEIN MultiMaster models and we will ship it to you free within the 48 contiguous United States. Though the Fein Tool may seem expensive at first, its versatility will allow it to quickly pay for itself many times over.
CLICK HERE for more info:
---
Buy Imperial Blades & save

Already own a FEIN MultiMaster? (Or Dremel, Bosch, Craftsman or Ridgid oscillating tool?) Now you can save some money on replacement blades. Imperial Blades are made right here in the USA using the industry's highest quality steel, yet they're still more affordable than most other quality brands.
CLICK HERE for more info:
CLICK HERE to watch Imperial Blades in action:
Rikon 10" Bandsaw
Now only $199.99
while current supplies last

This little gem has proven itself to be an excellent value as a compact bandsaw. We've sold now sold well over a thousand of them! We highly recommend it as your first bandsaw bought on a budget, or as a second bandsaw that allows you to avoid constantly swapping blades on your main bandsaw. This special purchase makes it extremely affordable.

CLICK HERE for more info:
---
Save $200 on our
Rikon 14" Bandsaw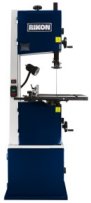 Our bestselling Rikon 14" bandsaw has proven itself a reliable workhorse in hundreds of our customers' shops. Its 13 inch resaw capacity and powerful 1-1/2 HP (115 volt or 230 volt) motor allow you to create any thickness lumber.

CLICK HERE for more info:
---
WORKBENCH SALE
Save up to $200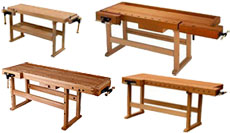 Several models of our ever-popular European and German workbenches are now on sale. Choose the model that fits your shop and budget.
CLICK HERE for more info:
---

Festool Track Saws
and Jigsaws (including new CORDLESS jigsaw)

Festool has recently added a full-featured new version of its flagship plunge-cutting track saw, as well as 4 groundbreaking new Carvex jigsaws, 2 with cords and 2 that are cordless.
See the TS 55 REQ Track Saw
See the new Carvex Jigsaws
---
---
New FESTOOL Systainer Storage Solutions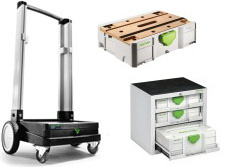 Festool's Systainer system readies your shop for maximum efficiency. These new systainer accessories help add great mobility.
CLICK HERE for more info:
---
Festool Centrotech Installers Set

Housed in a T-Loc Systainer, this highly useful assortment includes several dozen driver bits and drill bits, each of which features no-slip, quick-change shanks for use with the Festool Centrotec System or any keyless or three-jaw chuck.
CLICK HERE for more info:
---
---
---
---
---
---
---
---
CLICK HERE to find out why they make woodturning easier:
---
---
---

Charles Brock has singled out the specific tools he uses when building his sculptured chairs and listed them in one place for easy selection by woodworkers undertaking this challenging project.
Check Out the Tools of the Trade:
---
---
---
An awesome present that's always appreciated by just about any woodworker anywhere.