Rikon 10" Bandsaw
SPECIAL PURCHASE
while supplies last
Only $199.99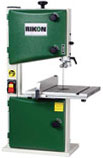 We've sold over 500 of this exceptional value from Rikon, making it our all-time best-selling bandsaw ever. That's because it has proven itself as a solid performer that's also very affordable. After we installed one of our Wood Slicer resawing blades on our demo model, we were able to resaw uniform slices 1/64" thick off the length of a 4x4. We highly recommend it as your first bandsaw bought on a budget, or as a second bandsaw that allows you to avoid constantly swapping blades on your main bandsaw.
---
Rikon 14" DELUXE Bandsaw — Only $799.99!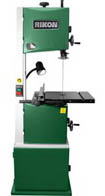 The Rikon 14" Deluxe Bandsaw is a great choice for all kinds of woodworkers. Furnituremakers will like the large 13" resawing capacity and cutting accuracy. Woodturners will like the stability of the large table when roughing bowl blanks. The 1-1/2 HP 115/230 volt motor makes this choice of bandsaw convenient and powerful. Sturdy steel frame, double bearing blade guides and tilting large cast iron table with a heavy rip fence, integral inch scale and resawing pivot guide.
---
Get rebates on Flexcut carving sets
These sets are a great way to get started in woodcarving. Featuring four of Flexcut's most popular tools, the Palm and Knife set will start you on small scale carving and whittling right away. The Flexcut Chip Carving Knife set includes all the knives you'll need to create intricate and beautiful chip carvings.
More info on the Palm/Knife set:
More info on the Chip Carving set:
---

Use our Flexcut Rebates!
---
Set of 3
only $39.99

Same quality materials and construction as our award-winning Narex Bench Chisels, except in the mortise chisel configuration. Extremely rugged for heavy mallet work.
---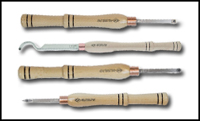 Easy Wood Tools
CLICK HERE to find out why they make woodturning easier: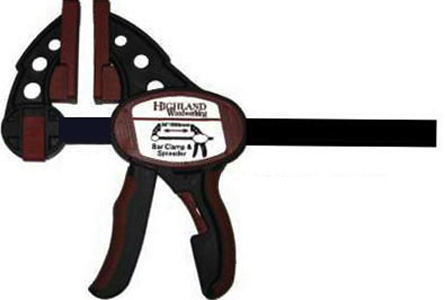 ---
FREE SHIPPING
on our FEIN MultiMaster Oscillating Tools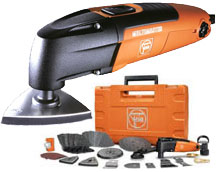 Order one of our FEIN MultiMaster models and we will ship it to you free within the 48 contiguous United States. Though the Fein Tool may seem expensive at first, its versatility will allow it to quickly pay for itself many times over.
CLICK HERE for more info:
---
Buy Imperial Blades & save

Already own a FEIN MultiMaster? (Or Dremel, Bosch, Craftsman or Ridgid oscillating tool?) Now you can save some money on replacement blades. Imperial Blades are made right here in the USA using the industry's highest quality steel, yet they're still more affordable than most other quality brands.
CLICK HERE for more info:
CLICK HERE to watch Imperial Blades in action:
---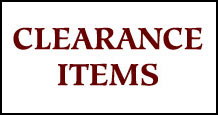 ---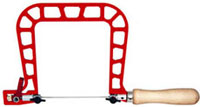 Knew Concepts Woodworker's Fretsaw Ingeniously designed to be both light and strong as well as simple to adjust and use, this premium fretsaw makes it easier than ever to remove waste when cutting dovetails.
---
Families Love our Kid's Woodworking Tool Kit
One of our top ten bestselling items is our Woodworking Tool Kit for Kids. It's a great way to introduce kids to the joys of woodworking. These are real tools that really work, and the 2 instructional books show how to build more than 50 useful projects.
What's in the kid's tool kit?
---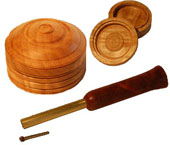 Mini-Texturing Tool Hardware Parts Kit
All the hardware you need to build your own mini-texturing tool for decorating wood turnings. Phil Colson's
article
shows how he built one for himself.
CLICK HERE for more info:
Save on Bessey's AUTO-ADJUST
Toggle Clamps

Toggle clamps have long been a staple for creative jig-making and the like. This new generation of toggle clamps by Bessey will make your jigs work better than ever. Their ingenious design automatically adjusts to different workpiece thicknesses even while maintaining constant clamp pressure, allowing one clamp to quickly and easily handle a whole range of thicknesses.
CLICK HERE for more info:
---
Diamond Lapping Plate Flattens Waterstones Fast

This impressive lapping plate for flattening sharpening stones gets its fast abrasive action from 30 carats of diamond grit for unprecedented durability. Certified to be flat within 5 ten-thousandths of an inch!
CLICK HERE for more info:
See the Dia-Flat being used in this sharpening video:
---
Our Popular Sculptured Chair Plan Bundles NOW ON SALE - Save up to $40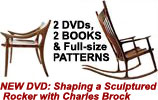 Our comprehensive plan bundles by Charles Brock provide all the information and inspiration you'll need to build these beautiful sculptured chairs. Each set includes DVD, book and full-size drawings.
CLICK HERE for more info:
---

Save $100 on our Walnut Parts Kits for a Sculptured Rocker or Lowback Chair
Both kits are now on sale at a reduced price. Buying the kit makes these challenging projects far less daunting.
More info on Rocker Kit:
More info on Lowback Kit:
---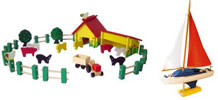 Toy Kits Kids Can Build
NOW ON SALE
These wooden toy kits include everything necessary to build each toy, including tools and paint for coloring them. With adult assistance, kids as young as 6 can handle them, but older kids will love building them too.
CLICK HERE for more info:
---

Repairing Rotten Wood with LiquidWood and WoodEpox
It's time to get out and repair all your rotted window sills, door frames, wooden siding and indoor or outdoor furniture. The best product for handling this chore: Abatron's Wood Restoration System, LiquidWood and WoodExpox.
Here's some good info on how to: