Save on Bessey's NEW AUTO-ADJUST
Toggle Clamps

Toggle clamps have long been a staple for creative jig-making and the like. This new generation of toggle clamps by Bessey will make your jigs work better than ever. Their ingenious design automatically adjusts to different workpiece thicknesses even while maintaining constant clamp pressure, allowing one clamp to quickly and easily handle a whole range of thicknesses.
CLICK HERE for more info:
---
Rikon 10" Bandsaw
SPECIAL PURCHASE
while supplies last
Only $219.99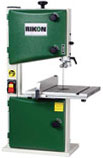 We've sold almost 500 of this exceptional value from Rikon over the past 2 years, making it our all-time best-selling bandsaw ever. That's because it has proven itself as a solid performer that's also very affordable. After we installed one of our Wood Slicer resawing blades on our demo model, we were able to resaw uniform slices 1/64" thick off the length of a 4x4. We highly recommend it as your first bandsaw bought on a budget, or as a second bandsaw that allows you to avoid constantly swapping blades on your main bandsaw.
---
Rikon 14" DELUXE Bandsaw — Only $799.99!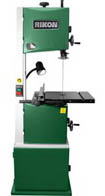 The Rikon 14" Deluxe Bandsaw is a great choice for all kinds of woodworkers. Furnituremakers will like the large 13" resawing capacity and cutting accuracy. Woodturners will like the stability of the large table when roughing bowl blanks. The 1-1/2 HP 115/230 volt motor makes this choice of bandsaw convenient and powerful. Sturdy steel frame, double bearing blade guides and tilting large cast iron table with a heavy rip fence, integral inch scale and resawing pivot guide.
---
Save on our big Rikon 18" Bandsaw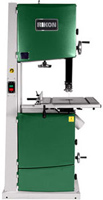 A special purchase allows us to offer this powerful, huge-capacity professional-duty 18" bandsaw at a very affordable price. Powered by an extremely robust 2.5 HP 220 volt motor, Rikon's model 10-345 18" bandsaw will handle challenging heavy-duty jobs that smaller bandsaws cannot. Its total weight is 389 lbs. Why settle for a smaller, lighter-weight bandsaw when your shop can benefit now from the capacity and power of this large professional duty machine at such an affordable low price?
CLICK HERE for more info:
---
Get rebates on Flexcut carving sets
These sets are a great way to get started in woodcarving. Featuring four of Flexcut's most popular tools, the Palm and Knife set will start you on small scale carving and whittling right away. The Flexcut Chip Carving Knife set includes all the knives you'll need to create intricate and beautiful chip carvings.
More info on the Palm/Knife set:
More info on the Chip Carving set:
---

Use our Flexcut Rebates!
---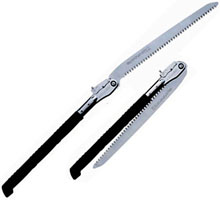 Japanese Katanaboy Folding Chainsaw
Well, it's not exactly a chainsaw. In fact it has a number of advantages over a chainsaw. It requires no gas or oil. It makes very little noise. It's very lightweight. And although it's hard to believe, its 76 very aggressive teeth will cut timber so fast that a chainsaw is not really necessary. Full length 46"!
CLICK HERE for more info:
---
Granite Angle Gauge
Item 111200 Reg. $19.99
Only $12.99


Weighing over 1 lb, this granite set-up gauge will sit solidly on machine surfaces when precisely checking blades for square and 45 degree angles.
---
Wooden Plane Kits
These kits by Hock Tools make it fast and simple to build your own wooden hand plane or spokeshave and begin to enjoy the pleasure of working wood by hand. Although the projects are easy to build even for a novice, an experienced woodworker will also appreciate the quality and performance of tools made from these kits.