NEW Rikon 14 inch Deluxe Bandsaw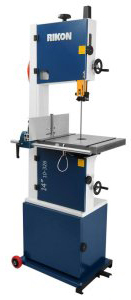 The Rikon 14" Deluxe Bandsaw is a great choice for all kinds of woodworkers. Furnituremakers will like the large 13" resawing capacity and cutting accuracy. Woodturners will like the stability the large table provides when roughing bowl blanks. You can even cut non-ferrous metals on low speed.

Powered by a 1-3/4 HP 115/230 volt motor, this unit comes ready to plug into a 115 volt outlet. An extremely sturdy steel frame maintains accuracy. Double bearing blade guides add stability and reduce friction for longer blade life.
A great bandsaw for all woodworkers
---
Rikon 10" Bandsaw
Now only

$199.99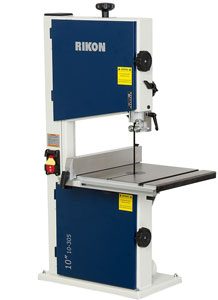 This little gem has proven itself to be an excellent value as a compact bandsaw. We've now sold well over a thousand of them! We highly recommend it as your first bandsaw bought on a budget, or as a second bandsaw that helps you avoid having to constantly swap blades on your main bandsaw. This special purchase makes it extremely affordable.
ONLY while limited supplies last
---
WOOD SLICER Testimonial

I recently purchased a 3/4 inch blade. It certainly is everything you claimed it to be. My 18 inch bandsaw always frustrated me. I was never sure if it was the blade, the fence, or the guides. The saw now performs as it should, at a much lower decibel than before. The blade set-up instructions are informative and well written in layman's terms. Thank you for a quality product. — Dennis
Get Yourself a Wood Slicer
---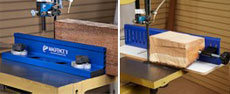 Carter Bandsaw Fence and Log Mill
Upgrade the versatility and performance of the bandsaw you already own with our new Carter MAGFENCE® Bandsaw Fence and Carter AccuRight® Log Mill.
Carter Bandsaw Fence
Carter Log Mill
---

Exceptional Narex Rasps
After the huge success over the last few years of our Narex chisels manufactured in the Czech Republic, we are pleased to introduce these Narex rasps that we feel are another excellent value.
Click here for more info
---
FREE SHIPPING on Leigh Jigs in lower 48 states
Our Leigh Dovetail Jigs and Frame Mortise and Tenon Jigs will turn your shop into a cabinet factory.
Click here for more info
---

---
Mirka DEROS Sanders
The Mirka DEROS is the first random orbit sander to use a brushless DC motor without the need for an external transformer. It combines the power and light weight of pneumatic tools with the convenience of an electric tool. It's small and light enough to use with one hand - even in the 6" version. If you do a lot of sanding on vertical surfaces, you'll love this sander.
Check out this innovative sanding solution
---
Mirka Abranet Mesh Abrasive: Tool Review
By Jeffrey Fleisher
New Market, VA
Mirka's innovative 'net' sanding concept is unlike any other sandpaper on the market today. Their patented construction consists of a dense network of polyamide fabric threads onto which the abrasive grit is bonded. This open weave, net structure means that no dust particle is more than 0.5mm from a dust extraction hole. The result is phenomenal dust extraction across the entire abrasive surface and virtually dust-free sanding!
CLICK HERE to read the rest of the review
---
Whiteside
Ultimate Trim Bits

If you rout with templates a lot, the Whiteside Ultimate Trim Bits are for you. Their compression spiral design results in smooth cuts with no tearout - no matter what direction you rout.
Click here for more info
---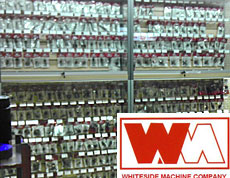 Whiteside Router Bits
The BEST bits are Made in USA
Whiteside Router Bits, manufactured in NC since 1982, have consistently rated BEST OVERALL and BEST VALUE in FWW's independent testing. We are pleased to announce that we have greatly expanded our selection of Whiteside bits, and now offer over 400 different sizes and patterns. We invite you to browse our Whiteside online router bit store and experience the best quality and value for yourself.
Go to our Online Whiteside Router Bit Store
---
Windsor Chair Kits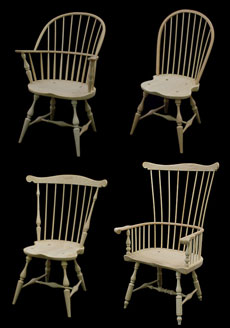 Our affordable Windsor chair kits will make a great weekend project for the intermediate woodworker. Each kit includes all the parts you will need plus clear instructions.
Click here to learn more
Our blogger assembled one of our new Windsor Chair Kits. To read about her experience, CLICK HERE