Here's My Stuff!
by Chester VanderZee
Volga, SD
I always did like trees; studied them as part of my biology major; I have collected several canes and walking sticks, from many countries and US states. Each one has a 'defect' as a result of stress--spiral shape because of vine growing around it; lumps from insect larvae, "diamond willow".
When I retired from teaching sciences, I took my love of hardwood, gradually bought more tools and built a shop for their use. I like to make custom furniture.
Our church foyer has a support column and I once said a few years ago that we could build a cabinet around it for serving coffee. They had been using a card table --quite a nuisance, really. So this February the council voted to do some remodeling, and a fellow elder said "Now is the time to build it." I offered to donate the labor if the church paid for materials.
I had to develop the entire plan to fit the area; It is all oak, solid and plywood; some of the internal is what lumber people call 'poplar', but it really is tulip tree - Liriodendron-tulipifera.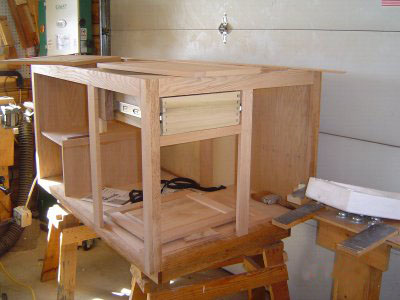 Here is the initially framed cabinet I built for the church.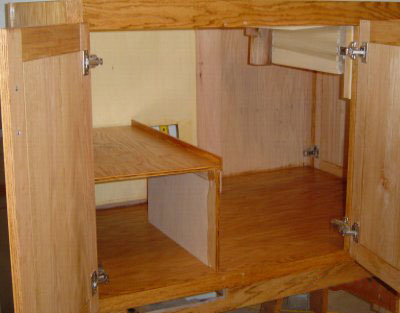 This is the interior of the cabinet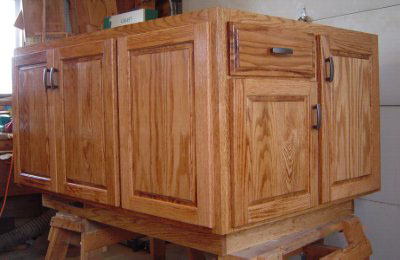 This shows the finished cabinet before installation —
still needs the Formica top and the sink installed.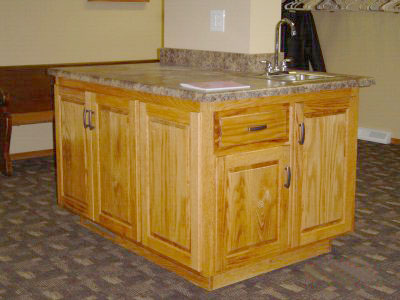 And here is the finished cabinet, fully installed!
---
Return to Wood News front page