by Michael Tryba
Hot Springs National Park, AR
My father was a woodworker, but I really never picked up on it. Mostly because prior to retirement, I never had the room for all the power tools I would need.
We always vacationed in Branson, MO, and when we would go look in the few shops that had woodcarvings, I always marveled at them doing the hand work. I bought a book on relief carving by Harold Enlow in 2005 in one of the Branson shops and decided to try it.
Through reading, the internet, and just doing it, I found I enjoyed carving. What I really like about it is, since I use hand carving tools almost exclusively, I don't have the noise and dust associated with large power tools. I carve in my garage just in the winter time, mainly because it is too hot in there in the summer. I use hand gouges, chisels, V tools, and a Dremel type tool maybe 5% of the time for finishing and some woodburning on bird carvings.
I have carved about 50 items since starting, mostly wildlife in relieve and in the round. I did carve a Basswood fireplace mantel for my living room. I don't really like to paint, but prefer a natural oil or stain finish.
This one is a photo of a flying mallard, 8x10, hand carved in butternut, with a danish oil finish. I carved it in 2007, with about 2 years of carving experience under my belt. The barbs on the wings are woodburned.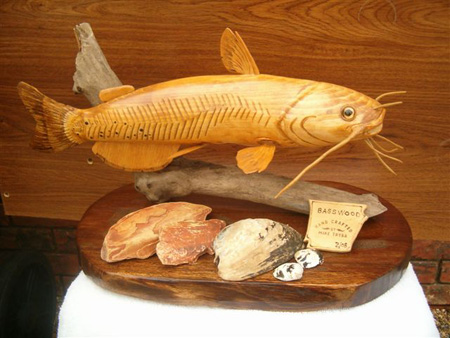 I completed this carving in 2008. It is a full in-the-round channel catfish, about 13-14 inches long, hand carved out of basswood. I stained it with maple and then applied a satin lacquer finish. The fins are also hand carved. The whiskers are made from quickwood wood filler. I gave the carving to my son who lives in Illinois - he is a catfish fisherman and fishes on the Mississippi and Missouri Rivers.
---
You can email Michael at michealtryba@sbcglobal.net.
Would you like to see your carvings in this column? We invite you to SEND US PHOTOS of your favorite woodcarving projects along with captions and a brief history of your woodcarving. (Email photos at 800x600 resolution.) Receive a $50 store gift card if we show your carving work in a future issue!
Return to Wood News front page