Here's My Stuff!
by Keith C Woody
Richmond, VA
My entire working career in the construction industry and love of woodworking started during High School. At age fourteen during a woodworking class, I designed and built a small wine rack. We entered it in the Chesterfield County Fair and won a 1st Place Ribbon. But only the last twenty-five years or so have I engaged in a more advanced hobby of creating pieces of furniture. Some of those pieces are included here.
The furniture I create or re-create from furniture patterns usually has a specific purpose and is made specifically for a family member. I have never advertised or sold any pieces.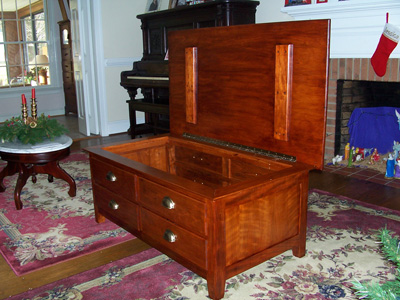 This coffee table resides here in Richmond as a centerpiece in my oldest son's living room. It was made from rough sawn and green cherry that I purchased two years prior, which I then dried in my shop for over a year, then dressed four sides and cut to desired length and thickness.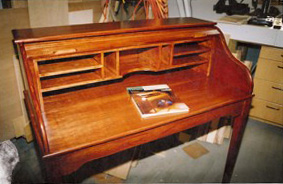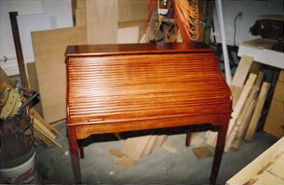 This roll-top desk is traveling the world with my youngest son, serving at various US Embassies. It is made from the same rough sawn cherry as the coffee table shown above.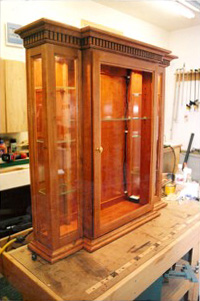 This display case was given to my middle son for his active duty in the military. It was also made from the same rough sawn cherry as the coffee table and the roll top desk shown above. Each piece of wood trim on all three of these projects was hand cut in my shop.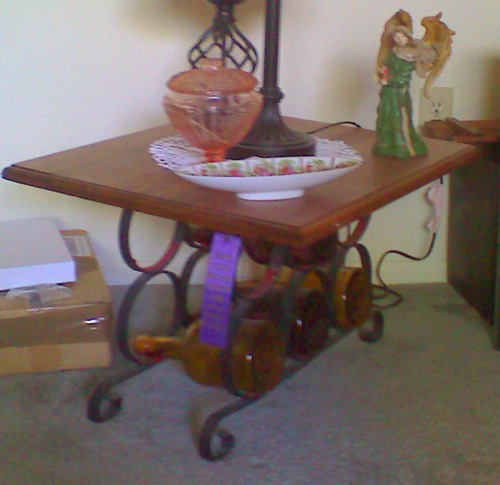 The wine rack I built at age 14 still lives in my mother's living room in Houston, Texas. It turned 44 years old this past spring.
I continue working as a construction superintendent and have plans to continue my hobby during retirement.
---
You can email Keith at berkshireds@comcast.net.
Would you like to see your woodworking in this column? We invite you to SEND US PHOTOS of your favorite woodworking projects along with captions and a brief history of your woodworking. (Email photos at 800x600 resolution.) Receive a $50 store gift card if we show your stuff in a future issue.


Return to Wood News front page