Question: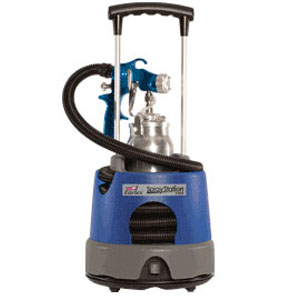 I'm thinking of purchasing an Earlex HV5500 spray system. I've read the reviews, which most rated it well for woodworking, but didn't like it for spraying paint. Why is that? I see in your new ad that it now comes with another tip for paint spraying. Does the new tip improve its paint-spraying capabilities?
Answer:
Most good quality spray guns (not all) will allow the end user to change out the nozzle and tips (usually a nozzle and needle/tip. The nozzle and tip are usually a mated pair. The size refers to the diameter of the tip/needle. Larger means the opening is larger for the material/air mix to pass through.
The Earlex normally shipped with just a single size of nozzle and tip. Most woodworkers wishing to spray apply coatings are shooting clear coatings that are not as thick as paint. And while there is a little latitude for a single sized tip to spray different materials, spraying latex paint (that is really formulated to be brush applied) would be hard to spray successfully without having a larger sized nozzle and matching tip. One could continue to thin the paint (latex paint can be so thick that it will have to be thinned to spray, even with the largest tip available) to the point that it would atomize and spray, but the coating would be so thin it would not be worth the effort. So switching to a larger tip lets the gun spray heavy viscosity materials more easily.
There is specialized spray equipment designed to spray thicker coatings like house paint. They are called "airless" systems and use a piston pump to spray the paint under pressure without introducing a stream of air into the gun. These systems apply coatings very fast (with lots of overspray) but this does not usually pose a problem on the outside of a house or on the inside during new construction. Painting contractors use this type of equipment.
While the Earlex will spray thinned latex paint, it will need a larger tip. It will not be as efficient as an airless (the fan size will be much smaller), but would be fine for painting cabinet doors, furniture and other small to medium-sized projects.
Take a closer look at the Earlex HV5500 Spray Station
---
E-mail us with your woodworking questions. If yours is selected for publication,
we'll send you a free Highland Woodworking hat.
Return to Wood News front page