Question:
I would like to make wooden trains as holiday gifts. My woodworking skills are limited and I can't figure out how I can make the cow catcher for the front on the train engine as I envision it being two 30 degree angles coming into a point. I plan the make the cow catcher out of a piece of 1x3 lumber which is 6 inches in length. I'm using this piece as the base of the engine. Any suggestions would be appreciated.
Thanks,
Karl
Answer:
Karl,
One way to mimic a cow catcher would be to cut two compound angles on the front edge of your 1x3. A table saw or compound miter saw could do these cuts. If you do not have those tools, you could just mark out the angles, both in plain view on the top of the board and in side view on the board's edge and use a hand plane or a disc/belt sander to remove the material.
You could simplify the cowcatcher to just the two straight angle cuts on the end of the board. Once you have the end "pointy", you could bevel the edges along the top edge of both sides of the angle cuts to give some definition. Just draw out pencil lines to work towards to get the triangle looking balanced.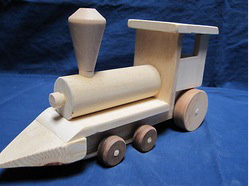 The picture to the right shows a somewhat different style but looks like it could be done on the end of a 1x3. You could first plane the angle on the top and then cut the two sides (a lot of work removing material which some gets cut away) or you could cut the two side angles and then plane or cut with a saw, the sloping angle on the top side of the piece.
Have fun, but always be safe around power tools when holding and cutting small pieces.
Regards,
Ed Scent
Highland Woodworking
---
E-mail us with your woodworking questions. If yours is selected for publication,
we'll send you a free Highland Woodworking hat.
Return to Wood News front page