There is little doubt that inattention is the power tool-user's biggest enemy.
Carelessness is its very close second cousin.
However, I'm writing this to tell all of my fellow woodworkers that overconfidence is an enemy just as dangerous. This project was going too smoothly and I was guilty of having too much fun.
A couple of hours ago I was cutting poplar for drawers to go in the paired bedside tables I'm making for my wife's birthday.
Ironically, as I worked I was thinking of a friend who, when I last saw him, told me he was recovering from an injury from a table-saw kickback. I thought of calling him to find out whether he had resolved the cause of the kickback, and asking if he would like for me to stop by and have a look at his setup.
Carefully standing out of the blade's path, I sized the boards with my Forrest WoodWorker II as it proved why jointer manufacturers tremble at the sound of its name. Edge after edge came out true, when, literally on the last board of the last drawer, I reached for the offcut piece and saw my future. Scrap in hand, I suddenly realized that the drawer piece had not fully cleared the blade. Instantly I knew what was about to happen, and that it would happen before I could move: the board would be thrown in my direction. Fortunately, I had my right side turned toward the saw. Ninety degrees clockwise and I'd be giving my wife bedside tables for her birthday, but having no other reason than somnolence to be in bed with her. On the other hand, ninety degrees counterclockwise and the bruise would be in the soft part of my behind instead of my right hip.
It seems (I blacked out momentarily from the pain) that the board hit me, then bounced up to the fluorescent light, breaking the bulb and knocking the fixture to pieces.
I limped around the shop to clean up, then finished the last board. It was when I turned it over that I discovered the huge gash you see in the photo.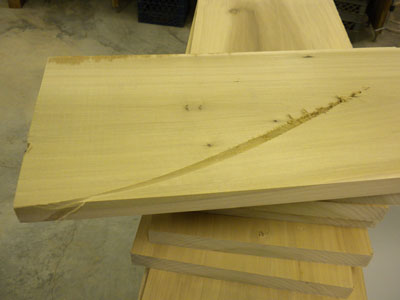 The drawer will be assembled with this very board, leaving the defect visible. It will serve as a reminder that vigilance must never be allowed to take a vacation, no matter how much fun we're having.
James W. Randolph
---
Do you have a safety tip you always keep in mind when you are in the shop?
Share it with us, and you could get a $25 Highland Woodworking gift card
if we feature your tip in a future issue.



Visit Highland Woodworking's Online Safety Equipment Department


Return to Wood News front page