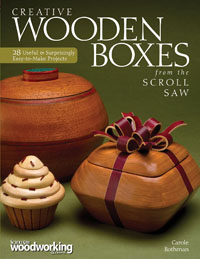 Readers searching for unique and interesting box projects for the scroll saw need look no further! Carole Rothman, author of the best-selling Wooden Bowls from the Scroll Saw, returns to offer her creative spin on box projects. She's surveyed the most popular boxes in woodworking and shows you how to make bandsaw-style boxes, jewelry boxes, and lidded boxes on the scroll saw. Inside, you'll find 28 beautiful and creative designs for boxes you'll love to make and love to use. Rothman also walks you through the creation of her scroll-sawn bow technique, which she adapted from cake decorating. You'll love the chapter on Fun with Food: make a box that looks like a pie, a cupcake, or an ice cream sundae. These creative projects are useful, surprisingly easy-to-make, and make great gifts.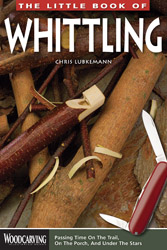 With a friendly, down-home style, this guide encourages readers to whittle away the hours. Great for beginners looking for an easy way to get started and more advanced carvers looking for a relaxing way to spend their time, this instructional manual provides 20 projects, including knives, forks, birds, animals, trees, and flowers. Chapters detail the proper whittling tools and materials, including what woods are best to carve, and how to start projects by selecting and safely sharpening the best knife for each project.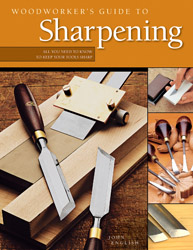 Finally, a sharpening book that keeps it simple: there's no "right" way to sharpen; only your way. In this complete guide, you'll learn everything you need to know about the many methods, tools, and accessories for successful sharpening so you can confidently select the one that works best for you. And, for inspiration, you'll get a look at the sharpening stations of some of America's top craftsmen, including Sam Maloof, Norm Abram, and James Krenov.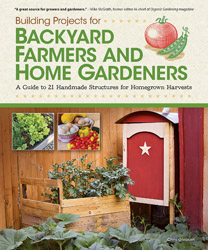 This is a practical and engaging guide to transforming an ordinary backyard into a productive farm. Homesteading is experiencing a revival among both rural and urban residents who want to get back to basics and live closer to the land. With this book, homeowners will obtain both inspiration and instruction for transforming their grassy yard into a lush farm that can produce all the food they need. The author is an experienced woodworker and homesteader who shows how to plan and design a backyard farm. He offers expert advice for making all of the essential hard-working structures that are needed to sustain small-scale agriculture. Step-by-step instructions are provided for 10 projects including green houses, beehives, rabbit hutches, raised beds, potting sheds, trellises, fences, and more. Readers learn how to create an irrigation system, harvest rainwater, and keep their farms environmentally sound. Each detailed plan is accompanied by the author's clear, instructive drawings. More than just a manual, the book also offers entertaining and enlightening interviews with both experts and "average Joe" farmers. We learn what motivates them to become backyard farmers, the lessons that they have to share, and maybe even a couple of funny stories along the way.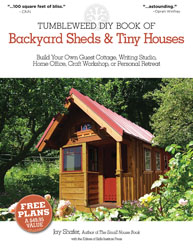 Good things do come in small packages. Just ask internationally recognized small living expert Jay Shafer. His small buildings have appeared on CNN, Oprah, Fine Homebuilding, and This Old House. Ranging in size from 64 to 110 square feet, these tiny backyard buildings can be used as guest cottages, art or writing studios, home offices, craft workshops, vacation retreats, or a full-time residence. Filled with photos, elevation drawings, and door/window schedules for six Tumbleweed box bungalows, The Tumbleweed DIY Book of Backyard Sheds and Tiny Houses also includes an extensive how-to set of instructions that can be applied to any backyard building project. Though conventionally built, these handsome little buildings have real doors, windows, and skylights with interesting and practical details throughout. With extra attention given to energy and space efficiency in their design, these tiny houses can help deliver the relief we all need on the road toward a sustainable world.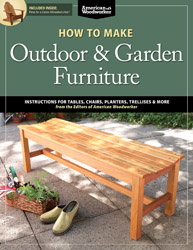 Stylish, well-designed outdoor furniture is the crowning beauty of a charming property. Enjoy outdoor living to the fullest with these functional and decorative furniture projects for deck, patio, yard and garden. From Adirondack chairs, patio bars and picnic tables to showcase Victorian trellises and planters, the experts at American Woodworker provide complete plans and instructions for building great-looking pieces that will beautify your outdoor space. Expert advice on finishing and varnishing ensures that your durable wooden furniture will stand up to the elements for years to come. How to Make Outdoor & Garden Furniture offers 23 do-it-yourself projects for both novice and experienced woodworkers. Superb step-by-step photographs and excellent working drawings help ensure success for both amateur and experienced builders. Each project takes from just a few hours to a weekend to complete, making this book an ideal resource for transforming your outdoor décor.