Here's My Woodworking!
Jim McAllister
St. Marys, PA
(Click on any picture to see a larger version)
I have a small shop in my garage and I recently completed several different projects, including 3 Emperor grandmother clocks. The first one was from a kit from Emperor and it came out beautiful, however I found it to be too easy, so I sent for the blue prints to make the clock from scratch. I cut out three of them, made the first one and sold it. I made the second one for my son as a house warming gift. I'm in the process of completing the third one.


I am 72 years old and started doing woodworking when I was about 10 years old. I have had about 5 careers so far in my life and woodworking has been a big part of all of them.

When I got into the work force (1961) I worked in the wood shop for 5 years under a very capable journeymen woodworker who taught me cabinet making and everything possible in woodworking.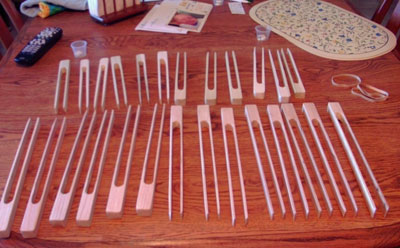 Toaster Tongs


In 1967 I got the opportunity to go on my own and went into the pallet business and doing building and remodeling. The pallet business started out slowly so to supplement the business I started making picnic tables. In the next several years I built over 200 picnic tables. Eventually we made thousands of pallets for Genessee beer and Heinze baby food jars for the Brockway Glass Co. We shipped pallets as far away as Baltimore which was unheard of at that time. I sold the pallet business in 1976 after building it up to nearly one million dollars in annual sales. I retained the contract business along with the Home Decorating Center that I started with the pallet business.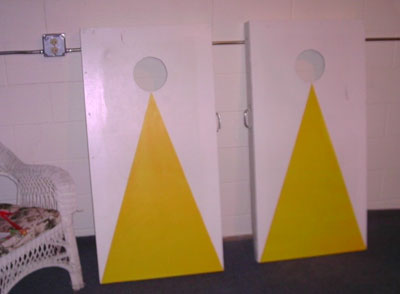 Corn Hole Game


My Company built 9 homes from 1976-81. The housing market dried up in 1981. I got sidelined from woodworking for the next 30 years being involved in 3 other business, although in 1979 I built my first Grandfather clock from a kit. I found that this was too easy so I sent for the plans and cut out enough wood to build three clocks from scratch. I built the first one and it took 8 months to sell it. This was very discouraging so I placed the other 2 clocks in the attic of my garage until we sold our home in 2008 and I gave them to my sons Father-in-Law thinking he would complete one of them for my son. After he looked at them he said he didn't think he could complete them. He had them until last Fall when I decided to go and get the two remaining kits from him and complete them. I completed the one for my son, but I have not completed the 4th one yet, as I have been busy filling orders for my other items that I regularly make (seen throughout this article and below).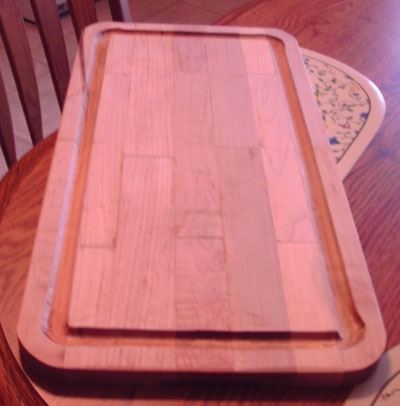 Cutting Board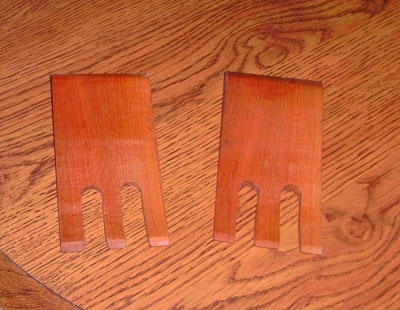 Salad Forks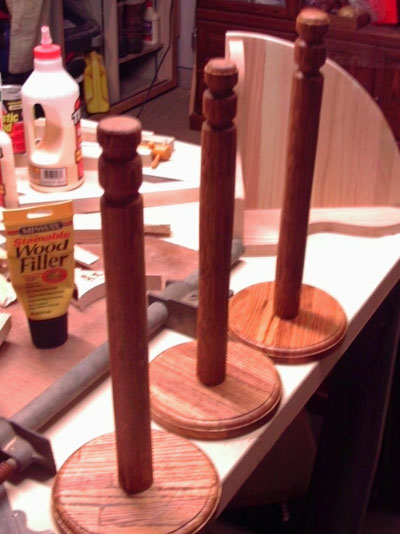 Paper Towel Holders
---
If you have any questions or comments you can email Jim at mcallist@windstream.net .
Return to Wood News front page
Click the images below to visit some of our most popular tool departments
| | | | | | | |
| --- | --- | --- | --- | --- | --- | --- |
| | | | | | | |
| Finishing | Books | Clearance | Festool | Planes | Sharpening | Wood Turning |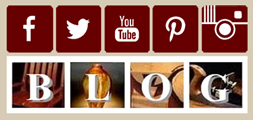 1045 N. Highland Ave. NE
Atlanta, Georgia 30306
Tel. 800-241-6748
Email us at email@highlandwoodworking.com
Visit us on the web at www.highlandwoodworking.com
Copyright © 2016 Highland Hardware, Inc.

Errors regarding pricing and specifications are subject to correction.
SOME SALE QUANTITIES MAY SELL OUT and become unavailable at the advertised price.