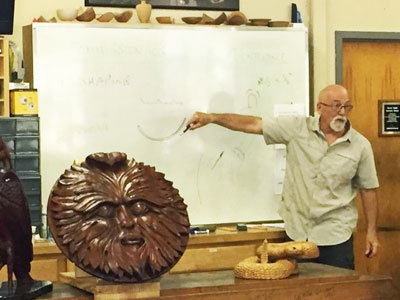 Highland Woodworking recently had the privilege of hosting master woodcarver Chris Pye for a morning class on sharpening carving tools . Afterwards an informal session in the afternoon provided an opportunity for class members and staff to pick his brain on matters of technique with respect to their own projects and to learn more about his carving process. Participating woodcarvers brought in an oakleaf picture frame, a dragon's head, a stylized gargoyle and a commemorative Navy plaque, among other items. One attendee had carved his first piece following Pye's online Tree Box relief project , available on Chris Pye's website.

His Advice to the Class

Pye's overarching recommendation was that beginning woodcarvers start by carving letters as he himself did in order to build muscle memory and to develop dexterity in handling tools.

When beginning a relief, he recommended modeling it in clay to work out problems of perspective and allow the design to evolve. One Bellamy eagle plaque brought up the question of stock depth when carving a relief with many different layers, and he noted that a clay model would make it easier to determine the necessary size of stock to be used.

He also cautioned against using merely whatever wood happened to be at hand, pointing out that the hours invested in carving a piece would be better served by using the best piece of wood one could find.

In terms of finishing, Pye said he preferred either beeswax or a clear acrylic varnish, allowing the wood grain and tool marks to take precedence. He noted that sanded wood looks softer than unsanded, and that stippling adds depth when it is used in contrast to other textures and can help the eye discern layers of a carving.

Pye's Carving Apprenticeship

Pye shared a little about how he first learned to carve. He spent his apprenticeship under the tutelage of Master Carver Gino Masero. "He would say, 'Wood carving is a sort of joy'." I asked Pye whether he considered Masero a craftsman or an artist, and how he might have seen himself. "Gino was a very unpretentious man who saw himself first as a woodcarver, and felt lucky to earn his living using his hands in such a satisfying way. You cannot be a woodcarver, especially when working in three dimensions, without having artistic and sculptural sensibilities. It's the whole person. In Gino's day, woodcarvers were simply not considered 'artists', but he was most certainly an artist.

"As for me, I use the terms 'sculptor' and 'master woodcarver' when I need to put it into words what I do. However, when I'm in the groove there are no words - only the joy of carving. I don't have any self-conscious, meta-perspective on my life as a carver. I found carving quite by accident and it seems to fully combine both the artist and maker in me. I do always seek to improve and rise to challenges, but it's an endless path and one lifetime is not enough."

Carving in the Context of History

Pye and his wife, woodcarver Carrie Camann, reside at Linden, their house ​named for the lime tree, a traditional English carving wood and one recommended particularly by Pye. Situated in Herefordshire, the house is within spitting distance of Wales, an area with a rich and ancient history. I asked Pye about the resonance of history through his work and process.

He replied: "It is a buzz for me to go to museums and see woodcarvings that are thousands of years old with gouge marks I recognise as similar to the ones I make. I have tools that have been handed down for over a hundred years, passed from one carver to another, with our name one below the other. The tools I use and the wood I select have proven the test of time, so I use them not so much out of a sense of tradition as much as the right tools and materials for the job.

"The tradition here in the UK and Europe is strong - and wide: I'm humbled by the work of unknown carvers that adorn the United Kingdom and Europe. So both consciously and unconsciously I am influenced by the carvers that lived here before me. The rather treacherous 'green man' image, which arose in the Dark Ages and has become emasculated in the American 'Wood Spirit', is not really accessible to the modern mind but intrigues me as an exploration of our darker side. I do feel I am partaking in a heritage but I also want to refresh the craft so that much of my work is not so 'classically' based, or derivative. Bottom line, I'm continually amazed that I've been allowed to earn a living like this."

Plans for the Future

Pye and Camann created and curate woodcarvingworkshops.tv together as well as teaching classes at the Center for Furniture Craftsmanship in Rockport, Maine. Pye said he plans to teach two more years, then withdraw from the public sphere of commissions and classes to focus on creating work according to his own vision. A recent example of new work he shared with us was a natural edge coffee table in elm being sedately crossed by a horseshoe crab. The crab's scientific name (Animalia Anthropoda Chelicerata Merostomata Xiphosura Limulidae Limulus polyphemus) scrolls in its wake in precisely carved forced perspective, its metaphorical tracks in the sand.

"In order to support myself and my family, I have spent most of my career carving to commission. Some commissions left little room for artistic license; others gave me carte blanche, and I always got paid! In that way, I suppose I've been more of a 'craftsman' but I really just see myself as a maker. But now that my boys are grown and I still have good health, I am able to indulge myself. I only take on commissions that excite me and the rest of the time, with the skills honed from nearly 40 years of full time carving, I am able to carve what I like. And this is an interesting time for me. What do I want to carve? To say? To leave behind? There are far more questions than answers I'm afraid.

"I've had a fortunate life and I still love to carve as much as I did as a young man. Regardless of the subject matter that I am carving, I hope my carvings convey that sense of joy and wonder."

CLICK HERE to view Highland Woodworking's selection of Chris Pye Carving Tools and Instructional Books and DVDs.

CLICK HERE to read more about Chris Pye's visit to Highland Woodworking.
---
Return to the Wood News Online front page