Atlanta, GA
Jørgen Larsen didn't start out as a furniture maker, but this Danish Air Force airplane mechanic tapped into skills he'd learned as a teenager, building cabinets, sailboats, and model planes and boats to become a self-taught, highly sought-after maker of custom Danish design furniture. He and his late wife, Jytte, owned and operated Danecraft, their own store in Brooklyn, NY in the 1960s just as Danish Modern was becoming increasingly popular in the U.S. Teak and veneer were the staples of his trade, although he also worked with walnut and rosewood, adding touches of metalwork, most notably, stainless steel.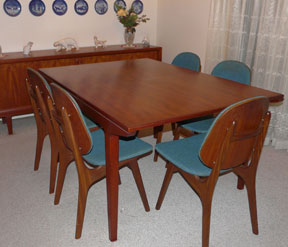 Jørgen's Pennsylvania home contains many fine examples of his work — a round staircase, teak wall paneling and wood trim, knob-free kitchen cabinets, and solid-core teak veneered doors to name but a few. His furniture and accessories fill the entire spectrum from tables and chairs to bureaus, beds, lamps and window frames. His dining room furniture is particularly noteworthy. The table features ingenious self-storing expansion leaves that disappear completely. The matching buffet is a mechanical wonder as much as it is a resplendent example of Danish design, whose hallmark is the melding of form, function and streamlined beauty. (We will describe the matching buffet in a later issue of Wood News.)
Jørgen points out how the grain runs along the length of the table, seamlessly continuing across the split where the two halves of the table join at the center. When the table is opened to its fully-extended 96-inch length, the grain lines still appear almost seamless. Great care must be taken to assure such a fine match of grain, not to mention having an adequate supply of veneer. Careful handling and precise cutting is necessary to ensure the full sheets of veneer remain intact, so grain lines are uninterrupted at the cut edges where the two pieces come together. A mitered frame of solid teak surrounds the entire tabletop, including the outside edges of the leaves. The wood chosen for this function was carefully selected to match the color of the veneer. The use of solid wood not only provides attractive edges, but also adds strength.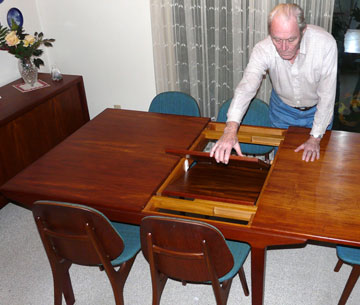 "Few people really know how to work with veneer," he declares. The wood, and more specifically, its grain pattern is what Jørgen believes is a key component of quality Danish design. His extensive supply of veneer is testament to this. "Sometimes you can have 50% loss of veneer, but if your shop operation is big enough, you can always salvage and store what you don't use for a project, then use it later for other projects. Small items, like edges and moldings — it's perfect for that," pointing out little areas in the table where he used small pieces of veneer to refine what otherwise would have exposed end grain.
Jørgen normally glues up his own core boards using a solid wood such as pine, oak, or his favorite, poplar. He finds these woods less susceptible to movement due to moisture. "Plywood could work, too" he allows, "but it's prone to warping." After planing and sanding the core to achieve a perfectly smooth, flat surface, he applies the veneer. Because the large pieces needed for this project exceeded the capacity of Jørgen's own shop, he used two 4 x 8 panels of laminated poplar that were milled, planed and sanded by his supplier. He recommends purchasing quality wood from a reputable supplier and buying lengths about 4" longer than the desired length of the table to allow for cutting away the ends, which are likely to have dips — an unavoidable result of planing such large pieces, even by a professional with all the right equipment. He bought panels that were 1/16" thinner than the standard 3/4" to allow for the two layers of veneer — on both the top and undersides of the tabletop. Jørgen long ago built his own veneer press that can handle projects as large as just over 3 feet wide and up to 8 feet long, so working the tabletop sections was a cinch.
Why apply veneer to the underside if it's not going to be visible? Applying veneer to both sides of a surface prevents the warping that might otherwise occur over time. For a piece like this one, maintaining precise matching of the dowels and dowel holes joining the two sides of the table is imperative. (The underside is a perfect place to use that less-than-perfect piece of veneer you've been hanging onto, although you must use the same type of veneer for both sides. Teak, for example, is oilier than walnut, and will behave differently over time.)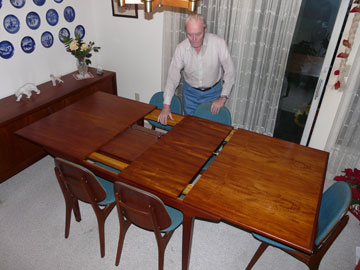 Jørgen enjoys demonstrating the operation of his dining table. At its smallest (42" by 60"), it seats up to 8 people quite comfortably, 2 along each side. The table legs are spaced 8" from the ends, allowing two people to sit side by side at the ends without banging either their knees or their chairs into the legs. There are two 18-inch wide leaves in the table, so it can be opened to accommodate up to 10 or 12 people, as need arises. Each leaf folds down and tucks away snugly underneath the tabletop. There's no need to find a place to store the leaves and no need to schlep them from their storage spot when company arrives. A quick series of steps and voila — dining for 4 or 6 can easily become accommodations for 10 or 12. (Now the trick is to make tonight's supper, intended for four, expand accordingly.)
Jørgen made modifications to a table design that originated in Denmark. He points out his use of Teflon-coated plates and stops which provide smooth, rugged surfaces at the stress points, so the leaves glide easily into their proper places. This was a nice improvement on the hardwood stops called for in the original plans. Precise measurements and careful construction are needed to ensure good fit and reliable operation over time. Jørgen's years as a millwright no doubt came into play in what he claims is a need for "dead-on accuracy" for this table. At well over 35 years old, it remains a thing of beauty and operates as well today as it did on the day it was completed.
Various components like the sliders, rails and cross bars employ combinations of oak and poplar. "Poplar is stable, it doesn't move and it takes a nice cut." He used dovetail joints for added stability and fortified the table by laminating the teak base with oak planks, a wood that Jørgen says is ideal for providing the strength required for the hard work that the crossbars and rails must do. The outermost crossbars are made of teak, as these may be visible to the viewer from time to time. (Scandinavian design calls for shortcutting neither workmanship nor aesthetics.) The hardware is standard, including precision 1/4" rods. Jørgen fashioned the rails himself, but he says factory-made rails as well as the other hardware are available commercially.
The legs and base of the table are constructed from solid teak, meticulously rounded and curved using a router to achieve an interesting and sinuous contrast to the straight lines of the tabletop. Jørgen also used a router to softly round the edges and corners of the tabletop, both for aesthetics and for diners' comfort. (Do people really keep their elbows off the table anymore?) "It's a lot of work, but I believe in the need to add interest and to provide a break of the monotony of too many straight lines. You have to work carefully, of course, so the wood doesn't splinter."
"The finish started with a coat of shellac, which I hand-sanded until it was completely flat and smooth. I used two to three coats of oil after that. I made my own oils from linseed oil and turpentine. There are better oils available now; you can get some really fine oils from Denmark — Danish Oil is made from linseed, but they won't tell you anything more about their formulation — it's a well-guarded trade secret."
Use of silicone and a soft cloth is all it takes to clean and lubricate the slides and gliders. To maintain the sturdiness of the table, Jørgen recommends tightening the bolts that secure the legs to the base after the first year of use, and every several years thereafter. Other care includes guarding against too much sun exposure (in order to prevent gradual darkening of the wood that could cause the leaves to mismatch the rest of the table surface) and routine oiling. The careful choice of wood, veneer, and using good finishing techniques in the first place will help to minimize the effects of the differences in sun exposure, but it's largely unavoidable. "Keeping the wood from drying out, especially in a dry climate, is important. Once a year I use a light oil, then I make sure no table cloth gets used until it's totally dry."
Asked if you should polish it then, he replied "No, the oil gives it a nice, semi-gloss finish. I just use a brush to apply a very thin coat. Then I get some fine sand paper and rub the oil in while the surface is still a bit wet. I used to use my own formula, but Danish Oil is great, too. You can buy hardener, but I don't like it — it's not natural. If you spill a bit, and don't see it right away, then you have to sand it to remove it, and you can easily sand down too far. Veneer just won't stand up to multiple sanding like that."
What do you do if you get a water stain? "First, shoot whoever did it!" he jokes. "The secret is to catch it before it gets fully saturated. If you don't catch it, then it takes a lot of rubbing with a very, very light oil. Let it dry, come back and put another light coat on it, then sand lightly again. Once the oil penetrates, you can look at it closely to see if there are any places where the oil resists seeping in. Be careful here, because this can result in discoloration. Too much oil can also be a problem. It can take many repetitions of these steps to fully remove the stain and to avoid the small bumps and ridges that sometimes result from spills. Don't get a water stain in the first place; that's best. This furniture is not like varnished furniture. If you're careful when you do the initial work, it'll last a long time. A nice finish allows the wood grain to show through to its maximum beauty. That's what you want."
---
Return to Wood News front page