Gig Harbor, Washington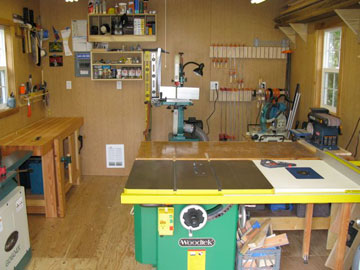 Located in the Pacific Northwest, my shop had its origin last March when I decided I needed a separate building for my new woodworking hobby. I selected a 12 x 18 foot shop plan that matched my home due to neighborhood regulations. I then worked hard on getting the most functionality out of that size shop. The shop itself was one of my first major projects. The entire shop was built by me with a little help from friends and family. I researched other small shops and tried to take the best of each and incorporate them into my shop. The shop is powered by a 100 amp sub-panel with currently 10 of the 12 20-amp circuits being used. The shop has electric heat and is lighted with 6 four-foot fluorescent fixtures. This seems to provide all the power, light and heat I need.
The heart of the shop is a work station that contains my WoodTek 3 HP cabinet saw with a built-in router table similar to David Mark's setup. Behind the table saw I built a version of Mac's Spagnuolo's assembly table. It serves dual functions as an outfeed table and assembly table. I use the space below it to store some of my hand power tools. This is also where I set up my bench to plane when needed. Its location in the center front third of my shop allows me to rip or plane material up to 8 feet long by opening the shop's French doors and sliding my 14" Grizzly bandsaw slightly to one side.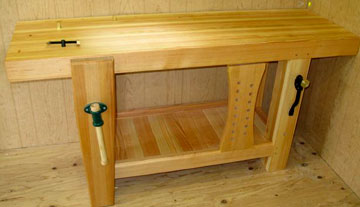 The left side of the shop has a 6" Grizzly jointer and Chris Schwarz's design for a La Roubo workbench that I just finished. The current jointer location allows me to joint material up to 48" long. The jointer is equipped with a mobile base so if the material exceeds 48", I just pull it away from the wall. The workbench is located next to a window to provide natural light and has most of my hand tools to my front and right.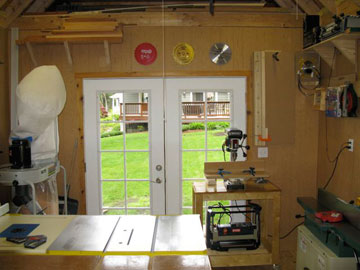 At the front entrance of the shop is a mobile cabinet that I built to hold a bench top drill press that also has dual functions as a oscillating spindle sander. The lower section of the cabinet was built to hold my Ryobi 13" planer, which I just pull out and position on the outfeed table when needed. Everything in the shop is easily connected to my Delta 1.5 HP dust collector located in the front right corner of the shop. I use a system of flexible and metal ducting to provide 3 dust collection hook-ups for my machines, switching from tool to tool as necessary. At some point in future I'll install more permenant ducting so that each tool has a dedicated connection.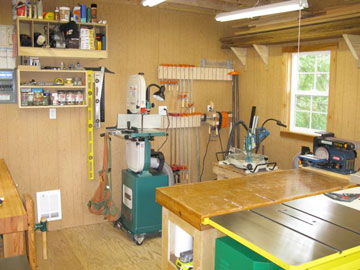 On the rear right side of the shop is my wood storage along with my Makita 10" sliding mitersaw. This allows me to efficiently cut material down to more workable sizes before I have to move them around the shop. The mitersaw table is lowered to allow the outfeed table to help support my work. On the back wall of the shop is my clamp storage. I found this design in Fine Woodworking magazine. It allows easy access to all my clamps and I like the way it displays them. Also on the back wall is my 1.5 HP 14" Grizzly bandsaw. It also incorporates a mobile base for easy movement when necessary. Its location seems to work well though with the direction of cut across the shop.
All extra space on the walls is used for storage of some sort. Everything has its place so nothing is on my work table unless I'm using it. Because of the small size of the shop, it's not hard to get things out or put them back. That's part of the beauty of a small shop. Everything has its place and that that place is usually only a few steps away. I have really enjoyed working out the functionality of the shop and continue to fine tune it. I have enjoyed having a space to call my own, which is affectionally known as "The Man Cave."
Return to Wood News front page