10% discount on 50 BF (assorted). 20% discount on 100 board feet.
Available for in-store purchase only, premium hand-selected Walnut, Cherry, Mahogany, Red Oak, quartersawn White Oak, Maple, Poplar, European steamed Beech, Purple Heart, Bloodwood, Wenge, Bubinga, Zebrawood and others. Random widths and lengths, planed 2 sides, one straight edge. Stop in and check it out!
---
Stay Up-To-Date on All That's New at the Highland Woodworking
James Krenov, 1920-2009

World-renowned craftsman and author James Krenov passed away September 9, 2009 in Fort Bragg, California at age 88. His first book,
A Cabinetmaker's Notebook
and the ones that followed have been a lasting source of inspiration to thousands, and contributed greatly to the growth of interest in fine craftsmanship that began in the late 1970s.
Here is David Marks' 2003 video interview with James Krenov:
---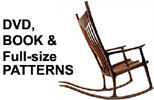 New Maloof-Inspired Rocker Plan Bundle
No woodworking book or DVD we've ever sold before has generated the response we've received from customers to Charles Brock's excellent plan bundle that provides everything you need to know to build your own Maloof-inspired rocking chair. The bundle includes a 103 minute DVD, 48-page color-illustrated book and two 24"x48" full-size patterns. Chuck's entire first printing of the bundle sold out in just 3 months, and a second printing has just arrived. Sample our free online video for a look at this great woodworking project.
---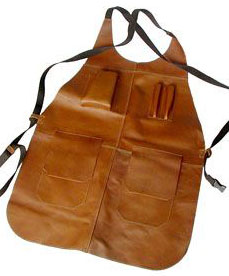 Our Leather Shop Apron:
The Perfect Gift is On Sale
Every holiday season we seem to run out of this beautiful, rugged top-grain leather shop apron. This year we've made a special purchase that allows us to offer it for the low price of $49.99. It's the perfect holiday gift that will please any woodworker.
---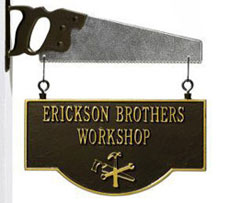 Personalized Shop Sign
Hang a shingle outside your Olde Shoppe with our two-sided custom cast sign. Makes a handsome gift.
---
Freud's New Double Grind Router Bits Stay Cooler, Cut Cleaner & Last Longer
The secondary bevel that Freud machines on each of its new Double Grind straight router bits allows shavings to clear the cut rather than clogging, heating and dulling the edge like ordinary router bits. These bits perform better and stay sharp longer.

CLICK HERE for more info: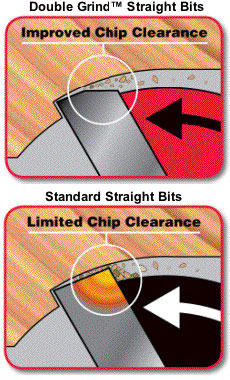 ---

Now keep up with the latest news from Highland Woodworking via our daily posts on Twitter.

---
Freud's New Quadra-Cut Router Bits Cut Cleaner
Four carbide cutters work better than two, especially when two of the cutters perform upshear cuts while the other two make downshear cuts, eliminating splinters and fuzz even on challenging cross-grain cuts and in the most delicate of materials.

CLICK HERE for more info: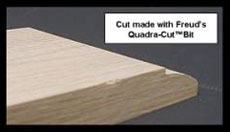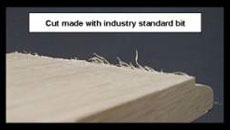 ---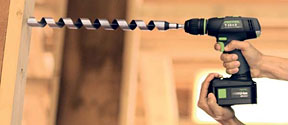 Festool Drill Now $400,
THE LAST DRILL
You'll Ever Need to Buy
Tests have shown the Festool T+3 drills outperform the competition's 15 and 18 volt drills. You can literally drive more than 1,000,000 screws with one of these drills. Built to last a lifetime, it is literally the last drill you will ever need to buy.
Festool has repackaged their new 12+3 and 15+3 lithium-ion powered drills making them easier to afford. Previously each model came with 4 different drill chucks. Now each drill comes with 2 standard Fastfix chucks: the 1/2" drill chuck and the Centrotec chuck. (A right-angle chuck and an eccentric chuck are available as optional accessories.)
---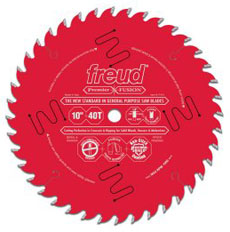 Now Stocking a Wide Selection of Freud Sawblades
Freud sawblades offer the ultimate combination of fused tooth grind geometry, blade body rigidity, precise tensioning, a special carbide blend and superior carbide brazing, non-stick Perma-SHIELD coating and high performance anti-vibration – all working together to provide the ultimate cut.

CLICK HERE for more info:
---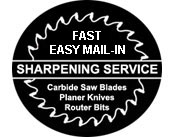 You'll Love our Mail-In Blade Sharpening Service
"Recently I used your saw sharpening service and I wanted to let you know that they did a super job on my blade. I not only needed the blade sharpened, but one tip was missing and they replaced it as well. Turn around time was only about a week from my home in Tennessee. The blade cuts as good as a new one. You can bet that I will be using you again when needed."
Thanks, Charles Arkon
---
WOOD SLICER Testimonial

I have a 12" Jet bandsaw that I absolutely hated. It couldn't cut a straight line on a piece of 1/8" ply. A friend told me to check out your Wood Slicer resawing bandsaw blade. I went to your site to check it out. At first I kind of choked when I saw the price of the blade. I then read your testimonials and decided to give one a try (you do guarantee that I will like it).
The first piece of wood I cut was a chunk of mango. It went well, but then again, it is a softer wood. So I decided to try a piece of Koa as it is a bit harder... cut like butter. Being the skeptic I am, I decided to put it to what I considered an extreme test. I have a large chunk of desert ironwood that has been sitting around for a while (because I just can't cut it). In previous attempts, I could barely slice a 2" section. The results were not pretty, it took forever and a day to cut, and the dust was incredible.
I figured what the heck, I am going to make this blade cry, so I put a four inch thick slab of ironwood on the bandsaw, turned it on and it cut through it without a problem. There was no smoking, no dust clouds, and the finish on the cut side of the wood was unbelievable. Bottom line, I will NEVER buy another band saw blade other than this one. It is everything you said it was. Please feel free to use me as a reference. I would love to be able to help other woodworkers discover this blade. On a side note... I no longer hate my bandsaw.
— Thank You, Rick G.
Check out our phenomenal
Wood Slicer resawing blade:
---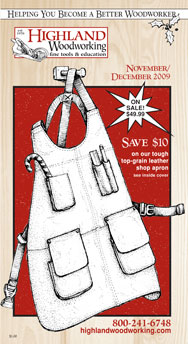 New Nov/Dec Tool Catalog
Our latest woodworking tool catalog just went in the mail. Watch for it arriving in your mailbox this week or next! Not receiving our catalogs?
---
Why Not Write
Your Own Article
for Wood News?
We actively solicit contributions of editorial material (articles, photos and videos) from our customers and readership, and for every one we accept and publish in Wood News Online, we will compensate the contributor. We typically pay up to $100 (in the form of a store gift certificate) for a thousand-word-plus article with photos. The amount of the gift certificate may be prorated for shorter articles. Articles submitted may be edited by us at our discretion, and compensation may vary depending on the published length.
---
Visit Our Store

If you live near Atlanta, or are just passing through, we invite you to visit and leisurely browse our amazing retail store. The thousands of woodworking tools on display here await your personal examination.

1045 N. Highland Ave NE

Atlanta, Georgia

---

Highland Woodworking Gift Certificates
An awesome present that's always appreciated by just about any woodworker anywhere.