Turning a Christmas Tree
By Curtis Turner
Round Rock, TX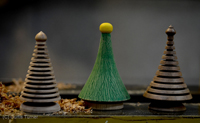 Another holiday season is fast approaching. This is the time of year turners gear up to begin making holiday gifts. We have many projects to select from, and some seasonal favorites are ornaments and other decorations. This month we will make a simple Christmas tree.
CLICK HERE to read how to make this simple but elegant turned gift:
---
Once Upon an Apple Tree
By Jack Masten
North Creek, NY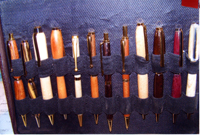 In order to make room for the building of our new fellowship hall at the Calvary Bible Church in Wevertown, NY, a mature apple tree was removed. Being a wood hoarder, I salvaged a few pieces to make some keepsakes for church members. One of the projects was a wooden body pen for the pastor. This pen project turned into a weekly Saturday afternoon get together based around learning to turn.
CLICK HERE to read more about this impromptu turning club:
---

Easy Wood Tools - the EASY way to turn!

Easy Wood Tools offer an innovative solution to the challenge of learning to turn wood. Using a series of replaceable carbide cutters, these tools address fatigue, safety and efficiency like no other turning tools.

Are you learning to turn? Make it a little EASIER on yourself!

Delta 5-Piece HSS Micro Turning Tools Set

This excellent set of all high speed steel tools is a great value for woodturners. These tools are perfect for pens, tops, bottle stoppers and other small projects. Ash handles are 6 inches long; overall length is about 10 inches.

CLICK HERE to learn more:

---