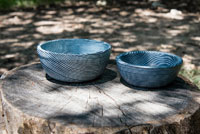 Surface Embellishments: Liming Wax and Sandblasting

By Curtis Turner
Round Rock, Texas

Liming wax has been used for hundreds of years to create striking effects on wood. The effects can range from a soft antiqued (pickled) finish to a bold high contrast appearance with significant visual impact. It can be used on unfinished wood or over a stained or painted surface. The white liming wax is rubbed onto the wood and then wiped off leaving wax lodged in the open pores of the wood. Liming wax is fantastic when used on ring porous woods like ash and oak.

CLICK HERE to learn more about how to use Liming Wax in your own woodturning:


---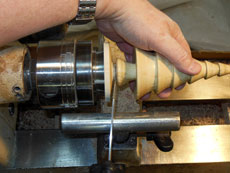 Project Idea: Turning a Christmas Tree

By Rick Morris
Duluth, GA

It's not too early to start your Christmas season woodturning (or shopping, but that's another story). I'm going to show you how I turn Christmas trees for holiday gifts.

CLICK HERE to learn how to turn your own Christmas trees:


---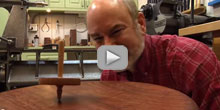 Woodturning with
Tim Yoder

Presented by
Popular Woodworking

Our friends at Popular Woodworking have a new episode of Woodturning with Tim Yoder, Episode 10: Turning a String Top Toy.

CLICK HERE to watch the episode:


---



Flex Arm Magnetic LED
Work Light – ON SALE thru Sept 10, 2014

Here's an excellent solution for putting bright light exactly where you need it on your woodturning workpiece. A switch-operated magnetic base securely mounts the lamp to your lathe. The 28" gooseneck flexible arm lets you aim the 8 watt LED bulb's almost 800 lumens of neutral white light precisely where you want it. Our first shipment of these sold out quickly. More just arrived, and they're on sale for a special price thru Sept. 10, 2014.

CLICK HERE for more product info:


Easy Wood Tools Parting Tool

The parting tool is one of the most useful turning tools, but it is not usually very interesting or innovative. Easy Wood Tool has broken that mold with their Easy Parting Tool. The Easy Wood Tools handle gives you a firm grim on the tool and the thick, heavy tool body will virtually eliminate chattering and vibration in most cuts.

CLICK HERE for more product info:

---


Visit Highland's TURNING TOOL Department

Visit Highland's LATHE Department

Visit Highland's TURNING EQUIPMENT Department


Want to receive
The Highland Woodturner
EVERY MONTH?

CLICK HERE to sign up!
---

We invite you to SEND US PHOTOS of your woodturning projects or shop along with captions and a brief history and description of your woodturning. (Email photos at 800x600 resolution.) Receive a $50 store credit if we show your turning or shop in a future issue.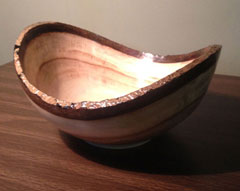 This month we are featuring the woodturning projects of Gene Russell, including some of his projects that incorporate his natural edge techniques.

CLICK HERE to take a closer look at Gene's projects and shop:


---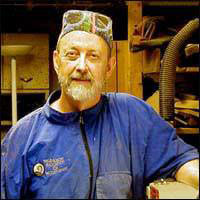 Finishing: The Nozzle Tip

This month, Phil has a tip on how to clear up a clog in the nozzle of a can of spray-on finish.

CLICK HERE to read the tip:


---
Upcoming Turning Classes at Highland

Many classes fill up quickly, so please register now to make sure we hold a spot for you.

Aug 30 Beginning Turning
Sep 21 Turn a Peppermill
Oct 4 Basic Bowl Turning
Oct 5 Beginning Turning
Oct 8 Sharpening for Turners

Classes Suitable for Teens
View Slideshow of a Beginning Turning Class with Hal Simmons


---
Recently Featured Products
Oneway's Sure Grip Hosaluk Tool Handle
Oneway Mastercut 5/8" Double-Ended Bowl Gouge
Easy Wood Tools Easy Parting Tool
Steel City 8 inch Industrial Low Speed Bench Grinder Pkg Deal
Easy Wood Tools Aluminum Faceplate
Beall Wood Buff Kit
Turning Green Wood
Crown 3/8 inch Pro-PM Bowl Gouge
Wave 2" Starter Kit
Galbert Woodturner's Caliper
Mirka Abranet Mesh Abrasives