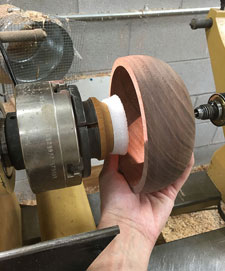 Reverse Chucking

By Curtis Turner
Round Rock, Texas

I have for years used a simple yet very effective method to reverse chuck bowls. This technique utilizes a shop made pad to hold and support a bowl during the final stage of turning. This device allows almost complete access to the outside bottom. This can be made from materials you probably have on hand.

CLICK HERE to read more:


---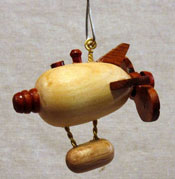 Turning a Steampunk Dirigible Christmas Ornament

By Rick Morris
Duluth, GA

This year, when looking for something that was both unique and reeking of Christmas spirit, I decided to turn a steampunk dirigible Christmas ornament…because nothing says "Christmas" like a fantasy vehicle propelled by impossible power sources flying through the sky.

CLICK HERE to read how I turned it:


---



Tormek T-7 Sharpener
SPECIAL OFFER
$84 in FREE Goods

For a limited time we are including, FOR FREE, a handy rotating base worth $57, as well as a protective machine cover worth $27 with your Tormek T-7 purchase. If you've been wanting a Tormek T-7 to streamline sharpening in your shop, now is the time to buy!

The Tormek Grinder Sharpening system is unsurpassed for quality, versatility, edge positioning accuracy and repeatability when grinding, sharpening and honing just about every tool in your shop and home.

CLICK HERE to learn more:


All New Turning Projects with Richard Raffan

Even a true novice will feel at home with the projects in All New Turning Projects with Richard Raffan because they range from simple to complex. In fact, Raffan's easy instructional style will have you mastering what will feel like a skill-building course in woodturning taught by an international sensation. And yes, all from the comforts of your own woodworking station. Accurate and precise, beautiful and appealing, accessible and crisp-you will be surprised by all the good things you'll have to say about the projects you will complete with All New Turning Projects with Richard Raffan at your side.

CLICK HERE for more info:

---


Visit Highland's TURNING TOOL Department

Visit Highland's LATHE Department

Visit Highland's TURNING EQUIPMENT Department


Want to receive
The Highland Woodturner
EVERY MONTH?

CLICK HERE to sign up!
---

We invite you to SEND US PHOTOS of your woodturning projects or shop along with captions and a brief history and description of your woodturning. (Email photos at 800x600 resolution.) Receive a $50 store credit if we show your turning or shop in a future issue.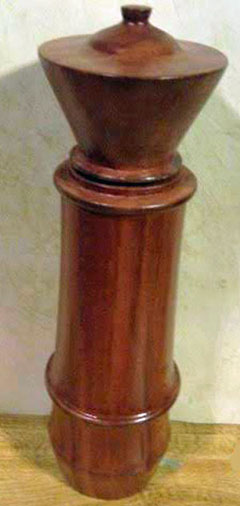 This month we are sharing the woodturning projects of Clarence Atkinson, a beginning woodturner who wanted to share his first attempts at a few different projects.

CLICK HERE to see Clarence's turning projects:


---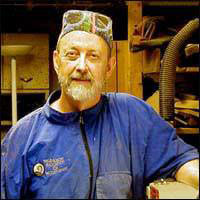 Duplicating

If you want to improve your tool handling and refine your eye, try duplicating an object from the house, either a bowl, jar, or some sort of spindle, and make several copies.

CLICK HERE to read more:


---
Upcoming Turning Classes at Highland

Many classes fill up quickly, so please register now to make sure we hold a spot for you.

December 2 Taming of the Skew
December 19 Turn a Peppermill
December 20 Basic Bowl Turning

Classes Suitable for Teens
View Slideshow of a Beginning Turning Class with Hal Simmons


---
Recently Featured Products
Woodturning Christmas Ornaments
Rikon 8 inch Professional Low Speed Bench Grinder
Record Power SC3 Geared Scroll Chuck Package
Rikon 70-220VSR 12-1/2 inch Midi Lathe
Turning Custom Duck and Game Calls
Bodger Set of 6 HSS Turning Tools
Pens From The Wood Lathe
Galbert Woodturner's Caliper
Woodturner's 3/8 inch Bandsaw Blade