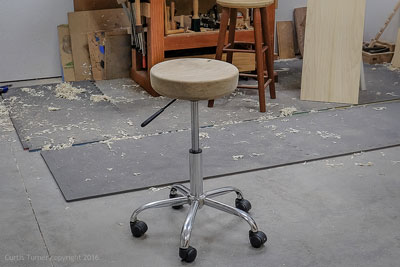 Project Idea: Upcycling a Stool
By Curtis Turner
Round Rock, TX
I recently realized that the plastic seat on my adjustable height rolling stool was beyond repair and bound for the dumpster. However, the wheels and the height adjustment mechanism worked just fine. This looked like a good candidate for a shop stool. The obvious solution, to me, was to simply turn a round seat to replace the broken seat.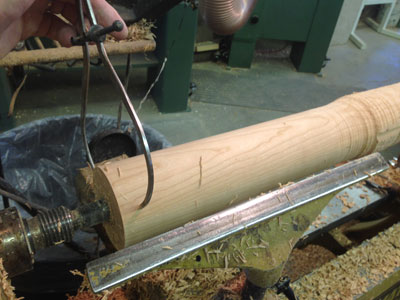 Turning Cherry Bed Posts - Part 2
Turning/Preparing Tapered Columns
By Temple Blackwood
Castine, ME
In this 3 part series, Temple Blackwood has been commissioned to make the turnings for a 4-post cherry bed being made by his friend Geoffrey Warner. Part 1 of this series was featured in our July 2016 issue of The Highland Woodturner where he discussed the turning and preparing of the Base Pommels. In Part 2, Temple discusses turning and preparing the 4 tapered posts for the bed.
Featured Turning Products
Record Power Chucks and Accessories



Record Power SC4 Professional Geared Scroll Chuck




Record Power Lathe Chuck Jaws




Record Power Threaded Insert for SC4 Lathe Chuck




Record Power Faceplate Ring




Record Power Woodworm Chuck Screw






Record Power Chuck Spur Center
More Turning Products for your Shop



Tormek T-8 Sharpening System




Flex Arm Magnetic
LED Work Light




Bodger Set of 6
HSS Turning Tools




Rikon 70-220VSR 12-1/2 inch Midi Lathe




Tormek T-4 Sharpening System




Easy Wood Tools




Tormek SVD-186
Gouge Jig




Rikon 14 in Deluxe Bandsaw 10-326




Pens From The
Wood Lathe




Getting Started in Woodturning




Deluxe Pepper Mill Kit




Woodturner's 3/8 inch Bandsaw Blade
Click the images below to visit some of our most popular tool departments
| | | | | | | |
| --- | --- | --- | --- | --- | --- | --- |
| | | | | | | |
| Finishing | Books | Clearance | Festool | Planes | Sharpening | Wood Turning |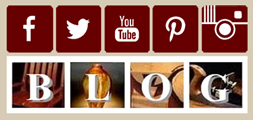 Highland Woodworking
1045 N. Highland Ave. NE
Atlanta, Georgia 30306
Tel. 800-241-6748
Email us at email@highlandwoodworking.com
Visit us on the web at www.highlandwoodworking.com
Copyright © 2016 Highland Hardware, Inc.

Errors regarding pricing and specifications are subject to correction.
SOME SALE QUANTITIES MAY SELL OUT and become unavailable at the advertised price.